After two gruelling days of competition for the Bartender of the Year sponsored by Bacardi & De Kuyper this past September, we have a new number one: Michael Chiem. Here, we ask Chiem and the rest of the Top 3 about how it went down.
#1. Michael Chiem, PS40
Can you tell us what it was like up there winning the top prize? What advice do you have for other bartenders who'd like to take a crack at it?
Surreal. I still don't remember my name getting called out. I felt more relieved than anything else, it's a long couple of days! The support I received from everyone before and on the night was overwhelming and much appreciated. What a great industry we live in.
Losing has taught me that the people who prepare well often win. Also, don't psyche yourself out if you make the Top 8 round, just be your charming self at your own bar and make two solid drinks. Do what is comfortable for you.
#2. Paul Hammond, Bulletin Place
It's your first finish in the Top 8 this year, can you describe what it was like competing and how it felt to be up there in the Top 3?
I'm thrilled to have made it into the Top 3 this year. No matter how prepared you think you are or how much study you think you've done I'm not sure it'll ever seem enough. The two days of competition for Bartender Of The Year will i'm sure always be filled with pressure and nerves.
But hey, I guess it wouldn't be a test otherwise. Being back behind the bar over the past year both at The Beaufort and of course Bulletin Place has given me a new lease on life as far as competition goes. The support of those guys along with that of my beautiful partner Priscilla is what's made the difference for me. I'll look forward to being back next year.
ADVERTISEMENT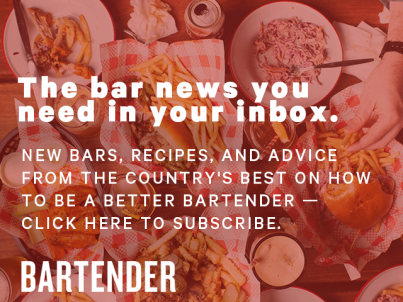 &nbsp
#3. Daniel Gregory, The Gresham
After four years away from the comp, what was it like this year and what's it like to finish in the Top 3?
Yeah it has been a few years in between competing but was ready to get back into it. The rounds this time around are more challenging and the calibre of bartenders is amazing!
I wasn't expecting to make it this far but it came together well. So chuffed with placing third, will definitely be giving it a good hard crack next year!