It's the challenges we face, and how we overcome them, that make us who we are. When Don Facundo Bacardi Masso established BACARDÍ in 1862 he could not have foreseen the challenges his family would face as they moved through time.
Don Facundo's son, Emilio Bacardi, was arrested, imprisoned and exiled fighting for Cuban Independence. After the war, Emilio became the first democratically elected mayor of Santiago de Cuba while remaining the chairman of BACARDÍ.
The Bacardi Family have survived distillery fires, prohibition, civil wars and revolution. Yet to this day, BACARDÍ remains a family company. Their latest expression, BACARDÍ Fuego, pays homage to Emilio's tenacity boasting that it's a rum "Spiced by Revolution" and this unique family story.
But we don't build our life alone. This is something that Paige Aubort, who you may know from The Lobo Plantation and its sister bar, Kittyhawk, also knows. As she tells us here, her career wouldn't be where it is today without her mentors, the people in her life who have helped her through dark times and celebrated with her when things are good. She knows a thing or two about determination, too, having established the Coleman's Academy, a not-for-profit initiative for women in hospitality set up to bring "women together for the purpose of educating, inspiring and opening up communication between the women in this industry."
ADVERTISEMENT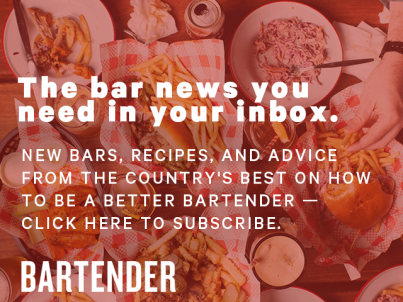 &nbsp
Check out our Q&A with Paige below.
Who have been the women mentors in your life?
As far as women specific mentors are concerned I would have to say my mum. She is my guiding light and trusted advisor. She raised me with an ethos of 'roots and wings' and the words 'grace and dignity' resonate through me and the actions I make daily. However, I don't think it would be fair to talk of mentors and not note my greatest influencer and guide, Jared Merlino (Owner/GM of Lobo Plantation and Kittyhawk). To have someone who was willing to invest his time and knowledge so thoroughly with me was immeasurable. Career wise, I wouldn't be where I am without him.
Also Lewis Jaffrey, a top bloke who worked across the road from me. I ran into him at a bar years ago so incredibly drained that I'm surprised I didn't fall asleep in my drink. He recognised in me a need for an external point of view and an experienced perspective. He contacted me the next day to grab a peppermint tea. He was so busy and he still found the time to see me every week. He saw me through a dark period of my life and even continues to give me advice to this day despite the fact that he now operates a very new successful business and has little to gain from his chats with me. If that doesn't define a mentor then I don't know what does.
Who is it that you admire here, and abroad?
Harriet Leigh. Dominique Easter. Charlie Lehmann. Jane McNamara. Tash Conte. Dre Walters. Dee Ryan. Mo (Kittyhawk's Door Guard). Everyone listed has qualities that set them apart but most of them rule at what they do. They all have an insatiable appetite for life, outstanding work ethic and big brains. There's not one person here that wouldn't make your life better just by being in it. Hunt these people down and be their friends. Actually that's kind of creepy, maybe just silently stalk them over social media.
In your career, what have some of the challenges been that you've had to overcome to be where you are today?
Mental Health. Finding a balance in the workplace. Overindulging with alcohol. Imposter Syndrome. Teleportation. Understanding time space continuum. Actually now that I think about it, I don't think I've overcome any of these except maybe excessively drinking booze. I drink a lot less now.
What areas of the bar industry would you like to shake up and set alight?
Hmmm, I think the mentality that we're 'doing enough'. This idea that we see out our work week and drink heavily under the justification that we've earned it only for another week to begin all over again.
It's not sustainable, for body or mind. Don't get me wrong, my trainers have dust collecting on them and if you asked me to run a mile I'd spew before the end but I still walk to work when I can, meet with peers and encourage them to try new things, have uncomfortable conversations with people about issues that need to be addressed and am constantly writing down hair brained ideas on tiny pieces of paper.
We need to be doing more with our time. The people in this industry are so fucking smart and creative and experienced and we (the majority) are wasting our time. If you have time to be hungover you have time to give something back to the community. Mentor. Create. Encourage. Nurture. Learn. Experience. Share. Expect more from people, have high standards and accept only the best versions of your mates. Hold them to their word. We're all in this for the long haul. Might as make the ride as varied as possible.
Which cocktail would you recommend with BACARDÍ Fuego?
Definitely a Daiquiri. It's a simple drink that allows you to showcase the spirit, with an ability to rely on the lime and sugar ratio to balance out the sweeter nature of the spirit — and also pays homage to the Bacardi family.
Tasting notes
BACARDÍ Fuego (40% ABV)
Cinnamon, nutmeg and vanilla notes are enlivened by a smokiness which adds depth to the flavour and compliments strong mixers such as ginger, coffee and citrus. Smooth enough to enjoy over ice and versatile in cocktails, BACARDÍ Fuego is a great choice for bartenders looking to develop their range of premium spiced rums with a bold and consistent flavour.
Bacardi-Martini