My US Sabbatical – Part 2: East v. West
By Jason Jelicich
Jason Jelicich has just returned to Australia after a two year 'sabbatical' living in the US and working with some of that country's top operators. This is the second of a three part weekly series in which he highlights some of the systems and strategies that these bars use to maintain their edge.
Like the infamous hip-hop rivalries between the East and West Coast, the two major cities on each coast – LA and New York – now compete for the most banging bar culture. While craft cocktails took their time to take root in these megalopolises, there is now a furious drive towards which city can be the leader of the free 'craft cocktail' world.
Here's my experiences with clients across the 2 major cities.
ADVERTISEMENT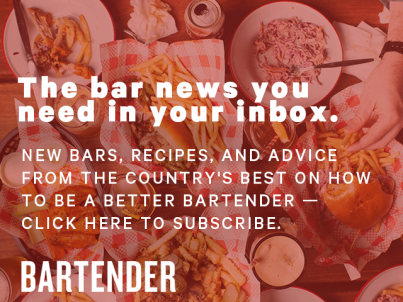 &nbsp
Los Angeles: Most of us who travel know LAX better than we know LA. It serves as a pit-stop for us Aussies/ Kiwis on our way to more interesting places. My job led me to work with one of the fastest growing bar groups in the country – the 213 Group. The group was founded in 2002 by reformed futures trader, Cedd Moses, and has exploded into over 20 locations around LA, San Diageo and now Austin Texas.  Bars that you must visit when you finally step out of the LAX compound are: Seven Grand, The Varnish (Winner best American Cocktail Bar at Tales 2012) and The Walker Inn (run in partnership with the boys from Proprietors LLC aka Death & Co NYC).
What makes this group special is its commitment to making a difference to the people and places that support them. Their mission, which is emblazoned on their head office wall, is 'To connect with the community through the best possible hospitality'. But it's so much more than just a statement on a wall; the staff all live this mission. Their 'sound-bite; core values include statement like 'we are friends and family', 'we connect through serving others' and 'We cultivate fun', Cedd and his team created icons representing each of these values and now offer 'free ink' should the staff be inclined to have them added to their body art, which many of them now do. Now that's team engagement for you!
New York: Many Bartender Magazine readers will be aware that the Dead Rabbit Grocery and Grog NYC took out top honors at the World's 50 Best Bar awards in London 2016. If you have been up to the parlour, you'll get why it's special. Dozen on tinctures are jammed into a specially designed rail, resembling a chemist's laboratory. The bartenders are attentive, knowledgeable and passionate. The drinks are flippin' lovely – and the whole place is super cosy.
The 'Rabbit' is the brainchild of Jack McGarry and Sean Muldoon, two hospitality pros who made a name for themselves at The Merchant Hotel in Belfast before being seconded over to the Big Apple for subsequent fame and glory. But what blew my mind was the care and attention given the cocktail menu, sorry, I mean cocktail 'book'. This 60+ page masterpiece (in fact 3 of them now) are some of the most beautifully designed, illustrated and well-constructed cocktail menus that you will find anywhere in the world.  The copy tells the story (and supplies the drink journey) to the history of Irish settlement in the New York. Jack, who is a member of our Acceler8 coaching program in the US, told me that his mission is to 'bring the Irish Bar into the 21st Century' and he's certainly done that with Dead Rabbit – with more to come.
213 and Dead Rabbit are separated by over 4000km and with owners from vastly different background have one thing in common that allows them to keep winning; a strong drive to use their businesses to push the envelope and make a difference in their communities. These operators are committed to being great at what they do and doing good while they do it. This, to me, is the future of hospitality.
East v West? Let's call it a draw.
Want the full story? Join me for my only Australian workshop this year on December 7th in Sydney; 'Secrets of the Top 1% – Strategies and Systems used in America's Best Bars and Restaurants'. Booking details here.