Mandarita
30ml Mandarine Napoleon
30ml Cazadores 100% Agave Reposado Tequila
30ml fresh lime juice
2.5ml sea salt solution
Shake and strain into a rocks glass filled with cubed ice. Garnish with a lime wedge.
HOW DO you breathe new life into classic recipes? Well, the quickest way is substitution: switch out a classic flavour and switch in a new flavour, and you'll find yourself with a whole new beast of a drink.
Now where are you going to find that new flavour? You might scan through the pages of a magazine just like Australian Bartender, looking for the latest or most exotic ingredient to hit Australian shores; the trouble with that is, reaching for the unfamiliar can be hit and miss. But what if you could breathe new life into that classic recipe with an historic ingredient, tailor-made for classics? An ingredient like Mandarine Napoleon?
Mandarine Napoleon dates back beyond its commercial production beginnings in 1892 — in fact, it reaches back to the time of French emperor Napoleon Bonaparte in the late 1700s and early 1800s.
ADVERTISEMENT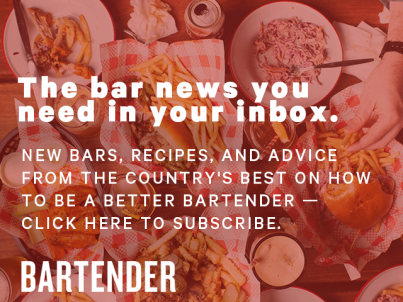 &nbsp
It was Napoleon's personal physician, Antoine-Francois de Fourcroy, who is said to have first concocted the recipe: he macerated mandarins in alcohol, and blended them with fine French cognac, crafting a drink that he and Napoleon would enjoy together.
Long after they had both passed, a Belgian chemist called Louis Schmidt discovered the recipe in Fourcroy's diary, and took it upon himself to create a liqueur from the recipe found in those pages, first bottling it in 1892.
Today, Mandarine Napoleon is made in much the same manner, blending 10 year old cognac with a maceration of mandarins from Sicily, using only natural ingredients. It's this focus on crafting a premium liqueur that means Mandarine Napoleon is adept at bringing a new dimension to classic cocktail recipes, like in this take on the Margarita: the Mandarita.
It's an approach that Bacardi-Martini ambassador Sean Forsyth thinks can extend to a range of cocktails.
"You can replace triple sec to create more complexity in Daisy-style drinks like the Margarita, Sidecar and Crusta, or replace orange curacao in tiki libations like the Mai Tai and Scorpion Bowl," he says.
"To this day my favourite Mandarine Napoleon cocktail is the Mandarin Crusta invented by Marco Nunes, a truly magical mix of Bombay Sapphire Gin, mandarin juice, lemon juice, Mandarine Napoleon and wormwood-infused riesling syrup,"
Forsyth says.

Mandarine Napoleon
Mandarine Napoleon offers up an interesting mix of spices, exquisite mandarins, and cognac. It has a nose of cognac notes, with familiar rancio characteristics of ginger and spice.
The front palate is sweet spice, bright citrus and soft florals, the mouthfeel chalky, dry and rich, with a long finish that bursts with ginger, mandarin and all spice.
Bacardi-Martini
The Banter
• Mandarine Napoleon is made using only the finest mandarins from the best orchards in Sicily, and employing only natural ingredients.
• Weighing in at 38% ABV, Mandarine Napoleon is exceptional on its own or in a mixed drink — give it a go with tonic over ice.
• A selection of herbs and spices — clove, nutmeg, angelica, and more — give the final bottling complexity and depth.