History runs through Berlin. Home to 3.6 million people and the German capital, it has a bar scene that is thriving — thanks in no small part to events like
Bar Convent Berlin
— and has come some way from what Helmut Adam, publisher of the German-language bar magazine,
Mixology
, describes as its "conservative" past.
"Now Germany is very dynamic, and a lot more funky than it used to be — we have
all the beards, all the tattoos as well," he says.
Here we've asked Adam, as well as the well-traveled booze industry figure Philip Duff, for their must see Berlin bars.
Helmut Adam's three must-visit Berlin bars
"Buck & Breck you have to see," Adam says. "But come early — don't come on the [Bar Convent Berlin] days because you haven't got a chance because it's so small, and everyone wants to go there. Bartenders keep asking the owner for guest shifts but it's so special, it has its own labelling system. He doesn't have a back shelf for bottles. Every spirit, because they have limited space, they put in small half litre bottles, they label them with a colour code – they've developed their own language for that. It's a very special place.
"For a different experience, you should go to Tier. I like that place because it's a typical Berlin neighbourhood bar. It is in Neukölln, which is a very up and coming area, it's a neighbourhood bar but it serves really decent cocktails, they have some nice mezcal drinks on the menu. It is very Berlin.
ADVERTISEMENT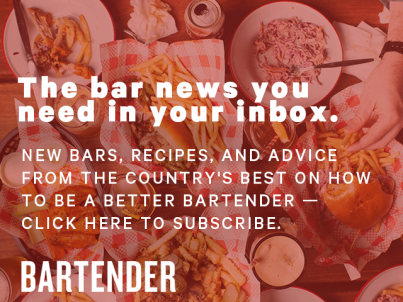 &nbsp
"The Green Door was one of the first bars. They have a new bar team trying to do a few things, but for a very long time it was that bar. Not the driver of the scene, but some of these pillars of the Berlin bar scene, they started there. These kind of places, I think we should still reference them."
Philip Duff's two must-visit bars
"Rum Trader," Duff says. "I adore Mr Scholl, the owner, and there is no other bar like it in the world. It's the oldest speakeasy I know of that's been a genuine speakeasy since '69 — door locked, flag outside when it's open. It was founded by Mr Schroeder, the last bartender trained at the prestigious Berlin Adlon hotel before the war. He worked for Trader Vic's, in California; he worked at The Duke's in London, he very likely taught Ian Fleming the Vesper Martini; came back here, and he opened a bar. A speakeasy, themed around gin and rum. And Mr Scholl is my friend, it's a 17-seat bar, and if I had to drink in just one bar for the rest of my life, that would be the one.
"Beckett's Kopf, owned by Oliver and Cristina, is a marvellous, beautiful, classic bar that serves everybody brilliantly. You could go in there on a stag night, on your own, with a client, or with a friend, and have an equally fantastic night. It's a bar named after Samuel Beckett, right, and it still manages to be one of the most fun places to go out."