Maybe you're just back from a few days off; maybe now, with the madness of the pre-Christmas rush and New Year's Eve in the rearview mirror, you want to switch up your list. Maybe, then, Maybe Mae's new list is of interest to you?
Whatever the reason, we're taking a look at new drinks lists for some menu inspiration (take a look at the latest Shady Pines Saloon menu here). Maybe Mae, led by Ollie Margan, is one of our go-to bars, and one of Adelaide's standouts. So when their new menu — which drops tonight — comes across our desk, we're always keen to see what they're up to.
The design, for one, evokes the bar's art deco glamour; more importantly, the drinks show off the bar's focus on seasonal ingredients and fresh, inventive flavour combinations. Take a look at the drink, Heather & Swine, for instance: single malt whisky, speck — yes, that cured porcine delight, watermelon vermouth, sour, and froth.
It's part of the whole closed-loop mentality of bartending, and is a "riff on the Proscuitto e Melone salad you might find in Italy – savoury, salty, sweet, smokey," according to Margan.
"We juice watermelon and acidulate it with citric and malic acid to preserve, it is used as the 'sour' component," Margan tells us.
ADVERTISEMENT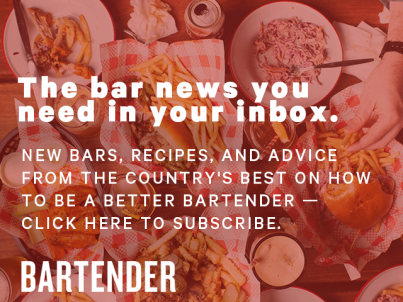 &nbsp
"The leftover [watermelon] rind, we steep in Dolin Blanc to create our watermelon vermouth. The rind contains all the esters that we associate with that 'confectionary' watermelon flavour, without any colour change," he says.
The speck component of the drink is employed as a fat wash with Highland Park 12 Year Old, using "residual speck fat from our sister restaurant Bread and Bone upstairs," Margan says.
We told you there'd be some thought provoking stuff in here.
More inspiration required? We love the look of the Smoke & Honey, because for one, there's fino sherry in the specs, and two, the mezcal honey caught our eye (mezcal usually does).
"The meszcal honey is literally a cold infusion of leatherbox honey and coven mezcal," says Margan. "It is used to just round out the fino and offset the bitters — it is my favourite drink by far, [a] super-refreshing aperitif."
Take a look at the menu below for more.