What do you want from a drink before you hit the entrees?
The aperitif style of drink is having a bit of a moment of late, with guests calling for Aperol Spritzes and the like by name over the bar. The whole point, initially, is to get you ready for dinner (or in the case of more than a few bartenders we know, heavier cocktails). It's a way to ease you into the night ahead. And that often calls for two things: a little bitterness, and a little acid, to get you salivating over what's to come.
Here we've spoken to Sam Egerton, bar operations manager for The Paddington and Charlie Parker's, to sample a couple of their creative drinks that fit the bill, and to look at a fizz and the Sbagliato.
Jacaranda & St Germain Fizz
30ml gin
20ml St Germain
30ml lemon juice
5ml sugar
10ml egg white
2 dashes of mandarin bitters
3 dashes of absinthe
Top with soda
Fistful of jacaranda flowers
Dry shake all ingredients except soda, then shake with ice. Strain into a fizz glass over ice, top with soda.
ADVERTISEMENT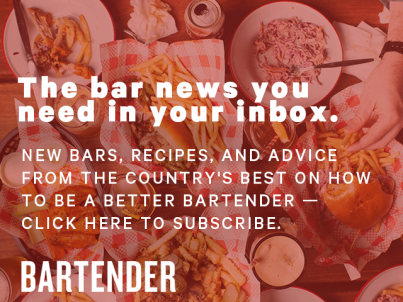 &nbsp
It should be quite obvious why this drink works as a before-dinner, straight out of work and into the bar kind of drink: it's light, floral, and a wonderful way to cleanse the palate before the big night ahead. For this one, Egerton did a spot of spur-of-the-moment foraging, picking up some jacaranda flowers from a tree behind Charlie Parker's — a last minute strike of inspiration that elevated the drink.
Raspberry glass, field mushroom, cognac, sparkling
15ml field mushroom brandy
15ml raspberry brandy
2 bar spoons raspberry syrup
90ml prosecco
1 brown mushroom sugar cube
Raspberry glass to garnish
Build ingredients in a tin, similar to a Bellini.
"It's kind of a love child between the Bellini and the Champagne Cocktail," Egerton says, and once you wrap your head around the idea of the odd pairing, you'll understand what makes this a good drink to kick off festivities.
"Raspberry and mushroom aren't a flavour pairing but they've got a lot of similarities in the way they're put together, as far as the way your palate receives them," he says. "If you like raspberries, you'll taste the raspberry; if you like mushroom, you'll taste the mushroom. We had two different drinks at Palmer a while ago, [one] which had a dehydrated raspberry and [one] that had a dehydrated mushroom and I put them both in my mouth at the same time and they tasted really good. I banked that, and at some point in time I'm going to use that in a drink."
Negroni Sbagliato
30ml Campari
30ml Cinzano Rosso
30ml prosecco
Build over ice, garnish with an orange twist.
The Negroni was what happens when you take the Milano Torino cocktail and add gin; the Negroni Sbagliato is what happens when you make a mistake and put prosecco in the drink in place of gin.
And what a wonderful mistake it is: this is one of those cocktails which will, yes, stimulate the appetite, but also won't leave you wankered by the time the mains come around.
Burnt pecan, pisco, mandarin reduction, oloroso
45ml burnt pecan shell pisco
15ml oloroso
30ml mandarin reduction
10ml lemon
20ml pecan orgeat from scratch
5 dashes mandarin bitter
Mandarin leather to garnish
"This is kind of the one I say that is an example of that end to end approach," says Egerton. "Every part of the pecan is used, the pulp [of the mandarin] we blitz, lay out and dry, so it becomes like a leather; the juice becomes a reduction, and the skin becomes a bitter."
It's also a great way to get the evening started.
Notes on ingredients
Campari: Arguably the most recognisable bitter in the world, the carmine-hued Campari is a staple of the aperitivo hour, and used in more classic cocktails than we have space to mention (the Negroni and the S'bagliato spring to mind, though). Campari Australia
St Germain: Made from freshly picked elderflower blossoms, St Germain possesses a purity of flavour, with characters that suggest pear, peach and grapefruit — it's a delicate, subtle flavour unique to St Germain. Bacardi-Martini
Amaro di Angostura: Bottled at 35% ABV, Amaro di Angostura is a deep amber colour, offering aromas of cinnamon, dark chocolate and unmistakable Angostura aromatic bitters. The flavours explode on the tongue with warm cinnamon and liquorice notes. island2island
Red Økar: Here's a locally produced bitter that heroes Australian ingredients, the chief one among them being riberries, which brings a cranberry like tartness to the table. Other ingredients include lemon myrtle, gentian root, licorice root, wormwood, sweet orange peel, cassia bark and cinchona bark. Applewood Distillery