Bartender Celia Schoonraad was born in South Africa, got her start behind bars in New Zealand, before moving to Melbourne, Sydney, London and then a stint working for Gonzalez Byass across Europe, before heading to LA. She was in Sydney late last year working a two month stint at PS40, and here, she tells us about the joys of the travelling bartender.
You get to experience this industry in a whole different way. Every time I've moved countries or even moved cities, it completely changes the way that you work because their approach to how a cocktail is created is completely different, in terms of the flavour profile that you're working with, and what's available locally — all that affects how you create a drink. And all the people that you work with, they've all been trained differently by someone else, so you get to reassess yourself not as a bartender but as an industry professional, how you operate and how you move; it's a great opportunity to fine-tune you, and also to experience things differently.
This industry, it's such a fortunate industry to be in because you can go and guest-bartend in another country for a night; whereas accountants can't go guest-accountant in another country for a day. It really is a global family that we belong to, where if you go to these big, global trade events, you get to see the same people and it's super fun. It's great.
I've been to Sydney a lot. It's really great, and it's good to see how it's growing and changing. The only negative thing about the industry here that I notice on a great scale is the amount that people drink. It's insane. It's concerning because it's not sustainable; people will burn themselves out. When I was in my early 20's, I used to drink horrendously a lot; but people grow out of that, because it's not a sustainable lifestyle, there's no point — there's no point in drinking 25 shots while you work, getting drunk, and doing it five or six nights a week. You end up losing your day. I used to go to work, get drunk — to be honest — go home, sleep, wake up, go to work and that was it, with time for zero in between.
Here in Sydney – and why I was so excited to come here — the lifestyle is amazing. I go to the gym almost every day, I go to the beach for an hour, I run errands, go to lunch, and then you go to work.
ADVERTISEMENT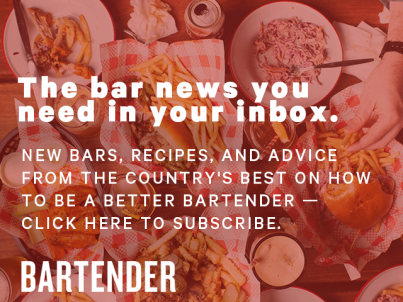 &nbsp
You have a full day before your work day has started and it feels great.
London and New York are comparable; there's always chatter about, that those are the epicentres of the cocktail world and they take turns leading the charge. LA's not like that at all; it's funny , because San Francisco has such a strong scene, whereas LA's only in the last five years kind of got the hang of it. Now, slowly there's more and more bars opening up. There's restaurants and bars adopting a tipping culture which is more European, where the service charge is included in the menu price, so what you pay is what you pay. It's a really weird thing for Americans to deal with.
There weren't many career bartenders in LA; everyone worked in this industry because they were a burgeoning actor, and that's definitely changed and changed in a big way. As a result, there's these really cool projects popping up left right and centre.
There's the stuff that makes Singapore, Singapore: it's clean, it's safe. The community there is really strong and supportive of each other, and the market there is getting to the point of where it's oversaturated, but it's not like they're in competition with each other — they're all very supportive.