No longer just a job to get you by, bartending can open up a wide range options for career development these days — working with brands, consulting for bars, presenting, starting your own brand and more. But one thing is for sure — the standard of professionalism is higher than ever before, too. So you've got to know what you're talking about.
Here, we look at some of the supplier-based bartender training programs out there and what they can do to help you fulfil your aspirations.
The Exchange
The Exchange came on the scene a few years back, offering some pretty involved and knowledgeable training for bartenders from across the experience spectrum. In that time they have notched up not just nominations for Training Program of the Year, but also picked up the trophy for their efforts in 2015.
We spoke with Mat Smith, The Exchange's national business manager for the on-premise, about what it is The Exchange can offer and what's in store for this year.
Can you give us brief description of what The Exchange offers?
The Exchange is Coca-Cola Amatil's premium brand strategy, and so we execute all sorts of initiatives to drive sales of our market-leading brands in the best outlets in the country. We have a team of specialised sales managers, our award-wining ambassadors, as well as our creative agency. We all work together with our venue partners to create and execute tailored programs.
ADVERTISEMENT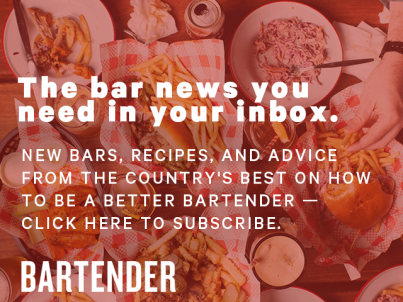 &nbsp
We're more than just a team of trainers, almost like bar consultants for lack of a better word, with three key focuses: to help increase a venue's revenue, increase foot traffic, and to drive efficiencies. If we can achieve at least one, or three of those things, that's our aim.
So you tailor your programs to each venue? What does that look like?
Absolutely. There's a training element to our program, and an events element to our program, both of which are significantly tailored.
From a training point of view, we conduct venue-specific training, and this means that no two sessions are ever the same because venues' needs differ wildly. Our team will have a briefing session, just to understand what the specific needs of that venue are, and then tailor a training module or a session to those needs.
Then when they get going, when they're in the actual training session itself, they'll always be assessing the audience. The guys, they're walking booze encyclopaedias. You could get Dan Woolley up there talking about the ins and outs of Laprhoaig and the distillery and how it's all brought together, which could well go over the heads of an apprentice style junior bartender. So it's really important that they tailor that session not just to the needs of the venue, but to the audience.
With our training, there's the tailored approach, but then there's also the programs from our brand partner Beam-Suntory. So The Exchange executes The Blend. The Blend has a cocktail competition but also has The Blends of the World modules, where we tour an international industry mentor to conduct a training session along with The Exchange ambassadors, and that's been hugely successful. We have the Bartenders4Bourbon program, which is a specialised bourbon category training. We then spice things up with things like the Peated Malts of Distinction, which is not only an in-venue activation, but it's also a great training platform to explore the world of brands like Ardmore, Laphroaig, Bowmore, and Connemara.
To summarise it, they provide brand knowledge, extensive category knowledge and insight, but the main one really is how to sell these brands and these categories to venues' customers. That's a big part of what they do — the language, the confidence, empowering [bartenders] to do what they're employed to do.
How many bartenders have you guys trained?
We go into close to 400 venues a year, just for training purposes. In terms of bartenders, in 2016 alone, we've trained just over 4000 bartenders.
What's in the works for the year ahead?
The Laphroaig Opinions Welcome campaign is back in 2017 along with a handful of exclusive Laphroaig masterclass sessions in each capital city.
SouthTrade's Fine Drinks Movement
SouthTrade has a great portfolio of brands (and it's where you'll find some great American whiskey). They're launching a new training program from February, which in addition to education, will see a website on which there will be bartender, venue and trend spotlights, "with a view to helping bars and bartenders develop their brand," national training manager Gee David tells us.
Tell us a bit about what the Fine Drinks Movement is all about.
The FDM is all about creating the next generation bartender as well as providing refresher info to seasoned bartenders like myself! We will include modules on everything from Bartender Basics, Selling Skills, Classic Cocktails, every spirit category you can think of — and a whole lot more. It's a fun and engaging way of getting an education and it's free.
It also doubles as a personal recipe 'black book' that members can upload and bookmark their favourite recipes… No more bev naps and wet till receipts!
We are looking to engage bartenders and take them on a journey through education which will result in certificates and an industry recognised qualification!
It's a fine way to add value to your CV – it's a drinks thing – and it's a movement we've all been waiting for!
Mix It Monin
Monin is known for their wide range of quality French syrups and fruit mixes, and they're backing up their products with some top-notch training. We spoke to their marketing and beverage innovation manger, Tomas Vikario, about what you can expect from their training.
Tell us a bit about your training program?
MIX IT MONIN is a trade support program for bar managers and their staff. A 2H training course for the bar industry, run by our MONIN brand ambassador to bar managers and staff. It's fun, interactive, and enjoyable.
Each course is personalised to suit the customers' venue: Bartending, Upselling Techniques, Staff Motivation, Cocktail Skills, Brand Awareness, Bar Etiquette.
It's designed to help improve their profits by increasing customer satisfaction.
How does it work?
The MONIN ambassador introduces you to the art of mixing drinks in this laid back, hands-on workshop exploring the principles and techniques of what makes a truly great cocktail. Discover the tips and techniques which allow the true bartender to craft original cocktails from wide MONIN range and nearly any grab-bag of ingredients. You'll also explore current cocktail trends, and familiarise yourself with the primary "drink families". You'll get a quick refresher on proper and contemporary bar techniques before diving head-on for your opportunity to mix, stir, shake, and pour your way to creating your very own unique MONIN libation!
Bacardi-Martini
The ambassadors from Bacardi-Martini and its stable of brands have been active right around the country of late, hosting events and training sessions, so we spoke to Chris Boschetti, the national account manager for on-premise for Bacardi-Martini, to find out how involved their training program is.
Could you briefly describe the training that your company conducts for bartenders?
Our aim is to bring new and exciting information to the Australian bartending community through our connections within the global bartender community and international liquor industry. Our global head of advocacy, Jacob Briars leads the agenda, keeping our message and education in line with global trends. We have a range of education programs which include sharing the rich heritage of Bacardi through the Bacardi Legacy program along with category education across vodka, gin and liqueurs through our brands: Grey Goose, Bombay and De Kuyper.
What are the strengths of your program?
We have been sharing the Bacardi story since 2002 where Rai Nagra pioneered the brand ambassador role in Australia, and we continue to tell the same stories today. More recently Bacardi have fostered three talented Australian bartenders, providing a platform to the international bartender stage through the global Bacardi Legacy competition.
Our ambassador team comprising of Andy Wren, Loy Catada and Sean Forsyth, provide the Australian bartender community with a wealth of practical experience, knowledge, passion and plenty of good times.
They live and breathe the industry and have done so for many years. Whether it be sharing a meal with Enrique Comas (an eighth-generation Bacardi family member) or training a fresh-faced bartender, their passion is contagious.
Campari
You may have seen the ambassadors from Campari Australia in venues around the country — they've been busy carrying out Campari's training program.
The training is carried out by the team of brand ambassadors in Australia and NZ: Jamie Chesher, Daniele Pirotta, Jay Lambert, David Fletcher and Tristram Fini. They conduct two different types of training for bartenders. The first is The Cocktail Studio Seasons, Campari's training program.
Capitalising on the interest in all things seasonal, The Cocktail Studio Seasons is focused on teaching bartenders about seasonal ingredients, as well as categories of spirits and new cocktail techniques.
The second is a more tailored approach, with training on brands or cocktails specific to the staff at one venue. The Campari brand ambassador team all have a wealth of experience in cocktail bars and the liquor industry, so it places them well to meet the needs of all venue types.
It's The Cocktail Studio Seasons sessions that are unique; it's a light on its feet kind of program, which makes it current and relevant to all levels of bartenders.
They keep it current by giving the training program a complete overhaul four times a year to ensure that their content remains fresh and relevant.
In terms of what to expect in one of their sessions, you can know that when they teach a technique, they go in-depth.
It might be bringing sous vide equipment to a training session to make the drinks live — they go into detail on the techniques right in front of your eyes. The same goes for techniques for shrubs, sherbets, pickling and cutting clear blocks of ice.
Expect a light-hearted session and some drinks on arrival — they've always got a few Negroni's and  Aperol Spritz's kicking about.