The Blends of the World Masterclass series will shortly kick off again in February 2017, with its first module hosted by Sam Egerton and Toby Marshall – the extremely forward thinking and talented duo behind the much hyped Sydney venue Charlie Parker's.
Sam and Toby are both driving forces within the bartending community who are at the forefront of creating sustainable, yet imaginative cocktail listings. Their newly opened venue has been praised for coming up with some of the most inventive concoctions in town using their "top to tail" philosophy.
So what's this module all about?
We all strive every day to collaborate with other bartenders to create better and more exciting cocktails, but why not with chefs?
They are some of the most knowledgeable people within a venue when it comes to produce, flavours and preparation techniques.
This Blends of the World Masterclass is all about how to harness this knowledge: collaborating with chefs to move closer towards a sustainable closed loop/zero waste environment, and boosting profits in the process.
ADVERTISEMENT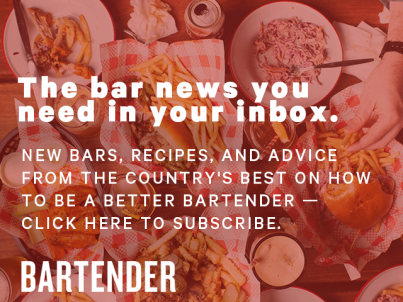 &nbsp
Sustainability and zero waste management are definitely 'buzz words' around the industry at the moment, and Sam and Toby are at the forefront of implementation of this concept and strategy within their venue.
Two years in the planning, Charlie Parker's menu is filled with offerings that toy with the senses. Doing away with conventional thinking to create truly unforgettable classics.
Come experience innovative cocktail making, and be inspired by the unique flavour combinations.
Spaces are limited, reserve your spot today
Log on to www.the-blend.com.au and head to the What's on page.
Sam Egerton
Sam has dedicated his most of his adult life within the hospitality industry. From the ripe old age of 15, he has filled almost every imaginable position within a restaurant, working his way from the kitchen to front of house, bar back to manager. Almost 10 years ago, he decided he needed a new challenge and decided to dive head first into the wonderful world of cocktail bartending.
Since then he has worked tirelessly within the Sydney bar scene, his resume includes The Lincoln at the then bustling Kings Cross district where he rediscovered his passion for service and cocktails, then moving onto the award winning interpretation of the American prohibition bar: Palmer & Co. Now he is one of the visionaries behind the newly opened Charlie Parker's where he is taking the art of cocktail making to a whole new level, with odd flavour combinations and techniques usually reserved for Michelin Starred chefs.
He is personally trying to drink the Boulevardier back into popularity, loves the unpredictable nature of this industry and meeting people with an avid fascination with anything relating the world of booze.
Toby Marshall
Originally from Bathurst NSW, Toby has been working in hospitality ever since his first job. Studying to be a Secondary Teacher, his passion for both hospitality and sharing knowledge grew to be something he believed was worth pursuing as a career. Throughout the years of traveling and living abroad as well as experiencing various aspects of the industry, Toby developed a strong ethos around honest hospitality. Backed by a constant desire for creativity and pushing to be better, Toby finds original inspiration in all things around him but ultimately strives to bring humility to the professional industry.
Sustainability within the hospitality is a huge passion of Toby's, incorporating the drive for professional longevity and an awareness within the industry on its social and environmental impacts.
Please note Toby will be co-hosting in Sydney, Perth and Adelaide.