The Americans love their 'national days' — in January alone, you'll find National Kazoo Day, National Bootlegger's Day, National Hot Pastrami Day (we don't know when the Cold Pastrami Day is) and one of our favourites, National Blame Someone Else Day, with a spot on the calendar. It's kind of ridiculous.
But whilst we're generally sceptical of appropriating too much Americana as our own, we'll gladly push one of their more delicious national days: National Irish Coffee Day, today, January 25th.
Of course, it's cold over there right now, and a hot Irish Coffee makes a lot of sense; in Australia's summer, you're probably best going with this riff on the Frozen Irish Coffee recipe below.
Hailing from New Orleans, this recipe ticks all the boxes of Bourbon Street drinking: it's served ice cold, offering respite from the New Orleans heat; it offers the pick me up of caffeine, a necessary adjunct to French Quarter boozing; and it'll get you soused, too — you are, after all, under orders to let the good times roll when in the Quarter.
The recipe below is the old Hinky Dinks approximation of the unbeatable version from the Erin Rose in New Orleans.
ADVERTISEMENT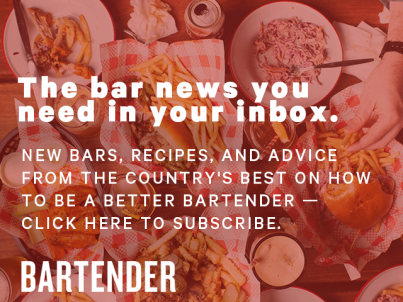 &nbsp
Of course, should you feel like a more traditional Irish Coffee, we're big fans of the Benicia Boy from New York's Dead Rabbit Grocery & Grog — see the recipe below.
Frozen Irish Coffee a la Erin Rose
30ml Irish whiskey
30ml espresso
30ml sugar syrup
60ml milk
1 large scoop of ice cream
5 ice cubes
Blend all ingredients and serve in a jar with wafer crumble and wafer.
Adapted from a recipe from Hinky Dinks, Sydney
Benicia Boy recipe
45ml Irish whiskey
120ml black coffee
15ml 2:1 demerara sugar syrup
Double cream to top
Nutmeg
In a pre-heated sour glass, add whiskey, coffee, demerara syrup. Float double cream on top and grate fresh nutmeg on top of cream.
Adapted from a Dead Rabbit, NYC recipe