San Francisco bar, Trick Dog, has captured a lot of attention from bartenders around the world with their menus, and their latest one, The Trick Dog Mural Project, is doing good for their local community.
The bar is a favourite of the big international awards comps, landing at number 35 on the 2016 World's 50 Best Bars List and featuring as a finalist for World's Best Cocktail Menu and Best American Cocktail Bar at Tales of the Cocktail's Spirited Awards last year. They're known for their innovative, conceptual menus — in the past they've used election campaign badges, Pantone colours, and Chinese takeout menus as their inspiration — and every six months the release a new list.
Art comes in countless forms. At Trick Dog, our art is the cocktails, the food, the environment, our hospitality, and our menus. Since we opened in January of 2013, we have challenged ourselves every six months to present our original cocktails in a new creative format.
Kickstarting things this year is The Trick Dog Mural Project. It's a collection of 13 drinks, each of which has been named for local artists who have painted murals around their local community for the project. They've photographed each of the murals, and collected them together in a book which they're selling through the bar and via their website, with the proceeds going to two local arts non-profits.
ADVERTISEMENT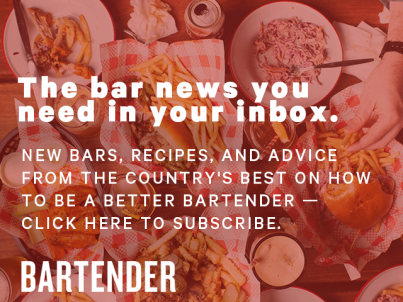 &nbsp
It's an example of how effective your menu can be, and achieves three things: first of all, they're creating new drinks and keeping interest in the bar for their regulars; second, the bi-annual release of a new menu — one that's ambitious and doing something that's not done elsewhere — helps to generate conversation and discussion around the bar, keeping it top of mind for punters, bartenders, and the media; and third, it's doing good for its local community, supporting a cause they believe in (the arts).
Take a look at the video above and get some insight into how it came together, and check out the full menu and the artwork here.