Imagine you had unfettered access to an extensive champagne collection, been given free reign to source gin from across the globe, and give stellar five star service — all at one of your city's most exclusive addresses. Sounds like a dream bar, right?
Well, that dream has been built, and it's called Atlas Grand Lobby & Bar, which opens in Singapore this month.
"It's a pretty big, special project," says Jason Williams, creative director with the Singapore-based Proof & Company, which he describes as "a collective brands, bars and spirits creative agency," and which
is responsible for a number of acclaimed bar concepts in Singapore, Hong Kong, and Asia more broadly.
This latest project is an ambitious one, bringing a five star European grand lobby and bar concept to life in one of the city state's most exclusive addresses. This is how they've done it.
Parkview Square
To understand just how grand this project is, it helps to know a little about where it will come alive.
ADVERTISEMENT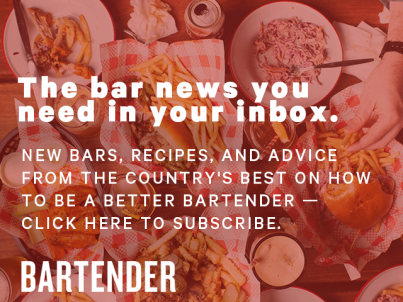 &nbsp
Parkview Square is something of an anomaly in a city of soaring skyscrapers and shimmering glass; it's the final project of the late Hong Kong-based property developer, C. S. Hwang, and though only 15-odd years old, harks back to an earlier time.
"It's a family-owned building, it's a family-owned business," says Williams. "This is a building that's really well known with locals and tourists alike. It's been nicknamed the Gotham Building, because it has this incredible art deco design and was built about 15 years ago, but looks as though it's from New York 100 years ago. It's a really striking building.
"There's a heap of beautiful artwork, high ceilings, and then in the lobby is this crazy, stunning space," he says.
For the last 15 years, the space which Atlas Grand Lobby & Bar occupies was a wine bar that, it's reasonable to
assume, didn't quite live up to the grandness of the architecture (the wine bar featured a wine tower, and when guests ordered a bottle of wine from said tower a member of staff — replete with fairy wings — ascended a wire to fetch the bottle).
That was something that the current building general manager, Vicky Hwang, wanted to change. "She's spent the last couple of years with Proof & Company and some other talented people to really bring this lobby to life," Williams says.
"The space itself is stunning — anyone who walks into the space, it takes their breath away: 15 metre ceilings, it's got this huge tower, two bars — their grandfather was a massive patron of the arts, architecture, design and engineering, so he literally travelled the world and handpicked every piece of furniture, every textile, the carpets, the marble. So [Vicky Hwang] wanted to bring the building back to life and one way to do that was to build this beautiful bar to protect his legacy."
Developing the concept
The possibilities of such a space are seemingly endless, but the Proof & Company team got the concept locked early on.
"We looked at how the venue would be used," says Williams. "It's going to be open from eight o'clock in the morning until three o'clock in the morning on weekends, and we talked about how it's an office building with global consulates, and it's already a tourist attraction.
"So we thought it had a global feel, and the word Atlas really stuck out for us. That, combined with this grand, European style of service, day trade, like a grand cafe or piazza during the day and evolving into this glamorous, almost London style hotel bar during the night, we thought Atlas, European, art deco — it all kind of came in. We made those decisions years ago now and just went with it," he says.
Those decisions then followed on to the core business: making drinks, and making people feel welcome. To that end, they've got some high-end bartending talent leading the bar.
Over the last five years, the Singapore bar scene has exploded; craft cocktails are now a commonplace, boutique beer bars as popular as Tiger beer, and a great influx of bartending ex-pats have arrived lending experience and expertise.
The latest of those to land in the scene is Roman Foltán, who will lead the bar for Atlas, and Carla Soares, the bar's maître d, both of whom have just come from the world's former number one bar, Artesian at The Langham, London.
Foltán has been in the industry since he was 14, first as kitchen porter, then hitting hotel management, before moving to London at 19.
"Eventually I got a chance to work at Artesian as a bar back," he says. "I was working there for the last six years until I moved to Singapore for the Atlas project. I was bar back there for four months, then promoted to a bartender, and eventually became the third person in charge. So if Alex [Kratena] or Simone [Caporale] wasn't there, I was the one running the place."
Along with Soares, Foltán will bring that experience to bear, with classic European-style service the aim.
"We want to deliver a five star service, with a lot of attention to the details and personalised service," he says.
"At the same time, in a very relaxed, and a little bit cheeky way as well. In London, the five star hotels
sometimes they can feel a little stiff, it's not very warm service sometimes, and that's not what we want to be."
The drinks are focused around three pillars: cocktails, gin, and champagne.
"The whole project is inspired by European 1920's," says Foltán, "so the whole menu has been built and designed around that period, from 1920 to the 1930s in Europe. Pretty much all the drinks are inspired by the period, by the famous artists, inspired by famous designs from the period, inspired by the buildings from the period as well. 99 percent of the ingredients will reflect that as well, so that there's a connection between the ingredients and the idea behind the drink."
Williams explains that it's the exuberance of the period that they're hoping to emulate, and have used 1925 — the year that the term art deco was coined in Paris — as their jumping off point.
"This is us saying that yes, there was waistcoats and moustaches and teacups and speakeasies, and that very east coast [USA] vibe," he says.
"While all that was happening, in Europe people were celebrating. There was an influx of American bartenders into Europe, and places like Paris and London were celebrating. We wanted to bring that to life."
Expect to see some classic glassware to house those drinks, too. They're working with UK glassmaker John Jenkins — who hold a royal warrant — and it's with them that they're developing a custom glass for their signature Martini.
"Lisa Gibson, she's worked for them for 25 years, and she's obviously part of the family, she's been their designer," Williams says.
"She sent us through a cache of documents with drawings, pictures and documents on what the martini glasses they were selling were like in 1925. So when the term art deco was coined, this is the Martini glasses they were making and selling. So Roman and I have taken these pictures and drawings and we're putting our twist on it, looking at the liquid volume, putting a bit of a modern twist on it, and they'll be producing those in the next couple of months."
And then there's the gin — and lots of it.
"We've spent the last eight to 10 months procuring gins from around the world," says Williams. "We're trying not to say stuff like 'the largest collection' because we've actually put a lot of thought into it. We've catalogued 1000 gins, the botanicals, the distiller, the kind of still, the postal address, and we've had a set of guidelines, a manifesto, and the gins have to meet that to be in the collection."
The next pillar is the champagne, mined from the Hwang family's private store.
"The family are avid wine collectors," says Williams, "they've got a really crazy cellar system in Hong Kong where they've got an immense amount of wine — and crazy good wine as well. So we've been lucky enough to gain access to what we're referring to as the family collection."
The focus is on champagne, though, with all the grand crus represented as well as some rare and big name bottles, all of which receive some pretty special storage.
"We've got this beautiful champagne room: behind the main bar there's a walk-in chiller, which is a rose metal plated champagne room. It houses about 250 bottles or something, but will also have a pillbox in the middle which has a special light that shines on it because we have to be careful about UV light rays going on to a particular bottle — this is the shipwrecked champagne," says Williams.
"It was this champagne that was being smuggled to Russia for a tzar during world war one, on a fishing boat, that was sunk by a German U-Boat. It was under pressure in sub-zero degrees for years, and then was pulled up in the nineties and the family bought this champagne. It's beautiful champagne, they've opened two bottles, one of them was good, the other was flat but still drinkable. That will take pride of place in the champagne room."
Lest you be put off by all that rarity, they'll be serving eight champagnes by the glass to keep things accessible.
"We don't want people to feel apprehensive, when ordering a wine or walking into the venue in general; we want people to feel comfortable and introduce them to new champagnes and new gins."
The concept is ambitious, the service striving to be the best it can be; how is it going to fit into Singapore?
"It's unlike anything else," Williams says without hesitation. "This place is quite unique, and sort of sits on its own."
*An earlier version of this article made reference to 1300 gins, when it should have read 1000.