Since the Dead Rabbit Grocery & Grog opened its doors in 2013, they've picked up a number of awards: they've picked up the award for world's best new cocktail bar in 2013 and world's best cocktail bar in 2015 at the Spirited Awards, and last year took out the number one spot on the 2016 World's 50 Best Bars list. And today, they're celebrating their fourth birthday.
As we (much like you, we suspect) are always in search of a reason to have a drink — and a good one at that — we thought we'd offer up this recipe from their latest menu as a toast. It's a cracker employing two delicious Irish whiskeys, and a hint of pommeau de Normandie (which we'd like to see more of).
Should you find yourself enamoured of this drink, you can get more recipes in the Dead Rabbit Drinks Manual here.
Take a look at the Commander & Chief recipe below.
The Dead Rabbit will be visiting Australia courtesy of Poor Toms Gin and Melbourne Moonshine, for a take over of three of our best bars: the Black Pearl in Melbourne on Tuesday April 18th; The Gresham in Brisbane on Wednesday April 19th; and The Baxter Inn in Sydney on Sunday April 23rd. The bad news? Tickets for the events have already sold out.
ADVERTISEMENT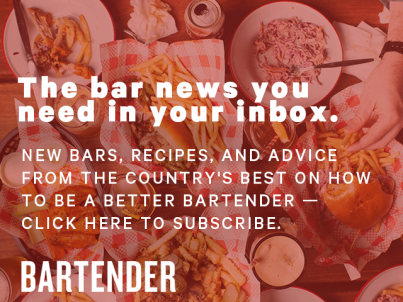 &nbsp
Commander & Chief recipe
2 Dash Angostura Bitters
0.5 tsp Giffard Apricot
0.5 tsp Passionfruit Syrup
0.5 oz Verjus Blanc
0.5 oz Pommeau de Normandie
0.5 oz Redbreast 12 year
1 oz Green Spot Irish Whiskey
Stir down all ingredients and strain into a chilled cocktail glass.
Recipe from the Dead Rabbit Grocery & Grog.