Welcome to the first in an eight part series profiling some of Melbourne's top bartenders, What Women Drink. Today, meet Hannah Lawson, from
Loretta's Bar
.
What Women Drink is the first offical industry event held at new Melbourne cocktail bar, House of Correction. Hosted by the bar's Rachael Hand and Alex Ross, the event took eight of Melbourne's finest bartending talent in one room in front of a heaving crowd to showcase what they bring to the bartending scene. Each bartender presented their drinks to the crowd — and enjoyed a drink themselves — as the House of Correction team pumped out samples of the drink for the punters.
The guests then voted for their favourite drinks, and it was Hannah Lawson of Loretta's Bar, and Cennon Hanson from Bad Frankie, who tied the vote and shared the prize of a bottle of the Glenlivet 18 Year Old from the night's sponsor, Pernod Ricard.
In the Q&A conducted by Rachael Hand below, read what Lawson has to say about bartending, hospitality, mentors and more, and check out the specs for her drink.
ADVERTISEMENT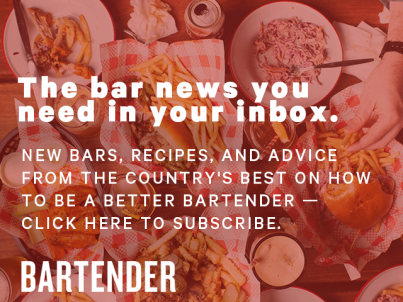 &nbsp
Hannah Lawson – Loretta's Bar
30ml blended Scotch
10ml Ledaig Islay Whisky
10ml Starward Pedro Ximenez Small Batch
15ml coconut milk
10ml pineapple syrup
Two dash of sarsaparilla dry bitters & hellfire habanero shrub bitters
Pinch of salt
Splash of soda

Why hospitality?
Hospitality continues to evolve every year, bringing together all walks of life to create, inspire and celebrate incredible products and venues. I love being apart of this sort of renaissance within the Australian industry, it's exciting and unpredictable.
What's your favourite drink?
Pina Colada.
Who inspires you/ who is your mentor?
My old manager and good friend Matt Nimmo. He first sparked a true love in cocktails, and continues to guide me from his new life managing Twinpigs in Berlin.
What's your pet peeve — what bugs you?
When people call stemware "girly" and refuse to drink from it.

Why do you think females in hospitality is such a hot topic?
In a previously male dominated industry it's exciting to see a new wave of talent coming into the scene that is predominantly female. We bring a different sort of energy, creativity and flair that is completely infectious. Also female bartenders are super badass!
What drives you?
The knowledge that I can create a unique experience for anyone that comes through the door, an experience that allows them to escape from the rest of the world and fall in love with alcohol like it's the very first time.
What is your greatest strength?
My ability to listen to a customer, then find the perfect drink suited especially for them.
In 25 words explain your drink?
The harmony of a tropical getaway and a cosy night by the fire. The perfect salute to fond memories and my favourite flavours – coconut, and smoke.
Photography: Georgia Verrells