Here's part two in an eight part series profiling some of Melbourne's top bartenders, What Women Drink. Today, meet Cennon Hanson, from
Bad Frankie
. (Take a
look at part one here)
.
What Women Drink is the first offical industry event held at new Melbourne cocktail bar, House of Correction. Hosted by the bar's Rachael Hand and Alex Ross, the event took eight of Melbourne's finest bartending talent in one room in front of a heaving crowd to showcase what they bring to the bartending scene. Each bartender presented their drinks to the crowd — and enjoyed a drink themselves — as the House of Correction team pumped out samples of the drink for the punters.
The guests then voted for their favourite drinks, and it was Hannah Lawson of Loretta's Bar, and Cennon Hanson from Bad Frankie, who tied the vote and shared the prize of a bottle of the Glenlivet 18 Year Old from the night's sponsor, Pernod Ricard.
In the Q&A conducted by Rachael Hand below, read what Hanson has to say about bartending, the lack of attention put on mental health in the industry, mentors and more, and check out the specs for her drink.
Cennon Hanson – Bad Frankie
Why hospitality?
The sense of community drew me in, and lacking a direction, I threw myself into bar work. I don't think any industry rewards hard work and ambition as much as hospitality. 
ADVERTISEMENT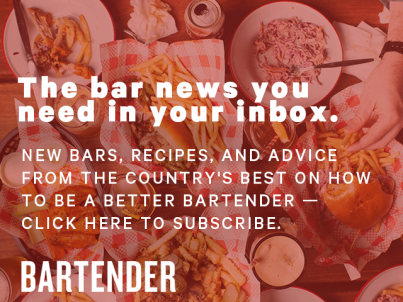 &nbsp
What's your favourite drink?
A Ron Zacapa Old Fashioned. It was my first drink in my first bar, and it's been my favourite ever since. 
Who inspires you/is your mentor?
Hayden Lambert. His brutal honesty and incredible insight constantly challenge me to view things in an alternate light. And of course Sebastian Costello. He gave me a shot in helping run Bad frankie, his never ending support and enthusiasm make everything seem possible. 
What bugs you?
The lack of recognition for mental health within this industry. It comes from all angles, and a culture of minimum self care is the driving force behind this. It is an issue that needs to be addressed, and soon. 
Why do you think females in hospitality is such a hot topic?
Traditionally it was a male driven industry, and for some people it seems to come as a shock that when we get behind the bar we can do the same work and possess the same knowledge. What we should be looking at is if everyone -males and female- can be a functional and thriving worker in hospitality, and work to the industry standard regardless of gender. 
What drives you?
Knowledge. This industry is a never ending well of knowledge. You can strive to constantly learn innovative techniques, history, the science behind it all and at every point you are enlightened without  being able to grasp it all in its entirety.  I find that amazing. 
What is your greatest strength?
Being able to learn from my team. My way will not always be the right way, and if I can learn more efficient methods from them then I am one happy camper. 
Describe your drink in 25 words
Rum soaked Jaffa cakes. Where's the downside? 
50ml 1886 Tumblegum Rum
10ml sugar
2 dash Mr Bitters Cacao & Macadamia Bitters
Garnish: orange twist