Here's part four of our eight part series profiling some of Melbourne's top bartenders, What Women Drink. Today, meet Sarah Mitchell from Boilermaker House. (Take a look at the series here).
What Women Drink is the first offical industry event held at new Melbourne cocktail bar, House of Correction. Hosted by the bar's Rachael Hand and Alex Ross, the event took eight of Melbourne's finest bartending talent in one room in front of a heaving crowd to showcase what they bring to the bartending scene. Each bartender presented their drinks to the crowd — and enjoyed a drink themselves — as the House of Correction team pumped out samples of the drink for the punters.
The guests then voted for their favourite drinks, and it was Hannah Lawson of Loretta's Bar, and Cennon Hanson from Bad Frankie, who tied the vote and shared the prize of a bottle of the Glenlivet 18 Year Old from the night's sponsor, Pernod Ricard.
In the Q&A conducted by Rachael Hand below, read what Mitchell has to say about her mentors, why we should support each other, and check out the specs for her drink.
Sarah Mitchell – Boilermaker House
Why hospitality?
I 'fell' into hospitality like a lot of people do. It was a way to make some extra dollars whilst I was studying. However I quickly developed a love for the way that in every venue you foster a family with the people you work with. I also love the fact that you are always interacting and learning from new people every day. I couldn't imagine anything worse than sitting in an office all day and hospitality has allowed me to gain a lot of confidence and social skills and lead a less ordinary career path.
ADVERTISEMENT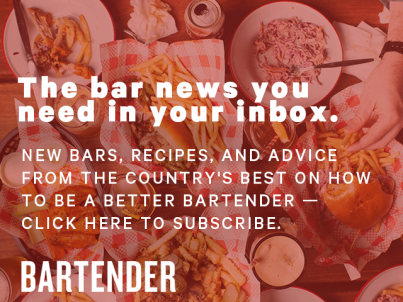 &nbsp
What's your Favourite drink?
I don't think I have a specific favourite as it always depends on my mood. If I had to pick one it would be a Blue Daiquiri in tribute to a late friend Tarun Asthana.
Who inspires you — who is your mentor?
I have two lovely gentleman that created my initial love for hospo. They both currently also run amazing bars here in Melbourne. The beautiful Jack Sotti and Alan Raythorn.
What's your pet peeve — what bugs you?
I think a big thing for me would be people putting others down. I think in the hospo game we are all here for the same reason (more or less) and we should all support each other to get the most out of it.
Why do you think females in hospitality is such a hot topic?
I think that there are so many amazing female bartenders around and it is always good to highlight the strong ladies in the industry.
What drives you?
Just to keep learning and progressing everyday. I jumped around a few venues in the past couple of years as I moved on if I didn't feel I was learning anything. I finally am working in a venue where I feel like I am learning so much everyday and it's a great feeling knowing that I am constantly progressing.
What is your greatest strength?
I definitely believe I have a solid work ethic.
In 25 words explain your drink?
I like to try interesting flavour combinations and keep the experience of cocktails super fun and interesting.
50ml Archie Rose Virgin Cane Spirit
5ml dry curacao
10ml white chocolate liqueur
20ml mandarin shrub
10ml thyme syrup
Served up with a salted coconut foam