The Indie Spirits Tasting Perth is less than four weeks away. For just $55 you will have access to over 25 suppliers and 120 boutique spirits, delicious bar snacks, as well as intimate tasting seminars that take a deep dive into craft production and great hooch. Indie Tasting Perth will be held at the Flour Factory from on Wednesday 15th March from 5pm till 8.30pm. Click here to buy your tickets now.
Artisan Handcrafted have been big supporters of the Indie Spirits Tasting in both Sydney and Brisbane and now they are coming along to Perth to showcase a number of their brands. One brand in particular – Rum Diary Spiced Rum – is an exciting addition to their line-up. So they put us in touch with  Hamish Goonetilleke, a well-known name in the industry (thanks to his Melbourne bar, The Rum Diary Bar) and the man behind Rum Diary Spiced Rum.
Q: Craft distilleries are popping up around Australia and around the world. What's your take on the Australian craft spirits market?
Craft is small batch and handmade – it's labour intensive and incredibly rewarding. Seeing so many people with a drive for creating and wanting to share that passion – it can't be a bad thing for the industry! The best thing about the market and the craft revolution right now is that consumers are open to trying new products – and recognising the value of bespoke. Without the support of consumers there would be no revenue and no growth – it makes it a very exciting time to be in this industry.
Q: Who is drinking craft spirits?
ADVERTISEMENT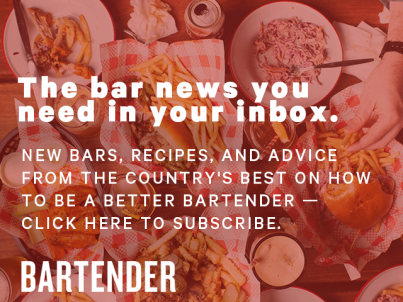 &nbsp
I think there's a real mix, we've seen the greatest shift in those over 25 – as tastes change, knowledge increases and disposable income rises a whole new level of products open up to them to try. Overlaid with the increasing movement to support local production and celebrate handmade there's a real love for craft spirits.
Q: Give me a little bit of background on your brands and what prompted you to start them.
For us it's been a very organic process – having the bar in Fitzroy, The Rum Diary Bar, we've always created our own house products such as ginger beer and a spiced rum.
The popularity of the rum kept growing over the years, so we kept tweaking and improving it, as time went on people kept asking to buy it for home, so we increased production and started selling it to customers and then into other bars. The interest kept growing – to a level we couldn't sustain in house, so we ran a successful crowd funding campaign to raise capital to commercialise it and engaged Artisan Handcrafted to help get it out to all the bars that were wanting to stock it.
My mission for the brand is to be as innovative and creative as possible, both because it's cool and interesting but it keeps us working hard and thinking big – I want to see people believing in what we are doing because its honest and authentic – a true grass roots philosophy no matter where we get to…
Q: Tell us a little bit about your distillery and your distilling process.
To be considered rum the spirit must be distilled for at least two years – there was no way I was patient enough to wait that long to get things going, so we made the decision to source our base from an established distillery and then spice and finish it here in Australia. We have a great rum from Trinidad & Tobago – it's aged for five years, so it's even better, we then combine a selection of fresh and dried spices and tinctures with the rum. It's been a very experimental process, but we couldn't be happier with the product we've developed.
Q: What products do you have in your portfolio?
Our hero product is the Rum Diary Spiced Rum. We're about to launch a new SKU – Rum Diary Spiced "Royal Fortune" – a navy strength (57%) version of the Spiced Rum. We also have a secondary range – the Bartenders Edition which is three pre-batched cocktails in 150ml hip flasks  – purposefully designed for the specialist off-prem market.  Simply buy, pour over ice/put in shaker; pour out and garnish. And you have a bartender balanced cocktail. Done! This is available as the Spiced Negroni , the Spiced Old Fashioned and the Spiced Espresso Martini.
Q: What will you have on show at Indie Perth?
Core range
Rum Diary Spiced Rum
Rum Diary Spiced "Royal Fortune" 57%
Bartenders edition 
Spiced Negroni
Spiced Old Fashioned
Spiced Espresso Martini
We're also working on a new range of limited edition spiced rum products called Experimental Kitchen. This limited edition range of spiced rum products is all about pushing the boundaries of what we can do with spiced rum. We're currently creating a cherry spiced rum with local fresh cherries – we're expecting it'll be outstanding, so if we don't drink it all beforehand we'll be bringing that along too.
Q: Who will be on hand to discuss the brands at the event?
Hamish Goonetilleke – Brand Owner, Daniel Monk – Brand ambassador, Georgie Wright- Sales Director, Artisan Handcrafted – Distributor &Angie Lewis- Business Development Manager, Artisan Handcrafted.
Indie Tasting Perth – The Flour Factory, Wednesday, 15th March. 5pm-8.30pm. It promises to be a day of good times and great spirits, and with tickets only $55 (Click here to get your ticket to Indie Spirits Tasting Perth now.) you're best to secure yours early. Open to both consumers and trade, this event caters to all those with an interest in unique spirit brands.
In 2017, Perth is the first destination for the Indie Spirits Tasting, with stops in Brisbane on Sunday the 28th of May at Lefty's Old Time Music Hall, and Sydney for Bar Week on Sunday the 17th of September at Restaurant Hubert.
To keep updated with all the distilleries, spirits, and seminars at the Indie Spirits Tasting events happening around the country, make sure to like us on Facebook, follow us on Instagram, and keep an eye on indiespiritstasting.com.au.