You may have noticed that over the last week or so we've been profiling some of Melbourne's best bartenders, in the series
What Women Drink
.
Today is part seven in the eight part series, and we're hearing from Sarah Wongstein of Bomba.
(Take a look at the whole series here).
What Women Drink is the first offical industry event held at new Melbourne cocktail bar, House of Correction. Hosted by the bar's Rachael Hand and Alex Ross, the event took eight of Melbourne's finest bartending talent in one room in front of a heaving crowd to showcase what they bring to the bartending scene. Each bartender presented their drinks to the crowd — and enjoyed a drink themselves — as the House of Correction team pumped out samples of the drink for the punters.
The guests then voted for their favourite drinks, and it was Hannah Lawson of Loretta's Bar, and Cennon Hanson from Bad Frankie, who tied the vote and shared the prize of a bottle of the Glenlivet 18 Year Old from the night's sponsor, Pernod Ricard.
Take a look at the specs for Sarah's drink and see just what hospitality means to her.
ADVERTISEMENT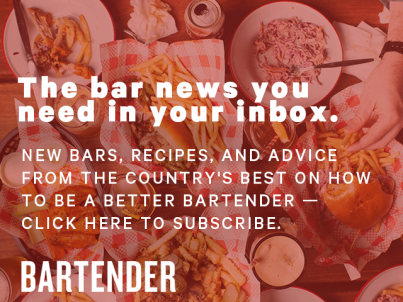 &nbsp
Sarah Wongstein
Why hospitality?
For getting to see people for the highlight of their week and being a part of their celebrations. Whether it be a milestone celebration like an anniversary or celebrating the end of a working day we get to be a part of it. As servers and bartenders we get to see people at their best and get the instant gratification from the product we provide. In contrast to other professions, we are so lucky in that regard. Our customers want to see us and want to be in our venues. How many people feel the same way about going to see their doctor or their accountant?
What's your Favourite drink?
A Coronation.
Who inspires you — who is your mentor?
Nick Smith the owner of an awesome bar up in Canberra, Bar Rochford. I remember him interviewing me when I had next to no experience and saying as long as I had a good attitude, brought good vibes and wanted to learn he'd teach me everything he knew. One of the things `I love most about the hospitality industry is sense community it represents, a collective or people nurturing, supporting and learning from one another. We all continue to grow and develop from there being mentors like Nick around who are continue to develop our community without ego, to help bring the people around him up. In the time we worked together, he set about learning everything and anything he could, finding inspiration from anyone and everyone, whether they be a famous world class bartenders or his kitchen hand. Nick taught me that if you work hard and take the time to consider the people around you, there's always something to learn and there's always something to teach.
What's your pet peeve — what bugs you?
Poorly cut citrus and people who chew gum.
Why do you think females in hospitality is such a hot topic?
Joss Whedon was once asked why he always writes "these strong women characters" and he responded with "because you're still asking me that question."
The best of the best in our industry see talent and value for what it is, not because of a person's sexuality, gender, age or race. 'Females in hospitality' is a hot topic because it is ridiculous that equality within the industry (or any industry for that matter) is even a topic. Hopefully that will change sooner rather than later.
What drives you?
Being surrounded by such wonderfully magical, passionate and talented human beings.
What is your greatest strength?
My tenacity, sometimes a euphemism for being stubborn.
Explain your drink for us?
As women, particularly, we feel the pressure of all aesthetic choices we make. How what drink says about us – that somehow if the cocktail in your hand is pink or in a coupe that makes a statement about our personalities. The drink celebrates drinking what we want to drink because tastes good, not because it makes a statement about how 'girly' we are. It celebrates a pink drink just being a pink drink. And like my partner in crime, Cara Devine, the perfect storm of idiosyncrasies we all are.
The Divine Mess
30ml Plymouth Gin 
30ml Strawberry Infused Fino Sherry
15ml fresh pink grapefruit juice 
10ml gomme 
Pernod to rinse 
Garnish with a grapefruit twist, serve in a coupe.