Sydney bar Stitch is something of a favourite with Sydney bartenders, with those who get to finish around midnight often getting to the bar for a quick session of staff drinks before its 2am closing time (which, in Sydney's restricted nightlife, is something of a luxury).
But Stitch isn't just a bar for hospo types; it has been one of the success stories of the Sydney CBD landscape, and they will celebrate their sixth birthday this year.
One of the drawcards for booze aficionados is the in-house solera system, so we thought we'd take a look at what they're doing differently with their menu.
Each of the cocktails are photographed, giving the guest an idea — and a handy benchmark — of what to expect when they order.
ADVERTISEMENT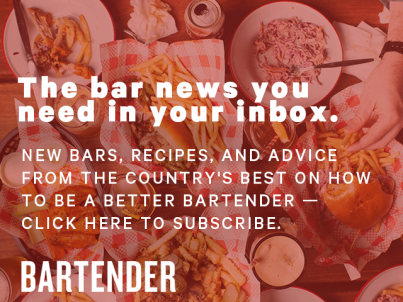 &nbsp
The cocktails — numbering 18 in total — are divvied up into three categories, which allows them to cater to a wide range of tastes, according to venue manager Raphael Redant.
"We're trying to offer a variety of styles and flavours for our guests," says Redant. "The menu is set up as a holiday note book, starting with 'Welcome to the US of A: Bourbon, Rye and Applejack.'"
The next section is where you'll find Caribbean flavours — think rum, Swizzles, and pisco (it's also where you'll find the Cuba Calling #2, which we've presented here).
Finally, you'll be drawn to the 'Blow Ins' section, "for your ancestral European spirit-style cocktail," he says.
Then there are the six cocktails that have been batched and made with vatted whiskey, whiskey that has run through their solera system before being used in a cocktail (you can also order the vatted whiskey neat).
"We wanted to do something in-house that was a little different," Redant says.
"Obviously barrel ageing cocktails has been around for a while now, but we wanted to do go the extra mile in this category."
How do they do that? They first create their own vatted whiskey using the solera and fractional blending (by which, the menu explains, "new whiskey is added to old thus maintaining consistency and effectively speeding up the ageing process.")
"By selecting a blend of American whiskeys, and seasoning the barrels the way we wanted, the result is a pretty banging house vatted whiskey," Redant says. They then take this vatted whiskey to make a batch of Old Fashioned's and a batch of Manhattan's, which are then finished in different casks.
"We move to six larger barrels, which all have different finishes," he says. "Rum, Port, PX, Fernet, Islay, and Fino. We then age three Old Fashioned's and three Manhattan's in these casks. 
"The idea behind it was to showcase what impacts the flavour of the wood have on the final product, which means patrons can try their favourite classics, back to back, and compare them."
Lastly, like all good bars these days, don't expect this menu to hang around forever, as Stitch tweaks and changes the menu with the times.
"We change our menu seasonally," Redant says, "it helps us to be creative with what's best at the time."
Cuba Calling #2
50ml of Pineapple Rum*
20ml lime juice
20ml Pok Pok Pineapple vinegar
3 dash of absinthe to rinse

 
Shake all ingredients with ice and double strain into a coupe. Garnish with dehydrated pineapple.
*For the Pineapple Rum: dehydrate some ripe pineapple husk and spent pulp and infuse about 150g per bottle of Bacardi Carta Blanca at room temperature for two days, then one more day in the fridge. When ready, fine strain any sediment.