You may have noticed that over the last week or so we've been profiling some of Melbourne's best bartenders, in the series What Women Drink.
Today is the last part of this eight part series, and we're hearing from Tayla Kendall of venerable Melbourne bar, Lily Black's.
(Take a look at the whole series here).
What Women Drink is the first offical industry event held at new Melbourne cocktail bar, House of Correction. Hosted by the bar's Rachael Hand and Alex Ross, the event took eight of Melbourne's finest bartending talent in one room in front of a heaving crowd to showcase what they bring to the bartending scene. Each bartender presented their drinks to the crowd — and enjoyed a drink themselves — as the House of Correction team pumped out samples of the drink for the punters.
The guests then voted for their favourite drinks, and it was Hannah Lawson of Loretta's Bar, and Cennon Hanson from Bad Frankie, who tied the vote and shared the prize of a bottle of the Glenlivet 18 Year Old from the night's sponsor, Pernod Ricard.
ADVERTISEMENT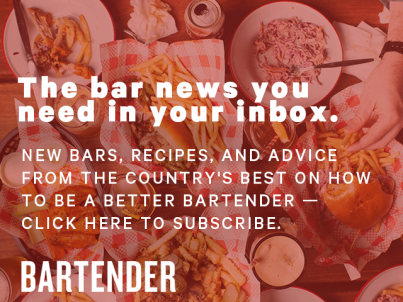 &nbsp
Take a look at the specs for Tayla's drink and find out why it's so tough to leave hospitality behind.
Tayla Kendall – Lily Black's
Why hospitality?
I've spent my entire life leaving hospitality and I keep coming back! I think the core root of my love for hospitality is that it's your job above all else to enable and nurture people's experiences. Whoever they are, whyever they're out that day and however they ended up in your bar – you have an opportunity to make or break their day. Sometimes they want you to rock their world, sometimes they just want their drink, but day in day out you are there helping people enjoy their lives.
It's also the only industry I've ever worked in where everyone (mostly) encourages, supports and appreciates each other despite technically being in competition. It's a very unique, warm community.
What's your favorite drink?
A Gin Martini.
There's so many bright and exciting gins out there and I cannot think of a more perfect way to celebrate and enjoy them. I also love the rich and uncertain history of the martini and find that every bartender's interpretation of the martini is a true expression of their individuality behind the bar.
Who inspires you/who is your mentor?
Audrey Saunders is a badass inspiration! She creates incredible, approachable drinks.
Tash Conte of the Black Pearl has paved incredible pathways in this industry and constantly inspires me to do better.
And as far as mentors go – everyone! My colleagues at Lily Blacks and so many others across Australia. There are so many incredible bartenders in Melbourne who are always happy to offer advice, insight and inspiration.
We live in an exciting time for bartenders where everyone is constantly pushing boundaries but helping each other to do so.

Why do you think females in hospitality is such a hot topic?
I feel it's naturally because for so long hospitality, amongst others, was a very male-dominated industry. As women's rights and perceptions across the globe changes, so does our influence and opportunities.
There are so many women who have been hard working, dedicated members of hospitality for a long time despite the fact it's only really been the past two years that its become a "hot topic". I think that it's exciting to finally recognize this participation but I'm weary of hyperbole – by exclusively marking 'women in the industry' as a big deal we are effectively pointing out a difference. Realistically it should just be a fact- some bartenders are men, some are women, neither is better or worse. Individuals can chose to be good at their job despite their gender.
Pet peeve?
Messy bartenders! And people who forget that we are here to provide what the customer is after- why make people feel bad for what they like? There's a time to educate and there's a time to simply put the damn coke in the $20 whisky because that's what they're after. Sometimes people just want what they want! And stop ragging on the mojito. It's a banging drink!
What drives you?
Knowing that I can always do a better job at whatever it is that I'm doing at the time! I would love to open a bar in a few years so everyday is an opportunity to collect inspiration, warnings and ideas. This alongside my love for the simple daily pleasures and sense of community in hospitality alongside customer's enthusiasm for what we provide.
What is your strength?
Definitely not self-reflection it would appear! That's a tough one. I think it's my combined history of hospitality and retail. Big money retail taught me discipline, pace, communication and patience where hospitality taught me to be humble, dedicated and to be excited to do what I do.
Explain your drink.
Sour, fresh and subtle.
I wanted to make something unique in flavour but approachable for all palates whilst harbouring my love affair with gin, chartreuse and pastis.
Bramble One
45ml Plymouth Gin
15ml Pierre Ferrand Triple Sec
10ml Creme De Mure
10ml Green Chartreuse
Barspoon Pernod Pastis
30ml lemon juice
5 mint leaves
Shake short and hard to wake citrus, add mint leaves and shake slowly.
Double strain, serve up with two mint leaves pegged to side of glass.