It's an early start to a long day for Long Chim's beverage director, James Connolly. Based at Long Chim Perth, when he wakes up the guys running their east coast restaurants in Sydney and Melbourne (their most recent opening) have a three hour head start on him.
Long Chim's restaurants are some of the country's most respected destinations for real, proper Thai food, and chef David Thompson has earned accolades here at home, in London, and in Thailand. It's Connolly's job to implement and run the drinks program to match the food.
Connolly is the go to guy for all things beverage for each of their venues, so an early start for him at 6:30am will see him on the emails to the east coast. But it's not all office work and sitting about, as you'll also find Connolly behind the stick at whichever Long Chim he's at this week, and that means working into the dinner service for the night.
Below, here's what a typical day looks like for Connolly (lightly edited for clarity).
ADVERTISEMENT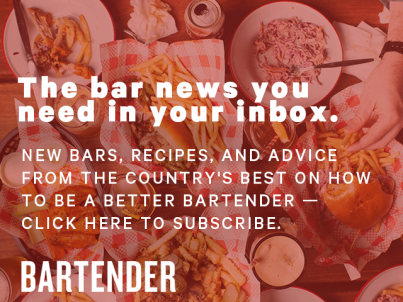 &nbsp
6:30am: I wake up and it's not by my choice, but by a small person — Jonty, my son — jumping on me shouting, "wake up Daddy!"
6:45am: I've trained him well as once I'm awake he now asks me, "Daddy want coffee?" The answer is never no. (Obviously my wife makes it and not the two and half year old).
7:00am: I scan my emails and reports for anything pertinent. Some of our businesses are three hours ahead of Perth time, and sometimes I might need to help with something before lunch service.
7:30am: The rest of the family leave for work and day care; I take the dogs for a run and mentally plan my day ahead.
8:30am: I'm feeling slightly more human after I've had a shower, etc. I jump in the car and drive to the edge of the city. I travel on the Midland Line train into the Perth CBD and some days on the train there is some free entertainment; sunglasses and headphones are a good shield.
9:30am: I arrive at work, drink more coffee, and go annoy the guys on the loading dock.
10am: Time for more emails, checking invoices, ordering, adjusting menus, following up with sales reps. Updating the POS. I always write a list of thing to do in order of priority and tick them off through the day.
11am: I set up the bar, put stock away, and maybe squeeze in a meeting. I always walk through the bar and provide some "feedback" to the team on the previous days close or activities.
11.45am: Time for my pre service coffee, then I usually start organising things. I hate mess — it drives me mad — so everything has to be neat and tidy and in its place.
12.00pm: Long Chim service starts, and I get on to the juice prep, pre-batching, infusions, cleaning — there is always something to be done, and some days the prep list can be daunting.
2pm: This is when I will try and squeeze some meetings in with reps between 2pm and 3pm, looking at pricing, new booze etc.
3pm: More emails, ordering, staff training notes, new drinks and products, chasing up stock.
4pm: Dean, my assistant bar manager, usually gets in around this time, and we generally just talk about bar stuff, what needs work and what doesn't. His mind is a bit like Karl Pilkington's, so I always have something weird to ask him… Along the lines of, "what would you do if…?"
The answers are never what you expect them to be.
He then finishes off the prep I didn't get round to doing.
5pm. Pre-dinner briefing time. We cover most subjects relevant to the running of food and bev service for the evening.
5.15pm: I talk to my wife on the phone for about 10 minutes, once she has picked up Jonty from daycare.
5.30pm: Back behind the bar, service at Long Chim can be quite intense at times — we can turn tables quite quickly. Luckily we have a really good team so service generally runs very smoothly, with very few mistakes or issues — apart from people not washing up their tins!
9.30pm: Depending on the night, I will just check up on stock levels, and follow up on any emails or projects we have in the works.
10pm: Head down to the train station and catch the train back to my car.
10.45pm: When I arrive home, my wife will most likely be sleeping, and hopefully Jonty is too — otherwise its going to be a long night.
11pm: I'll sit in silence and drink a beer — it's pretty much the most refreshing beverage going. It's nice to just de-pressurise after a long day. Hopefully I won't fall asleep on the couch.