The Indie Spirits Tasting Perth is on next week. For just $55 you will have access to over 25 suppliers and 120 boutique spirits, delicious bar snacks, as well as intimate tasting seminars that take a deep dive into craft production and great hooch. Indie Tasting Perth will be held at the Flour Factory from on Wednesday 15th March from 5pm till 8.30pm. Click here to buy your tickets now.
Making its first appearance at the Indie Spirits Tasting is Nusa Caña Tropical Island Rum. This brand new brew is the brainchild of a bunch of very familiar bar industry names – Andy Gaunt, Joe Milner, Marc Rodrigues, Sam Jeveons and Dre Masso. Sharing a passion for the Indonesian party island of Bali, great drinks and great bars, the team decided to create an Indonesian rum.
"For centuries, travelers, traders and explorers have been drawn to the Indonesian islands," says Rodrigues. "For millennia, sugar cane has been cultivated here. And, forgotten by history, some of the very first rums served in the punch houses and bordellos, the salons and coffee houses, of 18th-century Europe were Indonesian."
And the result is Nusa Caña, described by the team as "a new island rum that's bringing back the forgotten spirit of those very first adventurers and the rum they discovered."
ADVERTISEMENT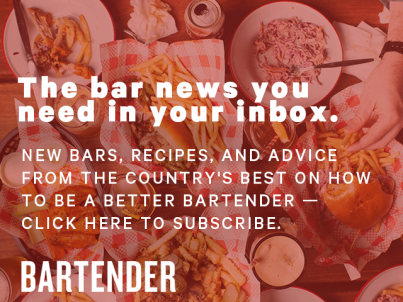 &nbsp
Indonesian rums are distilled from sugar cane, which has been cultivated in Indonesia for at least 8,000 years. The first Indonesian rums were exported during the early years of the Dutch colonial occupation. Nusa Caña Tropical Island Rum taps into this history with a modern and approachable twist. It's no surprise Bali bars such as Potato Head and Ku De Ta were some of the first to stock Nusa Caña on the backbar.
Tasting Notes (supplied by distributor)

Crafted on Java, the original home of Indonesian rum, the heart of Nusa Caña is a rich Indonesian sugar cane spirit. To create it, Javanese sugar cane molasses are slowly fermented with pure, forest-filtered water and red rice cake. The resulting liquid is distilled in antique Chinese pot stills then matured in sustainable Javanese teak casks, before being blended for today's tastes.
A smooth, aroma-filled tropical island rum packed with fresh sugar cane and toasted fruit flavours, Nusa Caña is as mellow, approachable and yet adventurous as Bali itself. The "King of the Forest" barong mask on the bottle and visuals inspired by the late Bali artist Arie Smit pay tribute to the island of the gods.
Signature Serves
Indie Tasting Perth – The Flour Factory, Wednesday, 15th March. 5pm-8.30pm. It promises to be a day of good times and great spirits, and with tickets only $55 (Click here to get your ticket to Indie Spirits Tasting Perth now.) you're best to secure yours early. Open to both consumers and trade, this event caters to all those with an interest in unique spirit brands.
In 2017, Perth is the first destination for the Indie Spirits Tasting, with stops in Brisbane on Sunday the 28th of May at Lefty's Old Time Music Hall, and Sydney for Bar Week on Sunday the 17th of September at Restaurant Hubert.
To keep updated with all the distilleries, spirits, and seminars at the Indie Spirits Tasting events happening around the country, make sure to like us on Facebook, follow us on Instagram, and keep an eye on indiespiritstasting.com.au.