Last week we took a look at batching ingredients of speed, and the reasons why you'd want to do it. "Those pesky five to 10 ingredient drinks take up a lot of time if you're picking up every bottle and pouring, and never mind the fact that the bar's five deep and you're a bit flustered and over-pour here and there. Across four to six bartenders night after night, consistency will be right out of whack," says The Gresham's Ryan Lane.
Batching your ingredients prior to service saves you time, saves you money, and ensures consistency. So, what are the guidelines for batching? Three top bartenders explain below, and we've got two recipes from The Smelly Goat at Queens Hotel below to give you an example.
When you're getting started, says Lane, it pays to know which cocktails you'll be making most often and going from there.
"Every time we had a new menu in the bars I've worked where pre-batching was used, I would also launch the new menu with nothing batched and from there, work out which ones are most popular and most time consuming and batch them," he says. "Then you can look into other drinks on the menu to streamline for faster service around those."
ADVERTISEMENT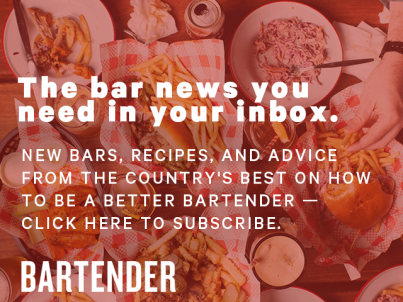 &nbsp
And because you're working with a large volume of often expensive spirits, it pays to be sure about your calculations, says Kevin Peters from Melbourne's Garden State Hotel.
"Do your maths twice, always make sure you have all your products before starting to make a batch, so you don't get half way through without being able to finish it," he says.
"Read your sales reports so you can get your par levels set really tight, as you don't want to have your money sitting in batches for weeks."
But don't think of batching as a shortcut — instead, as Orlando Marzo, from Melbourne's Lûmé, thinks, the time you save in service should mean that you put in even more into the quality.
"Think of the texture of the ingredients, of the shelf life of each one," he says. "Think about the texture of the ingredients you're batching. Think from the design of the label to the explanation of the drink. 
"It's not about finding shortcuts but rather meeting high standard quality at a faster pace. If [it means] you can make it better and faster, then batch it", says Marzo. 
Lastly, when batching ingredients, you've got to keep in mind their perishability.
"This all comes down to the cocktail of course," says Lane. "As an example, a Negroni batch, given the ingredients, is going to last a fair while. The booze is going to hold the vermouth for a period of time.
"Whereas, if you were pre-batching drinks that are, let's say, vermouth heavy with very little booze, I'd say you'd want to be chewing through that batch rather quickly, especially if it is not refrigerated."
Most of the bartenders we spoke to will batch syrups and spirits and liqueurs, but the fresh juices? Not so much.
"Never any citrus in batches, unless of course it's being used that very day," says Lane. "I have worked a lot of festivals and events over the years where this was the case but in a bar, I never add citrus to pre-batches. Bitters are fine to add into batches also I've found."
Ron Burgundy
15ml aged Cuban rum
15ml aged Jamaican rum
20ml MONIN Macadamia Nut
30ml lime juice
15ml Angostura aromatic bitters
Shake with ice and strain.
Recipe from The Smelly Goat, Enmore
With a classic construction, and a deep, rich flavour, the team at The Smelly Goat in Enmore speed this up for service by batching the spirits together, with juice and syrup added a la minute.
Absinthe Colada
30ml white rum
10ml absinthe
30ml pineapplee juice
15ml MONIN Coconut Syrup
5ml creme de menthe
Shake with ice and strain over ice into a tall glass.
Recipe from The Smelly Goat, Enmore
Again, the guys at The Smelly Goat batch the spirits for speed — it means that a five ingredient drinks comes together quicker, and the guests get their drinks fast, so that they're free to spend more time enjoying each others' company (rather than waiting on you).