Tiki, it seems, is about to have a big moment in Australia. 2017 may well be the year that tiki broke, with not one, not two, but three tiki bars (that we know of) opening.
So grab your Hawaiian shirt, bring out your pineapples, get set for some rum and check out these three tikitastic joints.
1. Tiki as FK, Perth
Perth has seen new Northbridge venue, Tiki as FK open in recent days. From the guys behind Five Bar and Lot Twenty, expect good, mai-tai-roa-ae times to be had here thanks to the view of Perth's skyline from the rooftop, the sixties-tiki decor inside, and delicious tiki drinks —one to note is the El Huevo Libre which brings together rum, Coke syrup, pedro ximenez sherry and a whole egg — that's right, a Cuba Libre-Flip hybrid.
2. Tiki Tiki Gai, Brisbane
Tiki is all about rum, fun, and loud shirts, right? So it makes sense that the next tiki opening coming up is happening in Brisbane, what with its history with rum, fun, and loud shirts.
Tiki Tiki Gai is set to launch on April 6th, opening below ground inside Heya Bar in Fortitude Valley.
ADVERTISEMENT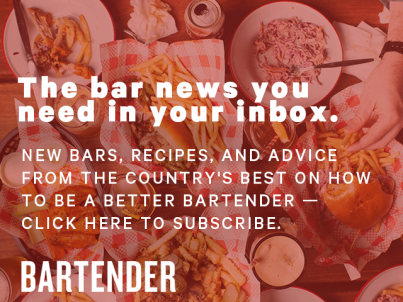 &nbsp
"The main drive behind the Tiki bar was that we wanted to achieve something that was lacking in the Valley," says Sean Waters from the DAP & Co group (whose venues include Heya Bar, 2016 Bar of the Year The Gresham, and Popolo Dining). "We were thinking of ideas that could work with the Golden Gai theme of Heya Bar seamlessly. The Hawaiian Tiki concept was a natural fit (with the historical links between Japan and Hawaii), and it also satisfied our desire to have a unique product offering for the Valley."
They'll draw on Heya Bar's asian-influences for the drinks, employing spirits like shochu and sake in their tiki creations.
The bar will be run by Jennifer Hayden and they'll trade seven days a week, so it's tiki time, all the time.
3. Jacoby's Tiki Bar, Sydney
Jacoby's Tiki Bar, the new bar from the guys behind Earl's Juke Joint has had people talking about it since last year when it was first floated. We hear they're deep into construction now, and will be open before July.
What can you expect from this bar? We're told we should expect "rum, tiki totems, the B52's, tropical drinks and outlandish garnishes."
"The menu at Earl's often took a tiki direction, and the new venue is going to allow us to really get stuck into this fun, delicious world that we love," they've said.
While you're waiting, though, you can grab a limited-run Jacoby's Tiki Bar shirt (pictured above) over the bar at Earl's Juke Joint for $30.