Port has got an image problem. It's a grand and storied fortified wine, with the best bottlings being able to age in the bottle for decades, yet it hasn't received the kind of revival in reputation that its Spanish cousin, sherry, has seen in recent years.
That's a shame to us, because port has been employed in classic cocktailing since the days of Jerry Thomas, just like sherry. And, like those recipes made with sherry, it too makes great drinks.
For too long port has been relegated to that one or two bottles kept on the back bar, probably opened before the iPhone era, and reserved for the odd elderly couple who decided to kick on after the matinee (and make a real afternoon of it).
And that, I figure, has been the problem. Those bottles were often tawny port, which, when you get a good bottling, can be delicious; the thing is, the classic recipes you'll find often call for a ruby port — a younger, fresher, juicier style of red port.
ADVERTISEMENT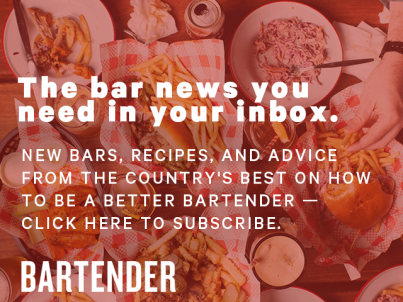 &nbsp
Partly, this is an Australian issue; there's plenty of ruby port getting made, but it can be hard to track down here.
This Chancellor recipe here, though, tastes great; it tastes fresh, and offers up an alternative way to look at this great fortified.
Notes on Ingredients
• Opt for a quality blended whisky or a honeyed highland style malt.
• Ruby port can be hard to track down. It's bottled after two to three years maturation.
• We picked up a bottle of Late Bottled Vintage Port made by Quinta do Noval, which did the job nicely.
• LBV ports are ruby ports from a single year and bottled after four to six years.
Chancellor
60ml blended
Scotch whisky
30ml ruby port
15ml dry vermouth
2 dashes of Angostura aromatic bitters
Stir down all ingredients and strain into a cocktail glass.