Sydney Bar Week is back in 2017 — and it's the biggest Bar Week yet.
Sydney Bar Week returns in September this year, and for the first time we'll have big industry events happening over five days.
From the Bar Week launch on Saturday 16 September, and all the way through to the new Whiskey Roadshow event that caps off the week on Wednesday 20 September, there's a jam-packed roster of events.
On the Sunday, the Indie Spirits Tasting returns to Bar Week, and based on the success of the last two years we've moved it to the bigger surrounds of Restaurant Hubert. Bacardi will hold their Bacardi Classics National Softball Competition final, and the evening will see the national final of the Angostura Global Cocktail Challenge kick off, before we party late into the evening with the return of the Fernet-Branca BarBack Games.
On Monday morning, the first round of the toughest test of bartending ability commences at Ramblin' Rascal Tavern when the Bartender of the Year sponsored by BACARDI and De Kuyper kicks off (click here to register now). For current and aspiring bar owners and operators, we've got the Business of Bars Conference, then the top dogs of the Australian bar industry will gather for the reveal of the Top 10 in the Bartender Magazine Most Influential List sponsored by Angostura aromatic bitters. The Exchange will get their whisky on at their Bourbon St event, and we'll close out the night at William Grant & Sons' big event (with details to be announced).
ADVERTISEMENT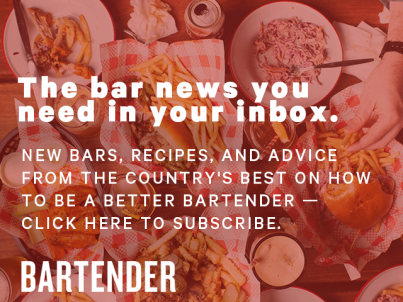 &nbsp
Then on Tuesday, we've got another big day: it begins with a Hendrick's Innovation Seminar held by master distiller Lesley Gracie, continues with an in-depth masterclass on native foraging and sustainable, ethical practices from Adelaide Hills Distillery, before we don our best attire for the big gala event that is the 17th annual Bartender Magazine Australian Bar Awards (of course, after that, we'll kick on into the early hours at the after parties).
Wednesday, our fifth day, will see you recuperating at the Post Bar Awards Recovery BBQ, before heading to The Clock Hotel that night for the first ever Whiskey Roadshow, which will see you taking whiskies from across the globe for a spin.
It's going to be a big week, so save the dates, book your accommodation, and sort your flights — there's no other week on the Australian bartending calendar quite like Sydney Bar Week.
Follow Bar Week on Facebook and Instagram to stay up to date, and check out barweek.com.au for updates and announcements.

If your brand wants to get involved, or if you think you'd like to host a consumer-focused event during Sydney Bar Week at your bar, get in touch with David Spanton on David@spantonmedia.com for more info — but hurry, as time slots are filling up.
Saturday 16 September
6pm-8pm: Sydney Bar Week Launch
Sunday 17 September
12-4pm: Indie Spirits Tasting at Restaurant Hubert
2pm-4pm: The Bacardi Classics National Softball Competition
6pm-8pm: Angostura Global Cocktail Challenge Australian Final
8pm-10pm: The Fernet-Branca BarBack Games 2017
Monday 18 September
10:30am-5pm: The Bartender of the Year sponsored by BACARDI & De Kuyper, Round 1 & 2, at Ramblin' Rascal Tavern
12pm-4:30pm: The Business of Bars Conference, The Whisky Room at The Clock Hotel
5pm-7pm: The Bartender Magazine Top 100 Most Influential List Party sponsored by Angostura aromatic bitters
7pm-9pm: Bourbon St — The Exchange Event
9pm-11pm: William Grant and Sons Australia Event
Tuesday 19 September
12pm-2pm: Hendrick's Gin Innovation Seminar with Lesley Gracie
2pm-4pm: Native foraging and ethical/sustainable practices Hosted by Adelaide Hills Distillery
5pm-11pm: The 17th Annual Bartender Magazine Australian Bar Awards
11pm til late: The Bar Awards After Parties
Wednesday 20 September
1pm-4pm: Post-Bar Awards Recovery BBQ
5:30pm-8:30pm: The Whiskey Roadshow, The Clock Hotel