The pizza is great at Sydney's Maybe Frank. But the drinks are just as good and they boast a short yet smart list of seven cocktails presented in a
neat format. We asked co-owner Andrea Gualdi about their list.
Tell us a bit about the idea behind the menu?
Coming into the second year of Maybe Frank, we wanted to do something a little different. Hence, the design of our cocktail list, shaped as a pizza, to represent our obvious main theme: pizza, and cocktails.
The menu is divided into eight slices: six signature drinks, one signature slushy cocktail changing monthly, and the main slice with the Maybe Frank logo. It was very important for us to create an interactive and quirky experience for our guests. With this memorable pressed cardboard menu, people can bring it home, to keep as memory of a fun night out.
The menu has been made with the collaboration of Australian artist Jamie Preisz, who designed, and hand-draws all the icons on the menu. The structure of the menu is divided in three parts. Once you start to spin the pizza you have three different openings where you can view the description of the drinks. The top hole, shows the name of the cocktail as well as the main ingredients. The right hole, shows a little piece of artwork that represents the drink. The bottom hole shows a word that describes either a feeling or the style.
ADVERTISEMENT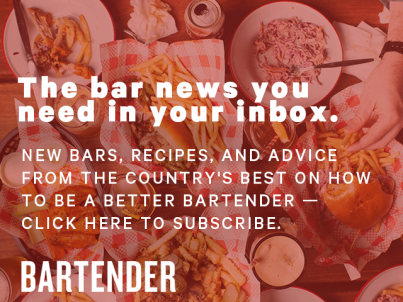 &nbsp
Why have you chosen the drinks that you have?
We try to touch on a few different styles, making sure that all of our guests can find a little something of what they like in a drink. Based on the study of the structure of the "magnificent 7", we tried to get close to all of the categories and "moods". So for every cocktail, we have a little story to tell, which makes the experience, in my opinion interactive and interesting. In past working experiences, I realised that a good and balanced drink can be achieved, but if you can also make it enjoyable for your guests not only taste-wise, but by conceptualising the cocktail, you will be remembered when the drink is finished. A cocktail tastes much better when it's followed by a great story!
Which drinks are proving popular with customers?
The most popular drinks so far are the Prosciutto e Melone, a refreshing drink named after the traditional Italian dish. The drink is made with Tanqueray gin, Martini Ambrato, honey, coriander, rockmelon and bitters and is served with a "prosciutto chip" and a couple of pickled rockmelon slices made with native hibiscus.
The Artifizz [is] a deceptive drink which takes its inspiration from when you were a child, and you didn't want to eat a certain something. Your mum created some kind of camouflage or magic story to make food more interesting ("if you eat your spinach you'll be strong like Popeye!").
Artifizz comes from the french word "artifice" which means fireworks. It's made with Bacardi, Saint Germain, "fake guava" (a mix of fresh pear and strawberries), and ginger beer and is served with a cloud and a rock, which when bitten, turns out to be a scorched rice paper roll and a chocolate rock, all topped up with a spray of soy sauce and chocolate bitters. The Oversea Lover [is] a kind of Pisco Martini, stirred with dry vermouth which has being sous-vide with chamomile, pepper and cedarwood. Finished with a spray of "homemade perfume" made with vodka, chamomile, vanilla, orange blossom and rose to bring back the memory of all the friends and lovers overseas. Smell is the sense which is closely linked to memory, more so then any of our other senses. By smelling this drink, it can trigger old memories of my past loves.