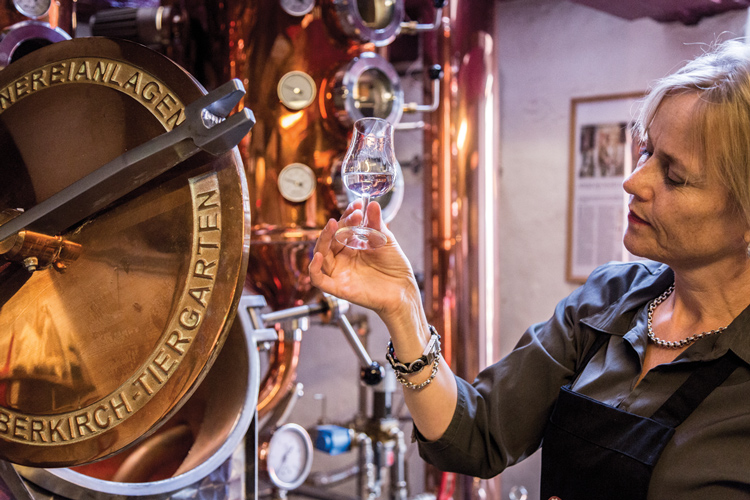 Anybody who thought that high-class spirits were a man's world has been proven wrong: Myriam Hendrickx is the Master Distiller at Rutte and a true expert in her industry. Rutte distillery has been producing superb juniper-based spirits like genever and gin since 1872. They are botanical distillers and exclusively use only natural ingredients.
The distillation process still takes place in the heritage listed original building in Dordrecht where Simon Rutte founded Rutte distillery almost 150 years ago. The art of distillation was passed from father to son for seven generations. Until Myriam was invited to carry on their legacy in 2003.
As the eighth-generation Master Distiller, she is responsible for the preservation of the original recipes as well as using her skills and experience to carry on the traditions of innovation and creativity in creating new and exceptional spirits. Hence the birth of the latest releases.
In the Q&A below, Hendrickx talks about what drives her, and how she blends a true love for the past with a nose for the future.
When did you discover your passion for spirits?
"After wrapping up my studies in food technology engineering in 1987, I started my career in the world of consulting. During that period I trained production operators on quality, taste, ingredients and technology. In this role, I got to know most of the Dutch food industry, including the spirits sector. As you can imagine, this particular sector caught my special attention. Distilleries are magical to me. Every Master Distiller uses unique methods and ingredients. High-quality spirits are an area with so much secrecy, old-fashioned craftsmanship and natural products with endless possibilities. My passion was born!"
What makes Rutte special for you?
"Working for RUTTE is the opportunity of a lifetime. I can put all of my knowledge and love of spirits into action here. When I arrived at RUTTE 13 years ago, I realized that time stood still in this beautiful distillery. The magic that has fascinated me all along came to life. This small distillery – by the way the smallest in the Netherlands – is full of memories and stories of the past. The delicious aroma of nuts and coffee beans roasted in-house for our genevers fills the air. You can literally smell and taste RUTTE's rich tradition and heritage here, making it a unique and very special workplace."
Do you sometimes think of your job as a man's occupation?
"Not for a single moment. Like any other job, it is really important that you love what you do. My personality reflects all of the typical characteristics needed for this handicraft – a strong mind, passion, an obsession with good taste, and perfectionism. It is also essential to know how to sustain your energy and use it well. Gender does not matter in the slightest if you find the key to being good at your job and to yourself."
Where do you see Rutte in the future?
"RUTTE has protected and guarded all of the old recipes for seven generations. My educational background allows me to combine new ideas with RUTTE's historical heritage. Today's products demonstrate the perfect and well-balanced mix of tradition and innovative creativity that has been at RUTTE's core since the beginning. Our latest innovation, for example, is RUTTE Celery Dry Gin. Celery has always been a much-loved ingredient at RUTTE and is one of the typical botanicals in our Old Simon Genever – one of the products that was created many generations ago. Our quality is valued by internationally renowned bar professionals and shows that RUTTE products are innovative and competitive without losing track of our heritage and the almost 150 years old traditions. Our aim is to keep it that way in the future."
What is your preferred drink?
"I really like drinking our products straight, as I get to enjoy it exactly as we made it. Next to that, I am in awe seeing all of these internationally recognized bartenders making their own creations with our products. I love it when the taste of the product still comes through. Like in the 'Martinez' made with our Old Simon Genever or the 'Martini' with Celery Gin. I recommend it after a hectic day for a stress-free moment."
Speaking of which, what do you do when you are not working?
"I love to travel and I have visited many exotic places around the world. Travelling enables me to get in touch with my two passions, taste and dance. Whenever I travel, I experience new tastes by seeing how plants and fruits grow in each country and how people use them. This inspires me, not only privately, but also as a Master Distiller. During my journeys, especially to South America, I made a lot of friends, learned Spanish and worked on my dancing. I love salsa and took classes in Cuba, Colombia, Peru and Africa. Twenty years ago, I started giving dancing lessons myself and still teach today. I enjoy passing on my knowledge and sharing my experiences. That is probably why I am such a family person. My two teenage daughters could tell you all about it. Seeing them grow up gives me joy and strength for future adventures and my profession."
Rutte Gin is now available in Australia. For more information please contact Loy Catada on 0458457208, or lcatada@bacardi.com. Alternatively please contact your local Bacardi-Martini Australia Representative or Customer Care team on 1800 357 994 and bmacustomerservice@bacardi.com.
You can also visit www.Rutte.com and like them on Facebook here.
About Rutte
Rutte has been an expert in creating and distilling superb juniper-based spirits using exclusively natural ingredients for almost 150 years. No added flavours or colourings are used; all of the flavour and colour come from fresh fruit, herbs and nuts, something that is unique in the industry. Rutte has been based in Dordrecht near Rotterdam since its foundation in 1872. Rutte range in Australia includes Rutte Old Simon Genever and Rutte Celery Gin. Rutte was integrated into the portfolio of the traditional Dutch family-owned company De Kuyper Royal Distillers in 2011. However, the process, liquid and obsession with quality that are key to Rutte's brand character have been and will stay untouched. Rutte Celery Gin and Rutte Old Simon Genever have placed as the best Gin and the best Genever in the "Best New Spirit or Cocktail Ingredient" category at the world leading Annual Spirited Award 2016 / Tales of the Cocktails, New Orleans.
For more information about Rutte please visit www.rutte.com.