Frenchman Nico de Soto owns two bars, one of which, New York bar Mace, landed at number 28 on the World's 50 Best Bars list last year. His latest bar, Danico, also opened in Paris last year to much acclaim. de Soto draws inspiration from his travels in crafting his drinks, having visited 75 countries thus far; we caught up with him on his visit to Australia, the place where he first began behind the bar.
Story by Sam Bygrave
When we meet de Soto at Sydney bar PS40, it's just a few hours before he holds the second pop-up in what is a bit of a global tour; he'll visit not just Australia but Malaysia, Indonesia, Singapore, South Korea, Hong Kong and Japan before the tour is done. There's the familiar buzz in the air of last minute prep, the batching of drinks, getting ready for a one-night-only show of drinks from his NYC bar Mace.
de Soto is relaxed, though, the drinks he knows well: "We took drinks that we've already put on the menu at Mace and I know they are very popular," he tells us.
It's the second stop on this whirlwind tour, after a big night in Melbourne at Black Pearl. The iconic cocktail bar has its own admirable global reputation, and the night for de Soto is a poignant one: he'd once been knocked back by Black Pearl for a job.
ADVERTISEMENT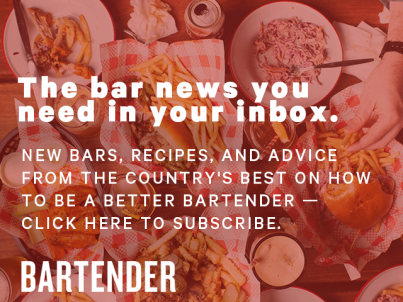 &nbsp
"I actually started bartending in Australia," he says.
"Of course, I had zero experience, and I was working in a wine bar in Melbourne. One of the bartenders told me that there was a really great bar, called Black Pearl, and I should check it out."
Check it out he did, and in the process secured himself a trial shift.
"For me it was all new, of course," he says. "I didn't know about anything, you know, so they must have thought [I] was too inexperienced — maybe they didn't understand what I was saying." A job at Black Pearl wasn't to be.
At PS40, de Soto is pushing a five-strong list of Mace originals and working with an old friend, PS40 co-owner Thor Bergquist.
Bergquist began working for de Soto back when he was running the Experimental Cocktail Club in London, and they'd work together off and on for the next few years.
"He actually hired me there and I went on to replace him in New York," Bergquist says. "He's always been a role model to me and a massive inspiration."
Bergquist is, like de Soto, an avid traveller, and is a big fan of these kinds of cross country collaborations.
"We have really similar influences in drink-making," he says. "He takes a lot inspiration from cuisines and cultures, and that really appeals to me because I like to travel as well and I have a massive culinary influence in my drinks."

As it gets closer to doors opening at PS40, de Soto explains the idea behind Mace.
"It's a spice-driven bar, every drink the name of the drink is the name of the spice," he says. From the outset, they've worked with a number of spices he says, but that doesn't mean you're getting a gobful of some obscure spice as your drink. "[It] doesn't mean it's gong to be the main flavour," he says.
"For example the lavender in the drink tonight is very mild; we use the middle of the flavour, not the soapy end of the lavender, [as it can] be a very strong flavour in the drink."
Mace itself is a spice — it is a reddish covering that encapsulates the seed of the Myristica fragrans (the seed itself is better known as nutmeg) — and was chosen as the name of de Soto's bar for specific reasons.
"When you open a bar, you know it's on the international scene and you want your name to be very easy to remember and to pronounce," de Soto says. "Clove was my favourite, to be honest with you, but you have Clover Club which was seven years [old] already. Mace I found was really straight to the point — the only thing is it's the weapon as well, and it's the pepper spray. So people not knowing the concept of the bar [were] thinking what kind of bar is that? A violent bar?"
Working with spices the way de Soto does as Mace, though, requires some experimentation — it's not as simple as infusing booze with any old spice.
"Some spices you can sous vide, some spices don't like the heat, some take longer to infuse, some will get like a lot of bitterness if you infuse it too much; you really have to play around [with] the proof of the spirit if you infuse it, or is it better to do it in a syrup? There's no rule," he says.
"Some people ask me which spice goes with which spirit, and I think each spice can go a little bit with everything. There's no rule, just know how to balance it. Don't put too much so that it's overpowering, like something like Thai chilli or saffron, if you put too much it's just going to
destroy the drink."
Whatever it is that de Soto's doing with spice, it's working. On the night of the popup, with the doors open a rush of Sydney hospitality staff stopping by to get a taste of Mace, they sold out of each drink on the list early on.
You can expect to see more of this kind of collaboration happening at PS40, if Bergquist gets his way.
"Having different people come through [from overseas] is something we've wanted to do for a long time and we want to keep it going. We want do residences here — it's really good to have people who have travelled a lot and experienced different markets. everyone in different countries have different tastes, different products available and different styles and having them come here helps our full time crew to see a different angle in how to do things and that only helps us be better. There's a million ways to make sugar syrup, right?"