Story by Sam Bygrave
The Highball is a humble drink: composed of spirit, ice and mixer (with additions here and there) the drink's origins go back to the 1800's, and the advent of glass strong enough to withstand the pressure of a carbonated mixer.
The drink was described in Harry Johnson's 1900 Bartenders Manual, with Scotch whisky being its go-to spirit (though Johnson explains that a customer may desire it be made with gin, brandy or whiskey, too). The spirit was poured over "two or three lumps of ice" and topped up with "ice-cold syphon vichy."
Vichy water was a term popular back then to describe mineral water; Vichy being the source of a famous mineral water spring in France. These waters became popular as a wellness aid, on account of the various minerals the waters contained (if you've ever experienced the higher sodium content of Evian, you'll get the idea).
The Highball has never really gone away since then. The Whisky Highball is big in Japan; in Mexico, mixing tequila with the local Squirt grapefruit soda will see you drinking a Paloma; and the world famous Mojito really is a tricked up Highball, too.
Nowadays, with the wide array of quality mixers on the market there's endless room for experimentation. There are however a few Highballs that add up to more than the sum of their parts — below are our favourite five.
But first, one quick point on glassware. The Highball glass isn't a schooner glass; it's actually a relatively small glass, with straight sides and holding no more than 300ml. And to make a perfect, freakin' soigne Highball, do as Germany's Joerg Meyer does for his Boilerman Bar: they have Highball glasses in the freezer, frosty and ready to go; their spirits and mixers are kept cold on crushed ice behind the bar; and they don't muck about with shaking and straining over ice. They just get it done.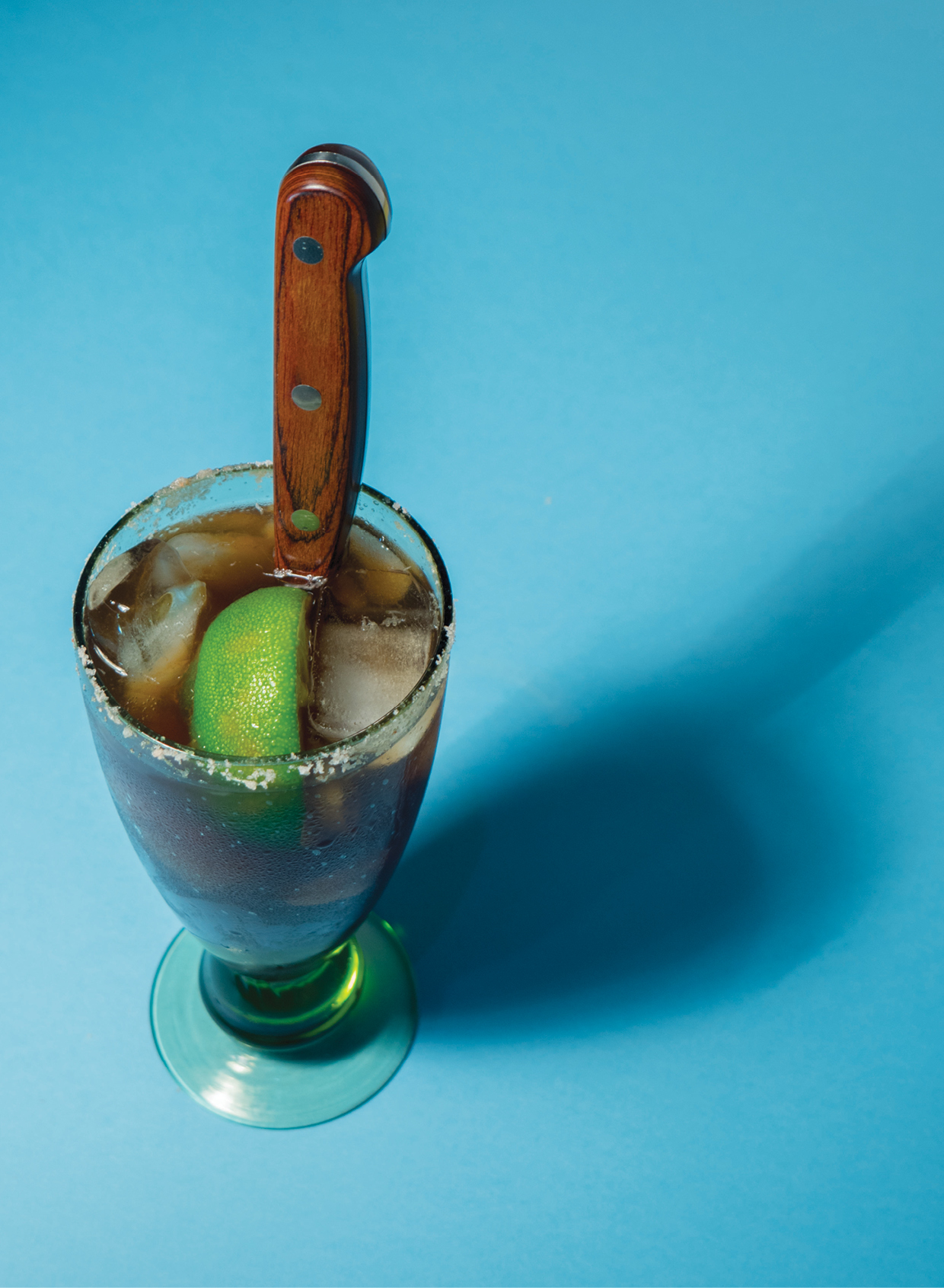 Batanga
60ml El Tequileno Blanco
the juice of half a lime
Fever-Tree Cola to top
flaked salt
Salt rim the glass. Build and top to half way with the cola.  Top with ice.  Stir with a knife and leave in with a straw.
The classic tequila highball from the quintessential tequila bar, La Capilla in Tequila town, Mexico. Yes, it's a simple drink but you look under the hood and there is a lot going on here. The salt helps to draw flavour across the palate; you get a sweet hit from the cola, and the tequila — Don Javier at La Capilla uses El Tequileno, a mixto tequila that you'll be hard-pressed to find in Australia — gives it that earthy, agave undertone. Add in a little lime; do as they do at La Capilla and use the Mexican elbow to squeeze the juice straight into the glass.
Gin Basil Highball
30ml basil lemon syrup
30ml 47% ABV London dry gin
60ml Fever-Tree Soda Water
Give the syrup, gin and soda a quick blitz in a milkshake blender, then pour over into a frosty Highball glass. Garnish with some basil. Adapted from a recipe by Joerg Meyer.
German bartender Joerg Meyer, owner of the Hamburg bar Le Lion, is well-known for his Gin Basil Smash, a drink that has travelled the globe to become a modern classic. At his Boilerman bars there are no shakers employed; because they're high-volume cocktail joints they do a lot of Highballs, and they've reworked the Gin Basil Smash into this Highball format. They blend — a number of times a night, due to the volume of drinks — a big bunch of basil with fresh lemon juice and Monin cane sugar syrup to create a basil lemon syrup. They add this to gin and soda water, give it a brief blitz in a milkshake mixer to incorporate the ingredients and then pour the mix over ice in a pre-prepared Highball glass from the freezer.
Whisky Highball
45ml top quality whisky
90ml Cascade Soda Water
In a highball place a large chunk of quality ice. Add whisky, then fill with soda water.
The Whisky Highball really is as simple as it gets. It's also one that proved popular back in the day— it's the one that Harry Johnson called for in his Bartenders Manual. The trick is the ratio; we've gone for one part spirit to two parts mixer. (We want to taste the whisky, after all).
Gin and Tonica
45ml Star of Bombay
90ml Cascade Tonic Water
Capsicum strips
Sprig of coriander
Add the gin and the tonic to a highball glass. Fill with ice, garnish with the capsicum
and coriander.
Yes, you know the Gin & Tonic — of course you do. But this one, well, it's drawn from the rather Spanish tradition of Gin Tonica: a Gin & Tonic, but in Spain you'll find bars offering a number of different gins matched to a number of different tonic waters, each with their own designated garnishes — here, we've used a handful of capsicum and some coriander. The coriander adds a herbal, savoury note to the gin and the tonic.
Gin Gin Mule
45ml gin
15ml lime juice
15ml sugar syrup
10 mint leaves
60ml Pimento Ginger Beer
Lightly press the mint with the sugar in a shaker. Add gin and lime and shake with ice. Strain over ice in a highball glass. Top with the ginger beer. Garnish with a mint sprig and
a lime wedge.
The Gin Gin Mule is a creation of Audrey Saunders from her bar, the influential Pegu Club in New York. Since appearing on her menu it's taken off around the world, because it's well delicious.
Mixers for fixin'
Of course the Highball would be nowhere without the mixer. Whether the mixer is post-mix,
a DIY in-house soda program, or a quality bottled serve, we're agnostic as to which delivery mechanism is used. The key things you want? Fine, plentiful bubbles, some zing, and true to life flavours.
Cascade Soda Water
Soda water is a staple of pretty much every bar; Cascade Soda Water offers the effervescence you need to bring your spirits to life. CCA
Fever-Tree Soda Water
Fever-Tree takes great care to create the perfect mixer (it's all about the carbonation); their soda water is simple, its ingredients being natural spring water and bicarbonate of soda. SouthTrade
Pimento Ginger Beer
This is a ginger beer from France, created by Eric Dalsace, a guy who gave up drinking alcohol but missed the strong taste of them liquors. So what did he do? He crafted a full flavoured non-alcoholic drink incorporating chili peppers for a good strong bite. Cerbaco
Cascade Tonic Water
The Cascade range of mixers is well-known to Australian drinkers, and they've recently updated the packs and reformulated their recipe for the tonic water, with an emphasis on a "sharper, more distinctive taste." CCA
Fever-Tree Cola
Fever-Tree Cola is created using a blend of 11 hand selected ingredients from nine different geographical locations across the globe, including Argentine lemons, Mexican creole lime, Indonesian 'korintje' cassia cinnamon, fresh green ginger from the Ivory Coast and Madagascan vanilla.
SouthTrade