You can now get your tickets to Tales of the Cocktail's events; here, we've gone looking for the best Tales of the Cocktail seminars for each day and share with you our picks.
Tales of the Cocktail is a week-long celebration of, you guessed it, the cocktail, and it's taking place in New Orleans this year between July 18 and July 23. It's an event in which the global industry comes together, drinks some drinks, talks some chat, and learns some knowledge thanks to the program of seminars.
Below, check out our picks for the best Tales of the Cocktail seminars and click here to go to the Tales of the Cocktail website to get your tickets.
Wednesday 19 July
Beetlejuice! When Bugs Meet Booze
10:00 AM – 11:30 AM
Much of what we drink today is due to the pestilence of the past. The phylloxera aphid destroyed the European wine and grape brandy industry, but as a consequence helped popularize European whiskies and calvados, as well as forced American bartenders to swap out the cognac in their Sazeracs and Juleps for rye. Mosquito-transmitted malaria has plagued humankind for millennia, and its natural cure quinine bark wound up in our tonic water, aperitif wines, and amari. Fleas carrying bubonic plague are naturally repelled by juniper berries that made their way into gin. In modern times we're putting bugs back into drinks. Cochineal, an insect-based red food coloring, has made its way into at least three new spirits. Bartenders keep trying to make us drink ants, crickets, and scorpions as rims, garnish, and infusions. They say insects are the future of food – will they be the future of drink too? We'll look at how insects influenced how we drink today and how they might impact what we drink in the future.
Presenter(s): Camper English
Why you should care:Camper English is one of the more knowledgeable writers around, and he's got a strong grasp on the geeky side of bartending. And, you know, we'll all be eating bugs soon, so you might as well learn what they've got to do with drinks.
ADVERTISEMENT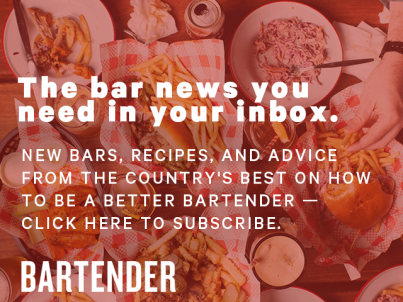 &nbsp
Breaking The Mould
12:30 PM – 2:00 PM
We take a look at some of the most progressive and innovative beverage programs in the world and explore what goes on behind the scenes. Join Alex Kratena (P(our)), Joe Schofield (Tippling Club), Luke Whearty (Operation Dagger), Matt Whiley (Peg + Patriot) and Nathan O'Neill (Nomad Bar) as they discuss their systems and thought processes to push away from the confines of trends and conservativeness. They have an objective to make 'Creativity' accessible for everyone.
Why you should care:These are some groundbreaking bartenders, and when you put a bunch of creative minds in one room you're bound to get a great discussion and insight into bar programs that go above and beyond.
Bar Indepth: Dandelyan – Deets, drinks and botany
3:00 PM – 4:30 PM
A look into what it took to build a behemoth on Southbank! An insight into our concept, the whats and how, and the unique approach we take to build a 25 person team and involve everyone in the creative process.
Presenter(s): Chris Stock, Iain Griffiths, Ryan Chetiyawardana, Aidan Bowie
Why you should care: There's arguably no more influential bartending duo in the last few years than Ryan Chetiyawardana and Iain Griffiths. They've very much done things their own way, and to get some insight into how that's been applied to Dandelyan, well, you might learn a thing or two.
Thursday 20 July
SED Talks – From Mind to Matter
10:30 AM – 12:00 PM
Creativity and Creation are not the same thing. A bar, a brand, a cocktail, a menu, a video. It doesn't matter how good your ideas are if you can't communicate that vision to others. Genius means nothing if you can't execute effectively. Coffee is for closers. For this year's SED Talks, we have lined up some of the most effective creative minds in the beverage industry to learn their secrets for turning vision into reality. Come join our host Chris Lowder in a series of expert talks on how the best in the business can create menus, venues, and products that are consistent with their original artistic intention.
Why you should care: The SED talks are, similar to TED talks, a number of brief talks about ideas — and as a result, they're some of the most interesting sessions you can get to. Plus, you'll hear from former Bartender of the Year Jason Williams — read more about what he's doing in Singapore and what you may expect to hear about, here.
Old School Fermentation
12:30 PM – 2:00 PM
We're looking beyond wine, beer and cider to find fermented ingredients that offer new possibilities behind the bar. Historical fermented beverages can be created on a small scale and add flavor, depth and interest to cocktails. Culinary Historian Sarah Lohman will cover the histories of Root Beer (made from fresh botanicals), Kvass (a beer-like drink made from rye bread), Mead (honey wine), Kombucha (tea and other flavors plus a host of microbes), Tepache (fermented from pineapples), Kefir (fermented milk) and Amazake (sweet, low-alcohol, rice drink). Mixologist Eamon Rockey (Betony, Aska) will share his personal experience creating these unique drinks, sharing techniques and recipes, and offering inspiration for their use in a cocktail program.
Presenter(s): Eamon Rockey, Sarah Lohman
Why you should care: Making your own fermentables, we reckon that will be a staple of high end bars in the next few years. It's an approach taken by this new bar, and is pretty neat stuff.
Contextulibation – Location versus Perception in Drinks
3:00 PM – 4:30 PM
So they say that "Location Location Location" is the key to a successful restaurant but how important is it for drinks. Does Guinness taste better in Dublin? Why does Ouzo taste great in Greece but like gasoline in Glasgow? Is La Capilla in Tequila really the 86th best bar in the world? How important is context when drinking? In this seminar Angus Winchester and Jacob Briars, two dedicated peripatetic drinkers with some serious airmiles will investigate the so called Provence Rosé phenomenon, the impact of your immediate surroundings on the taste and enjoyment of your drink and the role of perception plus list the 10 must-have (and some must avoid) drinks in bars and places around the world.
Presenter(s): Angus Winchester
Why you should care:First of all, Angus Winchester is one of the industry's most engaging speakers when it comes to booze (to wit, his thoughts on olives in a Martini: "personally I think olives are the testicles of the devil and taste like gasoline-soaked grapes."). Second, he's joined by Jacob Briars, who is also one of the industry's most engaging speakers when it comes to booze. Here they step back from the drinks per se and look at the broader picture of why drinks taste good on a particular day in a particular bar.
Friday 21 July
Gentian! King of the Bitter Plants
12:30 PM – 2:00 PM
Its roots and flowers form the bitter backbone of aperitif wines, liqueurs, amari, and dashing bitters the world over. What does it look like? What does it taste like in maceration? In distillation? How has it been used in traditional drinks in Italy and France? How to make the most of its aromatics and palate in mixed drinks? Learn all of this and more from a diverse panel that include French and Italian producers, and a duo of bartenders.
Presenter(s): Alain Royer, Kirk Estopinal, Eric Seed, Roberto Bava, Robert Jones
Why you should care: Gentian can be a challenging flavour for first-timers, but there's just something about it. It's weird, it's wonderful.
Mastering Your Prep Game: Technique & Application
1:00 PM – 2:30 PM
From flash infusion, to maceration and closed loop fermentation, the terms and techniques from the culinary world that are finding their way into bar programs are many and varied… But what do they honestly mean?! And when should we really be using them? Just as you learn a daiquiri before a ramos, this is a chance to lay the foundations and understanding of the importance classic and modern prep techniques, understand their application and know the many important skills to be mastered first and foremost Knowing these fundamentals ups your bar program by every means, from having a more sustainable impact, to consistent results and better GP's. Understanding your produce and how it is best prepared and used is a must for any bartender whether it be cinnamon syrup on the hob, or the humble lemon broken down and prepared 5 different ways. With a chance to try some cool liquids, everyone will also take away a copy of a full catalogue of recipes and techniques to take back and begin applying to their own bar program. An ABC of classic Mis en Place for the bar world!
Presenter(s): Kelsey Ramage, Micah Melton, Iain Griffiths, Alex Day
Why you should care: Because Iain Griffiths and Kelsey Ramage are Trash Tiki and they know a thing or two about making delicious drinks with a little bit of prep, and because being smarter about prep during the day pays big time dividends at the end of the night.
Bar Indepth: The Walker Inn, USA
3:00 PM – 4:30 PM
Proprietors LLC (Death & Co & Nitecap NYC) and 213 (Varnish & 7 Grand) decided to collaborate on a project in Korea Town in Los Angeles back in 2015. The concept was rooted in the possibility of having two unique bars under one roof that would interact not in contrast with one another, but rather like two siblings living in one house. This seminar is going to focus on the modern approach to cocktails that The Walker Inn takes, along with the challenges logistically and financially with constant menu changes, modern science equipment, custom bar design, and the lofty goal of attempting to make each guest feel rich for a day. We will also discuss the dynamic relationship between the bar siblings – while The Walker Inn is in pursuit of "putting the cocktail on a pedestal," The Normandie Club aims to "democratize the cocktail" by offering a product with the same attention to detail and expectations for quality, but in a less formal and more lively environment. s
Presenter(s): Johnny Codd, Trevor Easter, Devon Tarby
Why you should care: Everyone we speak to who has been to this bar has said great things about it; combine the talents of Proprietars LLC and the guys behind LA's Varnish, and you ought to expect an ambitious bar. We'll be there to learn more, for sure.
Saturday 22 July
New Business Models for Bars
1:00 PM – 2:30 PM
Bridging all corners of our globe, our hospitality industry has evolved to include many different models for how businesses can be successfully and profitably operated. This seminar will discuss how a business can extend their brand in order to grow their revenue beyond just traditional hospitality service. Especially now, as the environment for owning your own business has never been as rich and inviting, many bartenders, servers, cooks and operators are looking to branch out on their own, they are looking at the different models for alternative operation options such as: * Co-op * Shared income * Branded retail sales At our panel, "**New Business Models for Hospitality**", we will for the first time in such a wide-based discussion help you learn about different profit-sharing or additional income not-so-secret secrets models that have been used successfully around the world. And, our panel will let you hear from the operators who have forged this path, each of whom will share their lessons and warnings. Also, we will be able to spend time allowing for questions to be answered with the goal of hopefully helping you look to either opening your own business or expand or change your current business. As our industry changes, this seminar is a must-see for anyone operating or hoping to open a bar or restaurant. show less
Presenter(s): Thor Bergquist, Trevor Frye, Andrew Friedman
Why you should care: For one, PS40's Thor Bergquist will be there talking about the combo of soda makers/bartenders that they're doing in their Sydney bar; you might also get some insight on how to make more money for your own bar.
Bar Indepth: Mace
3:00 PM – 4:30 PM
Mace, in New York's Lower East Side, is often said by New York's mixologists to serve New York's best cocktails. Come learn from owners and founders Greg Boehm & Nico de Soto about the concept, financing, operations, staffing and drinks program of one of the World's 50 Best Bars. BONUS: Greg & Nico will also detail the incredible runaway success of the Christmas-theme Miracle bars, which started off as a pop-up in the space that would become Mace, and has now been successfully franchised to dozens of bars around the US.
Presenter(s): Greg Boehm, Nico de Soto
Why you should care: We had a great chat with Nico de Soto when he was in town for a popup in January, and this is a great chance to have a look under the hood of a bar on the World's 50 Best Bars list.