We're rather fond of vermouth here at Australian Bartender. Whilst we're happy with a vermouth and soda (on the rocks, with a twist, the way Bill Murray's character orders it in Groundhog Day), it's the backbone of many a classic cocktail giving the drink depth and weight on the palate.
It also affords a lower-alcohol drink, should you combine it with sherry (and you should) as with the Adonis here; vermouth also plays well with other herbs, as in the Bijou we've got below; and its various styles go together nicely as the dominant partner in the Affinity Cocktail.
But please, please, please: look after your vermouth. Keep it refrigerated and sealed once it's been open. Don't expose it to too much air, because it will oxidise, the flavours and aromatics will become flat, and your final cocktail will be all the poorer for it.
Check out these three essential vermouth cocktail recipes below.
ADVERTISEMENT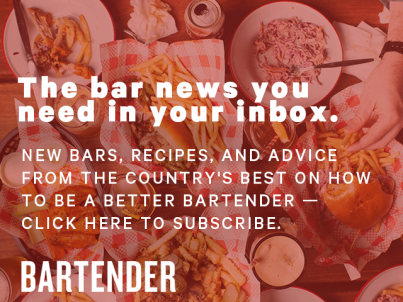 &nbsp
Adonis recipe
45ml dry sherry
45ml Maidenii Sweet Vermouth
2 dashes of Angostura orange bitters
Stir down all ingredients with ice and strain into a chilled cocktail glass.
Bijou recipe
30ml Applewood Gin
30ml Carpano Antica Formula
20ml Green Chartreuse
Stir down all ingredients over ice and strain into a chilled cocktail glass. Garnish with a cherry.
Affinity Cocktail
30ml whisky
30ml Noilly Prat Dry Vermouth
30ml Martini Rosso
2 dash Angostura aromatic bitters
Stir down all ingredients with cracked ice, and serve up in a chilled coupette. Garnish with a lemon peel.

Adapted from Patrick Gavin Duffy's Official Mixer's Manual, 1934.
Here's three vermouths to try
Carpano Antica Formula
A weighty and rich sweet vermouth, Carpano Antica Formula demands strong flavours to stand with it in a drink.
Think Spirits
Maidenii Sweet Vermouth
Made from cabernet grapes from central Victoria, there's notes of grapefruit, angelica, and mace, and makes a great substitute for traditional sweet vermouths.
Cerbaco
Martini Rosso
A benchmark vermouth, you'll find Martini Rosso in cocktails across the country, this vermouth employs Trebbiano wine from Emilia Romagna and Catarratto wine from Sicily, and a cast of botanicals from Italy and abroad.
Bacardi-Martini