London-based bartender, Alex Kratena, knows a thing or two about creativity. Kratena, along with his creative partner Simone Caporale, were responsible for the adventurous, creative and innovative drinks at Artesian at The Langham in London. Their efforts saw them win the title of the number one bar in the world at the World's 50 Best Bars for four years running until 2015.
Kratena has since moved on from Artesian, and co-founded P(our) , a not for profit industry foundation with the aim of "bringing together bartenders, baristas, sommeliers, brewers, winemakers, distillers and drinks manufacturers, as well as people of other disciplines, to discuss the past, present and future of drink."
Below, check out Kratena's thoughts on creativity, bartending, and the keys to his success, lightly edited for clarity.
As told to Sam Bygrave
ADVERTISEMENT
&nbsp
I got my first job in a cafe when I was 16, left to the US when I was 18, and since then I've been going around the world, always ending up in hospitality. I guess that's where many young people end up, you know, when you need to make money. When you realise, "Oh my god, I really need to buy toilet paper!"
Originally the intent was, I didn't want to be a bartender. I didn't want any of that, it was purely because of necessity, to make a living. And I think that the passion came later on. I'm naturally a very socialising person, I love to be around people, I love to experience new things, and I'm very curious when it comes to flavours, and everything in life. And that took me around the world. I spent some time in Japan and after returning to Europe, I wanted to hang out in London for two weeks — it's now been almost a decade.
I get my creative ideas pretty much from anywhere, so it really depends on the situation. I cannot pinpoint the source of my inspiration. And I think, generally, if you want to be creative, [to have a] sort of awareness of everything going on around yourself is very important. The more things we experience, the more ingredients you taste, the more countries you visit, you know, all of these things play a role.
I think we are all born creative, but the society and the environment closes it up for many as we get older. There's a lot of preconceptions about creativity. People think it's associated with certain types of personalities [but] no, anyone can be creative. So I don't think you need to teach it — you can nurture it.
How I work with ideas is I actually have a process. So to me, creativity, and I don't remember who said it, but creativity has several different stages: awareness, inspiration, interpretation, execution, and then evolution. And if you understand the whole process, how you work with ideas, at any one point when you work on a concept you always check, "OK, I am here, what do I need to do with the product now? Will I need to check that it's actually manufacturable? I need to think about the customer experience, the usability, can I actually drink from this glass? Am I actually able to deliver that?" So if you understand, at any one point, where you are, you kind of know what's the next action.
I think it's not about taking the next step, and wanting to succeed, and to be playing for the win. I always tell people: just be happy and do what you enjoy. Because one of the reasons why we've been so successful, with Simone, we've never done things for the winning because we actually didn't give a fuck about the competition — we just wanted to do things, you know? It was about what we're doing next — I had this idea, how can I make it work? And if you really focus on what you enjoy and if you do it all the time and if you do it well, the success will come. So don't focus about making the next step — focus on happiness.
Albert Adria told me once, anyone can be a millionaire. Generally to make money, that's quite easy — the most difficult thing in the world is to be happy. You know if you're happy, if you're creative, if you do what you enjoy, the success will come.
I think if you're starting in the business it's a lot about learning. And it's about being focused, it's about being organised. Like the last thing you should do is start to jump from one thing to another and not be finishing them. You know, bartending is not a quick career — people always see the success, they don't see the hard work which comes into that. Why can somebody make such beautiful garnishes? Because he's done it tens of thousands of times, over and over and over. It's about repetition, it's about learning constantly new things, so just stay focused — we're not rockstars, we shouldn't be rockstars. To me it's more about craft, and craft is about one thing and doing it over and over again, and looking for ways how to improve. And that's how you should treat your career. You're never at the top, no? You should always think about what's the next thing I'm gonna learn.
ADVERTISEMENT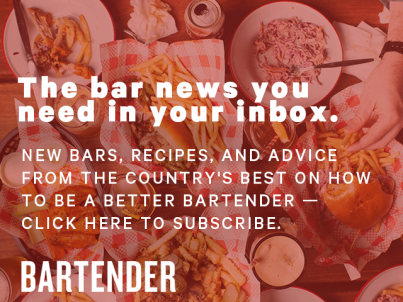 &nbsp