Indie Spirits Tasting Brisbane is back for its second year at Lefty's Old Time Music Hall on Sunday May 28 from 12.30 till 4pm. The event, which is also staged in both Sydney and Perth, is all about great spirits and good times.
Tickets are just $55 (plus booking fee) online and include access to over 30 exhibitors showcasing more than 120 craft spirits, with master distillers on hand to chat and free seminars diving deep into the world of indie spirits. Click here to get your tickets now.
If you like supporting small brands and uncovering little known gems then the Indie Spirits Tasting is tailor-made for you. One such brand is Tequila Tromba – which will be exclusively distributed by Artisan Handcrafted from May 15th. This is a classic story of starting a spirit brand. Nick Reid, a young lad from Melbourne, fell in love with Tequila on a trip there in 2005. Years passed and his passion grew. He recruited his school mate James Sherry, Canadian Eric Brass and by 2010 they were seriously discussing starting their own brand. So what did they need? Credibility in the form of a Mexican Master Distiller. He came in the form of Marco Cedano, who had been working at the esteemed Don Julio distillery for 25 years. And now, Tequila has grown into a genuine internationl/Mexican tequila. We asked Nick Reid from Tequila Tromba a few questions about the brand and the craft spirits industry in general.
Give me a little bit of background on your brands and what prompted you to start them. We started Tequila Tromba because we wanted to show drinkers in Australia that there is so much more to tequila than lemon, salt and nasty shots. We want to share tequila's incredible story, and at Tromba this focuses on drawing people's eyes to the beautiful bluey green agave fields and the enormous amount of work that goes into producing every bottle of tequila.
Tell us a little bit about your distillery and your distilling process.
Our Master Distiller has been at the forefront of innovation in the tequila industry ever since the 80's when he created the first recipe for Don Julio at the Tres Magueyes distillery. What I love about working with Marco is that he takes the best that tradition has to offer up and blends it with the newest technologies and techniques. He actually just published a book titled "Tequila: Art and Technology".
ADVERTISEMENT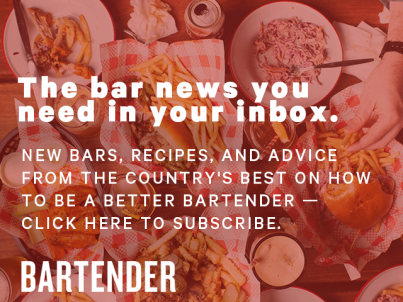 &nbsp
The spirits industry has changed a lot in the last 5 years, making way for events like the Indie Spirits Tasting. Why do you think this is?
I think this it is driven by a few factors.
The craft beer revolution in Australia taught drinkers that when they went to a bar or pub they were now allowed to and often forced to make a decision as to what beer they wanted to drink. Once people were forced to make a decision about which beer to drink it's a natural progression to start making decisions about the quality of the spirits you order in a bar as well.
More and more great bars are opening-up all the time which drives competition between them, which in turn leads to venues having to differentiating themselves through their product range.
Brands have worked really hard in the last 5 years to deliver knowledge to bartenders and this knowledge has been filtered into the market over the bar and into drinking trends.
Where do you see the craft spirits industry heading in the next ten years?
In an ever multinational monopolized world, people are feeling disconnected with where their food and drink is coming from and are looking for options which make them feel more connected to the source of their produce. Craft spirits are completely tied in with this trend and as they mature in Australia and volumes increase it will allow brands to drop their prices a little closer to the big boys which will further fuel growth.
What are some of your favourite craft spirit brands (other than your own) and what do you like about them?
I like any craft brand who is driven by passion and is prepared to get out there and help educate drinkers to make their drinking decisions based on quality not just the cheapest thing they can get their hands on. And obviously all the brands in the Artisan portfolio!
Tasting Notes:
Tequila Tromba Blanco
From the highest point of Los Altos, Tromba Blanco is the epitome of great highland tequila. Like all Tromba tequilas, it is made exclusively from hand-selected blue agave, and is lovingly crafted in small batches, resulting in a silky, light, sweet and refreshing tequila that is wonderfully pure and spicy.
So make sure you head to Lefty's on Sunday 28 May and have a chat with the Artisan Handcrafted Team. Click here to get your tickets now.
To keep updated with all the distilleries, spirits, and seminars at the Indie Spirits Tasting events happening around the country, make sure to like us on Facebook, follow us on Instagram, and keep an eye on indiespiritstasting.com.au.