Indie Spirits Tasting Brisbane is back for its second year at Lefty's Old Time Music Hall on Sunday May 28 from 12.30 till 4pm. The event, which is also staged in both Sydney and Perth, is all about great spirits and good times.Tickets are just $55 (plus booking fee) online and include access to over 30 exhibitors showcasing more than 120 craft spirits, with master distillers on hand to chat and free seminars diving deep into the world of indie spirits. Click here to get your tickets now.
If you like supporting small brands and uncovering little known gems then the Indie Spirits Tasting is tailor-made for you. Cast your minds back just a few years and the only Mexican spirit that had global fame was Tequila. But those days are gone. Mezcal, the other Mexican agave spirit (although others are now coming to the fore too), is a favourite with bartenders and has truly started to scale new heights in the last couple of years thanks to its vegetal, smoky characteristics. And now, thanks to companies like de Vino Mezcal, there are loads of Mezcals to choose from, without having to stash them all in your suitcase on your way home from Mexico. A big supporter of the Indie Spirits Tasting Events, we asked de Vino Mezcal owner, Alex McDowell some questions about his brands and the spirits biz in Oz.
Give me a little bit of background on your brands and what prompted you to start them.
I have chosen to bring in what not only I but others (be it awards like San Fransisco or TOP 50 bars) agree are leaders in their category, which also allows me to work closely with the likes of Estaban Morales, Ivan Saldana, Julio Bermejo, the Orendain Family, and Roberto Hidalgo – considered with Ivan as in the Top entrepreneurs in Mexico currently
ADVERTISEMENT
&nbsp
La Venenosa – Estaban Morales Brand- He gathers the raw spirit from each Racilla Producer, to whom he works closely with keeping their exact locations a secret, then bottling himself back in Guadalajara. Estaban is considered a Leader in the Raicilla Category and is Championing the category and is involved in writing the Do for it. having such a range within the La Venenosa bottling, allows people to explore full on smoke style through to Puntas that goes from a typical light mezcal flavour into an amazing sweet spirit. Raicilla is made using techniques unchanged for 100s of years.
Ancho Reyes – Roberto, Ivan are the two main guys driving this great brand. They discovered a recipe dating back to 1926 and have changed it very little, more the technique in how it is made, to launch a truly iconic and standalone brand. I will have samples of Ancho Reyes Verde with me in Brisbane
Montelobos Mezcal – Formed as a labour of love from Ivan. He saw the need to create a Mezcal with the 4th generation Lopez Family, that truly represents Mezcal. Montelobos Joven ESPADIN from Oaxaca is the most balanced Mezcal made and allows newcomers and seasoned professionals the chance to experience all Mezcal has to offer by allowing 4 dominate flavours to equal present themselves, and not over ride each other (cooked agave, green agave, smoke, fermentation). It has won many awards, the most recent being named in the TOP 5 Mezcals in the TOP 50 list. Montelobos is pioneering Mezcal made in Puebla and indeed have become the first certified Mezcal to come form Puebla with Montelobos TOBALA.
La Higuera Sotol- Sotol is gaining popularity around the world as those into Mexican Spirits like myself, explore all that is on offer. Made from the Daisy Lion plant and harvested and cooked like agave, Sotol is Mexico's true answer to Gin. La Higuera truly offers a grassy botanical flavour profile, that many gin drinkers are starting to enjoy.
What products do you have in your portfolio?
Full Portfolio: Ancho Reyes Original Chilli, Ancho Reyes Verde, Gran Orendain range of Tequilas; Blanco, reposado, Anjeo, Extra Anjeo 3yr, Extra Anjeo 7yr, Montelobos Joven Espadin Mezcal, Montelobos Joven Tobala Mezcal, Kalore Coffee Liqueur, La Higuera Sotol, La Venenosa Racilla; Costa, Costa 2, Sur, Del Tigre, Occidental and the amazing Puntas
If you are a distributor, tell us a bit about the process of choosing brands to add to your portfolio.
Throughout my travels in Mexico when at Suntory and Think Spirits (my holidays were spent traveling mexico) I have built up a personal profile within the Tequila and now Agave Spirit World. I have chosen brands that have pedigree and a true story to tell, and are true to the style that they are representing and are all family or small owners. They are what I and others consider leaders or influencers in their category. Look at Orendain for example- Grand father started, Father with one brother and sister Run, other siblings have started Arrette. Pioneered the use of the Autoclave, even though not used for Gran Orendain. The 2nd Largest Family Owned Tequila Brand in the town of Tequila.
The spirits industry has changed a lot in the last 5 years, making way for events like the Indie Spirits Tasting. Why do you think this is?
As we all seek to be different in our offerings, and more and more brands come into existence or take on the challenge of international selling, there is clearly more to use than the big brands who have traditionally dictated the trends. If I look at Agave Spirits. When I started there really were only 3 brands of tequila on the market. 5 years ago, Mezcal had certainly started to take off as more wanted to explore the other agave spirits, and now the likes of Racilla, Sotol and bacanora are hitting our radars as more of us are lucky to explore mexico and want to offer them in our bars or part of a portfolio like me. Look at the small Australian industry. I remember Jackie Chan from West Winds saying when they started there were only 10 Aussie small batch distilleries… now a new one seems to hit the news each month. More are taking on the challenge of wanting to be a producer of spirits, it will be interesting to see how many more can do so and it all remain sustainable, on a local level.
Where do you see the craft spirits industry heading in the next ten years?
I think that we will continue to see more offerings, i trust more than just Gin, locally. Internationally there is a similar rise of smaller brands and I am sure the better quality ones will have Australia on the Radar. Speaking in terms of Agave, there are a little over 140 distilleries producing 1300+ brands, with only 9 of those dedicated to single brand production, yet we clearly have not seen that many make their way here. I would clearly like to see more agave based spirits enjoy success in Australia, we have venues dedicated to mexican food offerings, so we need to bring them around to offer only Mexican spirits also. Craft Spirits will continue to take chunks from the big boys, and force the big boys to change their production to being cleaner and more sustainable than what they are possibly now.
What are some of your favourite craft spirit brands (other than your own) and what do you like about them?
Del Maguey and Ocho will always hold a part of my heart, from being part of their launches in Australia and getting to know those behind them on a personal level, i will always enjoy them. locally a brand like The Rum Diaries Rum is exciting, yet hopefully will be made using their base and not someone else's, and Four Pillars, although I am no Gin fan, their success is a credit to them.
Are you launching anything new at Indie Brisbane? If so, what is it?
I will have sample sized bottles of ANCHO REYES VERDE that will be close to landing into Australia come the end of May. The next instalment in Ancho Reyes and it is extremely tasty and will probably outsell the original.
So make sure you head to Lefty's on Sunday 28 May and have a chat with the Alex McDowell and his array of Mexican mezcal. Click here to get your tickets now.
To keep updated with all the distilleries, spirits, and seminars at the Indie Spirits Tasting events happening around the country, make sure to like us on Facebook, follow us on Instagram, and keep an eye on indiespiritstasting.com.au.
ADVERTISEMENT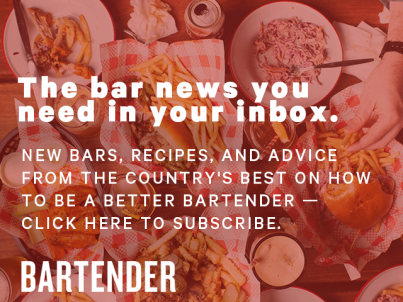 &nbsp