Nicola Olianas has the enviable job of being the global ambassador for the Branca distillery, makers of Fernet-Branca, Carpano Antica Formula and more. He's coming to Australia this month and hosting masterclasses in Sydney (take a look below for dates); take a look at the Q&A with him below.
Branca Portfolio Masterclass with global Branca brand ambassador, Nicola Olianas

11am Tuesday 16 May – Earls Juke Joint
2pm Wednesday 17 May – Assembly Bar

RSVP ASAP: g.goto@thinkspirits.com
Welcome to Australia, what brings you here? 
Ciao, thank you. To get my Australia coin… what else? Jokes aside, besides being a beautiful country with great people and weather, Australia has one of the best bartender communities. And being an ambassador, my role is also to gain and share information between different markets, and Australia plays a big role in this. 
What's the story behind Fernet, how did it come about?
Well, the story is rich and complex like the product itself, and like Fernet-Branca, every time you dig into this history you discover something new and enchanting.
ADVERTISEMENT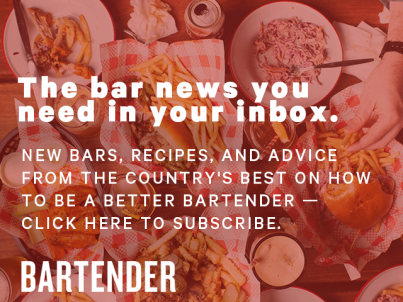 &nbsp
Born in 1845 as a very powerful remedy against cholera, soon the product was used as an "all in one cure" for everything.
As time passed by, people's habits started to change, so the product found its way into the digestive area, both for the beneficial power of the herbs and also the natural and straightforward taste.
Lately I've just found out some nice secret about Fernet-Branca… but I am not going to spoil it here — see you at my seminars.
What makes Fernet special?
It's unique. People that drink and enjoy Fernet-Branca have lots in common — not only their passion for this elixir, but also in the way they approach things in life.
I always say that we belong to the "most famous unknown club in the world". It is never boring — always a surprise to the palate and mind, like fireworks of taste. 
How did it become the bartender's hand shake?
There are many stories behind this. Some say that is because by searching for something different brought them to the Amari world , and Fernet-Branca above all just fulfilled their need on this.
Amari were always there in the back bar, just waiting to be discovered… and what a surprise. Today offering or asking for a shot of Fernet-Branca is a clear statement. The rest… well, Fernet about it.  
How did Brancamenta come about?
Brancamenta was a sleeping beauty inside Fernet-Branca just waiting to be kissed  to wake up… some say that that fist kiss was given by Maria Callas around the 60's. The Branca family spotted her in a restaurant before a concert asking for Fernet-Branca with some fresh mint, sugar  and water  (just like a Julep) , so the Branca family had an intuition to create a different version of their product. It's more minty and gentle, but yet intense and unique.
Why is Antica Formula the king of vermouth — what is it about its production that sets it apart?
Simple: because it was the vermouth for the King, created by Carpano to amaze the palate of the King of Italy. He fulfilled his aim so well that the King declared Carpano Antica Formula the Aperitivo of the Kingdom. What else do you need for your Negroni or Manhattan? It's good enough for me.
Besides this, it's really a product on its own — if you haven't try Antica Formula, you never tried vermouth before.
The recipe is very delicate and complex, starting with the choice of the vine, that we have to use within 12 hours once we receive it on Branca. The choice of spices, so exotic and peculiar.
Above all, we were the first.
What is your favourite way to drink Fernet Branca in a cocktail?
Well, I always say that at the Branca Distillery we don't make ingredients, but products, they are complete as they are, that's what I mean. Love Fernet-Branca neat, sipping or shot (it depends on if I've lost a coin challenge or not).
Though having said so, I think Fernet is great in cocktails, like as a bitter in a Rum Old Fashioned, in a Collins, floating, or in a Fix, topped with ginger beer; a Hanky Panky, or Hanky Panky Tonic, if I want more than a bar spoon in it; or in a Fanciulli, with a nice ice chunk, with ice-cold cola having my BBQ — sorry, I've got to get one now.