IF YOU'VE spent any time in Sydney, whether it's a visit during Sydney Bar Week, or an ad-hoc tour of its bars, chances are you've stepped foot inside the taxidermy wonderland that is Shady Pines Saloon. Here, young gun Evan Stroeve tells us about what it's like to work in a bar that is a beloved favourite of the hospo industry.
As told to Sam Bygrave
What do I do at Shady Pines? Currently, I've just become part of the management team, and that's exciting. In terms of what I do, fundamentally, I guess I try to make people feel good — that's the bottom line. Everything else — making drinks, setting the atmosphere and that kind of thing — adds on to that, striving for those fundamentals; a lot of people can forget about that. I think people get strung up with drinks and balance and ideas and all these things, but that's always the bottom line. It's what this place is built on.
I was at uni, studying journalism and philosophy and hated it. Barry Chalmers gave me a job barbacking here, and I think like most young guys, when you start out in a bar like this it's a bit of fun, you know you get to chat to girls and you get to take your shirt off at Hello Sailor at 6am in the morning. It's a way to pay the bills and it's a way to meet people and have fun.
And then I started getting more and more serious about it. That side crept up, and the uni side of it crept down, and I ended up dropping out. I worked my arse off to start bartending, and I've been doing that for a year and a half. From there, I worked my arse off to get those management shifts.
ADVERTISEMENT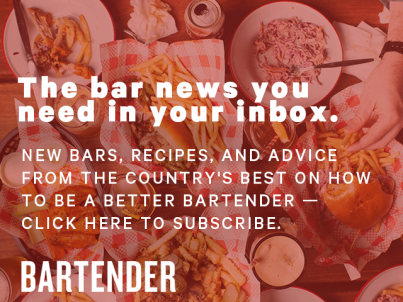 &nbsp
To paint a picture, I started off barbacking here, got moved to Baxter to barback, bartended a little bit at Frankie's, then came back here to bartend, bartended at Baxter and then came back here. What I had to do to get there? I was on a scholarship at uni — obviously with that you're supposed to pay for textbooks, etc. I spent my scholarship on a home bar setup, these tomes of bartending books, all these ingredients, and just tried to teach myself. I think that's part of the reason I dropped out of uni, because I was so focused on that! But by the time I got that first shift, it was at the stage where I could tell you something about everything on the back bar. It was a lot of self-study, and the boys here taught me heaps.
It's a matter of taking on as many shifts and asking as many questions as you can. You put in as much as possible.
It started off and it wasn't by any means a passion at all. I think it dawned on me just by watching these guys, watching these guys being passionate about what they do and creating experiences — that genuinely sparked something in me.
Everyone drops out [to work at Swillhouse]. Jason Scott says that the universities of Sydney must hate him.
Everything that's done behind that bar is done to the highest degree of professionalism and industry standards but it remains casual, it remains unpretentious. It's raucous and it's loud and it's weird, and you're encouraged to have a good time, but there's a lot of work that goes into it and you still have to bang out pristine drinks and do everything that is expected of you as a professional — it's just that there's no facade there. It's kind of real, and I love it.
I was offered the opportunity to go to Baxter and it's just not my cup of tea — of all the venues in Swillhouse, this is me. I always explain it to people as a spectrum, not including Hubert, but Frankie's is this kind of loose, raucous, 3am dive bar, plastic cups; Baxter is one of the best in the world, it has everything, it's pristine; Shady's is bang in the middle.