Story by
Sam Bygrave
YOU'D think that with the boom of craft gin across the world, there might have been a bit of interest ignited in aquavit (or akvavit as it is known in Scandinavia, which is the term we'll use here because, really, it's not that hard). And after all, gin and akvavit are essentially different styles of flavoured vodka. And what is akvavit anyway?
Well, that's not come to pass and we think that's a shame. Akvavit often offers more savoury characters than the juniper-citrus-complex of gin, is deeply entwined with the Scandinavian drinking ritual of skål, and has for hundreds of years replaced wine at their tables. Savoury spirits and shots — what's wrong with that?
The primary botanical in many akvavits is caraway or dill, or some combination of the two. These two primary characters are also often supported cumin, but the supporting botanicals used can vary.
Akvavit from Denmark, Sweden and Finland can be either aged or unaged, whereas Norwegian akvavit often sees time in used sherry casks. As a result of this sherry cask ageing Norwegian brands like Linie are recommended (by them, at least) to be drunk at room temperature (to be fair, room temperature in Norway might be a little different from Australia). There is a strong Australian connection with Linie, too: the story of the brand goes that one ship, making its voyage from Norway to Australia and back again, had a misplaced cask of aquavit on board. When they cracked it open again after its long voyage, they found that the heat and the rolling of the ship on the waves had served to improve the character of the aquavit. Today, the same journey is undertaken – the name Linie being derived from the voyage across the equator line – and the name of the boat it went out on is on the label of every bottle of Linie.
ADVERTISEMENT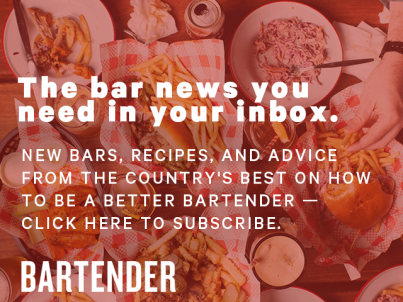 &nbsp
But Norway is just a small producer of aquavit. Denmark is by far the largest producer of the stuff: their Danish Distilleries, which operates a state monopoly on alcohol, produce the Aalborg brand (of which there are just a couple of varieties available in Australia).
Stockholm syndrome
30ml O. P. Anderson Aquavit
15ml Aalborg Jubilæums Akvavit
20ml lemon juice
20ml sugar syrup
1 dash of Peychaud's bitters
1 crack of pepper
1 pinch of salt
Shake and fine strain into a rocks glass with normal ice. Garnish with lemon peel and dill.
Adapted from a recipe by Thor Bergquist, PS40, Sydney
Akvavit Crusta
45ml Aalborg Jubilæums Akvavit
15ml curacao
30ml lemon juice
5ml sugar syrup
4 dashes bitters
Moisten the rim of a coupe with lemon, and rim with sugar. Line coupe with the peel of a lemon. Add all ingredients to a shaker, shake and strain.
Trident
45ml Aalborg Taffel Akvavit
45ml dry fino sherry
20ml Cynar
2 dashes of peach bitters
Shake and strain into a chilled coupette. Garnish with a lemon twist.
Adapted from a 2002 recipe by Robert Hess, Seattle.
Three to try
Aalborg Taffel Akvavit
Taffel is a cléar style of akvavit, and this is classic akvavit. Serve it ice cold from the fridge, and it makes the perfect snaps. Straight up caraway, supported by hints of coriander seed.
Nicks.com.au
Aalborg Jubilæums Akvavit
Dill is most prominent here in this celebratory akvavit. The dill leaps from the glass, and is supported by a cast of coriander, citrus, and anise aromas.
Nicks.com.au
O. P. Anderson Aquavit
First produced back in 1891, made from 100% grain spirit, and featuring cumin, anise, fennel and coriander characters, this aquavit hails from Sweden.
Nicks.com.au