We've seen cocktail menus before based upon the great cocktailing books of yesteryear. Melbourne's Bar Americano took out the Cocktail List of the Year award in 2014 at the Bartender Magazine Australian Bar Awards with such a concept, and you can see their old Hugo Enslinn-inspired cocktail list here.
It's rare, though, that a bar takes up the mantle of an author completely. But that's just what South Korean cocktail bar, Charles H. has done.
The bar lives within the Four Seasons in Seoul, and opened a couple of years back with acclaimed bartender Chris Lowder on board steering the ship. Lowder has since moved on, with Lorenzo Antinori taking charge in February.
Antinori comes with considerable bartending pedigree: he spent four years at The American Bar and The Beaufort Bar at The Savoy Hotel in London, and spent a year at Dandelyan as head bartender.
As you might guess — the clue is in the bar's name — Charles H. is inspired by Charles H. Baker Jr, the globetrotting writer and bon vivant who bequeathed the Gentleman's Companion to the world. And it's that collection of cocktails and the stories behind them, from all parts of the globe, that Charles H. employs as their guiding concept.
ADVERTISEMENT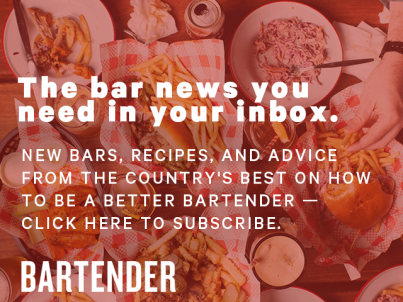 &nbsp
Since taking over the bar, Antinori has made a couple of tweaks, whilst very much continuing with Lowder's opening concept.
"The program will follow the same direction Chris started when the hotel and the bar opened a year and half ago: a Western hospitality, paying omage to Charles H. Baker and his travels around the world, with a progressive and modern approach to drinks," Antinori tells us.
"The only diffence is that every three months we will change a page from our menu, getting inspired by a destination from Charles' travels."
At present the menu is divided into four sections: New York 1915, Manila 1926, Hong Kong 1932, and Cuba 1933.
But rather than just ripping recipes from a well-loved book, they're refining the drinks and adding creations of their own within that framework.
"[Some] of the drinks are modern interpretations of cocktails recorded in The Gentleman's Companion and others are inspired by the destinations themselves with their specific time and cultural aspects," Antinori says.
They're executing this menu in the somewhat strict confines of South Korean liquor laws, where access to the ingredients many Australian bartenders take for granted just isn't as simple.
"Imagine that mezcal got legal last week, Angostura, two months ago," he says "Absinthe [is] still not available, and one lime costs 1,000 KRW, almost 1 dollar!"
Australian bartenders can probably sympathise with the high cost of lime, though.
The menu also includes drinks from their friends in the bar world, all from destinations that Baker visited and wrote about.
"We also add one drink, from some friends around the world who want to contribute: so far we've had Joaquim Simo from Pouring Ribbons, in the New York section with his Mananita, and David Ong from The Curator in Manila, with the Manila Polo Club.
"In the new Hong Kong page, we had the pleasure to have our friend from Stockton in HK, sharing with us the White Horse recipe, which we adapted to local ingredients and products," he says.
Take a look at some of the drinks from the menu below.
Wellington Tea Punch

In the 1930's Hong Kong was under the control of Great Britain, but the Chinese influence still played an important influence. From this cross of culture new habits took place, like the milk tea.
Milk-Wshed Aged Caribbean Rum, Pu-erh Tea, Pear Miso, Elderflower, Perilla
Rosy Dawn

"Corked" London Dry Gin, Yuzu, Dry Curacao, Omija (aka as Magnolia berry tea), Champagne Acid. Carbonated
Magic Tree

The heady fragrance of agarwood tree gave Hong Kong its name (Fragrant Harbour), but it has become so valuable its source is under threat. During British occupation in the 1930', the incense from the special wood, played an important trade role, and it was shipped alongside other goods, thorugh the whole british territory. Agarwood is part of the Aloe family, from which we created a riff on an Old Fashioned, using all elemnts with a connection to wood, still keeping a certain brightness.
Bourbon, French Gin, Oloroso, Aloe Vera, Black Vinegar, Resin Tree Bitter
Pancaea

Chinese influence played an important role on Hong Kong heritage and culture for centuries. Mysterious palliatives and forbidden-ish remedium captured foreigners and adventurers during their stay in the island.
Dominican White Rum, Orgeat, Mulberry Leaf Wine, Ancho Chili, Chrysantemum, Lemon