Bird of Paradise Fizz
60ml gin
45ml fresh lime juice
15ml raspberry syrup
2 drops orange flower water
1 egg white
Dry shake all ingredients except soda, then shake again with ice. Strain into a collins glass and top with soda.
This is one of Charles H. Baker's more exotic recipes, from his book, The Gentleman's Companion.
Travelling the world, drinking all the drinks, gathering experience and writing it all down — that sounds like a pretty good gig to us. And that's the reason why Charles H. Baker Jr's writing from the first half of last century still has relevance for bartenders today — yesterday, we wrote about how South Korean bar, Charles H., has used his writing as an inspiration for their bar — and his work has bequeathed recipes like this Bird of Paradise Fizz.
Books like his Gentleman's Companion (later renamed Jigger, Beaker, & Flask: Drinking around the world) just don't come around that often. Baker took to a life visiting far-flung places and documenting the drinks he had in each port, from the then glamour of the Raffles Hotel in Singapore to ramshackle huts out the back of Peru.
Some of his drinking buddies were the literary likes of William Faulkner and Ernest Hemingway, from whom he relates the recipe of Hem's Death in the Afternoon. Though he was an engaging writer who drew on experience from around the world, he was also a product of his times: much of the wit of his book is directed against the natives of whichever country he was in. It's there when he writes of Africa , for instance, where the "poorest kaffir cheers life with — and for all of us he can have it — warm millet beer."
ADVERTISEMENT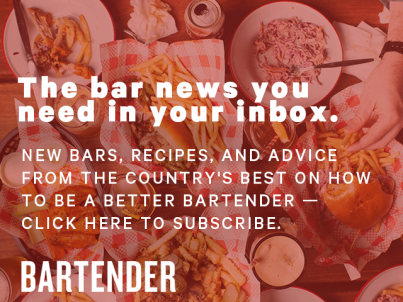 &nbsp
And he was a parochial American if ever there were one when he declared that "the American has invented, always will invent, more of the world's good mixed drinks than all the rest of humanity lumped together".
And while that claim may have some merit (though he clearly didn't see Skinny Girl Margaritas coming), terms like "blackamoor", in reference to the "shaker boys" that Henry Ramos employed to make the Ramos Gin Fizz, are jarring to the modern reader.
But assuming Baker was just an artefact of his times, there is much to like about his writing; he is a great source for drinks from around the globe. Sure he gets some recipes a little wrong; sometimes he misses the mark completely. But his book is a reminder that booze — and often very good booze — is one thing that we all have in common.
And an adventurous thirst for drinking around the world might just be the key to a long life, too: Baker, born in 1895, lived to be 91.
Photo by Rob Palmer