Hot Ale Flip recipe
30ml dark rum
2 teaspoons of sugar
1 pinch of spice
2 piece of cinnamon
Approximately half a bottle of Feral Brewing Smoked Porter.
Mix in a tankard (or julep cup) a fresh egg yolk with a little hot water.
Heat the beer over a flame in a little pot until it simmers.Transfer to another tankard. Add sugar, spice.
Pour hot ale into the tankard with the yolk. Pour the mixture several times back and forth to froth, sprinkle with nutmeg, serve.
Recipe adapted from Frank Newman's American Bar, 1904
Story by Sam Bygrave
Photography by Rob Palmer
ADVERTISEMENT
&nbsp
Swing open the door to a tavern in the late 1600's in Boston, and you'd find plenty of carousing and swearing thanks in no small part to the "drams of flip" they were consuming. These were revolutionary times in America, and the Flip was a favourite with those forcing the English from the country: John Adams, vice-president to George Washington and then president in his own right, described the scene above; and old Washington himself had his accounts littered with receipts for the stuff. But what is this Flip?
It's ideal for these cold winter nights, that's what. Long before the cocktail arrived on the scene, this mixture of rum, eggs, sugar, spice and hot ale was a standard drink in taverns in colonial America as well as in England (where it began). Step inside a tavern in those early days and the barkeep would head to the open fire, pick up a loggerhead keeping warm in the ashes of the fire, plunging the loggerhead into the hot burning coals. He'd pour the pre-prepared mixture of rum, eggs, sugar and spice into a tankard, pour in some hot beer and charge it all with the tip of the red hot loggerhead. As Gavin Nathan in his book on Boston drinking, Historic Taverns of Boston, describes, "the drink would hiss as it boiled and a thick frothy head would appear as the sugars inside caramelised, sending a sweet spicy smell around the tavern."
You might not have a red hot loggerhead handy. But a little portable gas cooker will work, if not quite so spectacularly. This Hot Ale Flip recipe presented here is adapted from one in Frank Newman's French-language 1904 cocktail guide, American Bar: recipes of English and American drinks.  It calls for a hot mixture of yolks, sugars and spice to be mixed with hot beer, and poured back and forth between glasses for frothing. His recipe drops the rum quotient (which we we've reinstated) and in the absence of an open hearth fire blazing away in the bar, we've co-opted the Feral Brewing Smoked Porter to add a smoky whiff of the log fire to the drink.
And one last thing about those loggerheads and all that carousing. It seems that the phrase, 'to be at loggerheads' (with someone, or indeed, something) comes about by way of the Flip and its fulsome effects on the drinking fraternity. You can easily imagine, in the heady midst of revolutionary politics and ideas and arguments (and plenty of drams of flip), a disagreement that might suggest only one way of resolution: that red hot loggerhead smouldering away in the ashes.
ADVERTISEMENT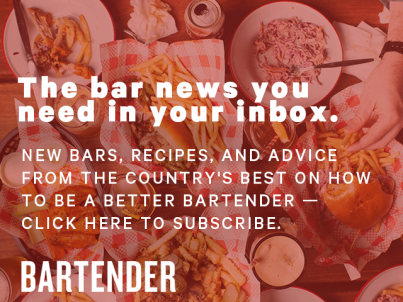 &nbsp