It's nearly time for the announcement of all the finalists for the 17th Annual Bartender Magazine Australian Bar Awards. Ahead of the announcement in the July issue — which lands in bars later this week — we thought we'd reveal the finalists for a few awards this week.
We've already unveiled the best rum bars in Australia and the 10 best whisky bars in Australia — today, it's about the best tequila bars in Australia. Below, we announce the 10 finalists for the 2017 Phil Bayly Award for Tequila Bar of the Year.
The award is named for industry legend Phil Bayly, who has been the standard-bearer for the category of tequila and mezcal in Australia for the best part of two decades and continues to promote the spirit he loves so much. Kudos to you, Phil Bayly.
The Bar Awards takes place on Tuesday the 19th of September this year, and is just one of the many great events in store for Sydney Bar Week this year, taking place from the 16th to the 20th of September — take a look at the full timetable of 22 big events over five days at barweek.com.au.
ADVERTISEMENT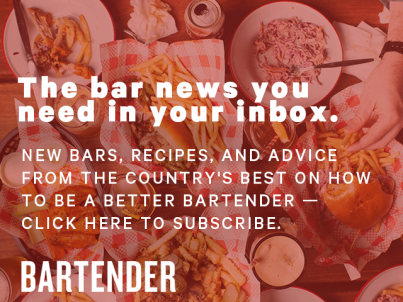 &nbsp
If you're a finalist for the Bar Awards, you can now secure your seat at the event — click here.
If you're keen to exhibit or to sponsor at one of the great Sydney Bar Week events we have lined up, get in touch with David Spanton on david@spantonmedia.com.
Take a look at the 10 best tequila bars in Australia below.
THE PHIL BAYLY AWARD FOR TEQUILA BAR OF THE YEAR
Proudly sponsored by Olmeca Altos
To be eligible for this award, the bar must have a broad selection of tequila and/or mezcal and other agave distillates, highlight agave cocktails where cocktails are listed, and employ staff who are knowledgeable on the category.
Alquimia, Brisbane
Barrio Cellar, Sydney
Bodega Underground, Melbourne
El Grotto, Perth
Hot Tamale, Darwin
Los Hermanos, Melbourne
Mamasita, Melbourne
Mezcalito, Melbourne
Pancho Villa, Hobart
Tio's Cerveceria, Sydney

Barrio Cellar, Sydney
58 Elizabeth Street, Sydney
barriocellar.com.au
This Sydney tequila bar has notched up two years of trade in the suit-laden financial heart of town. The bar is, as the name suggests, located in the basement off Elizabeth Street on Martin Place, and they're doing a handy trade in all things tequila.
Featuring an extensive list of tequilas on the menu, they're also handy when it comes to agave cocktails — all the classics are on offer and made well, along with a host of tequila creations of their own making.

Bodega Underground, Melbourne
Basement, 51 Little Bourke Street, Melbourne
www.bodegaunderground.com.au
Mezcal is the call of the day at this Melbourne bar which opened last year. Located in the basement of the Crossley Hotel in the CBD, and you can get your initiation into mezcal with one of their mezcal flight; alternatively, if something a little longer is your thing, they're making some great cocktails — you could try the Pancho's Ancho, with mezcal, grilled lime, agave and a chilli salt rim, or hew closer to more familiar territory with the La Last Word, in which the smoky delights of mezcal are switched into the classic Last Word and combine with Chartreuse, maraschino liqueur, and lime.
Oh yeah, and on weekends you can smash tacos until 3am. Perfect.

El Grotto, Perth
5/148 The Esplanade, Scarborough
www.facebook.com/elgrotto/
Perth tequila bar El Grotto is a curious beast: they've an impressive selection of agave spirits to sample, and love geeking out on the stuff, but it's also the place of much partying — and right on the beach. Sounds pretty much like an ideal Mexican vacation to us.
But these guys do know their agave and they've got a great love of Mexican eats. The cocktails feature a host of party-starting drinks — you can take the Batanga frozen, friends — and they give back to the tequila community, with $1 from each El Diablo (Blanco, blackcurrant, lime, and ginger beer) going to the Tequila Interchange Project. Or get stuck into the Dirty Fashion — a mix of banana-washed mezcal, spiced chocolate agave, and mole bitters which to us sounds like just the sort of bastardised Old Fashioned we can get behind.
Hot Tamale, Darwin
Building 3, 19 Kitchener Drive, Darwin
hottamale.net.au
Darwin's tequila bar, Hot Tamale, made this list last year and it's down in no small part to the efforts they've gone to provide the Top End with some top quality tequila.
Down at the Darwin waterfront, you can pull up a pew and get some authentic Mexican eats, or just grab a Tommy's Margarita — though you might want to sip on Pedro's Punch, a mix of blanco tequila, pedro ximenez sherry, tepache, ginger, strawberry and blueberry.

Los Hermanos, Melbourne
339 Victoria St, Brunswick
www.los-hermanos.com.au
In Brunswick you'll find Los Hermanos Taqueria, serving up authentic Mexican eats in the suburbs. There's a handy selection of tequilas on offer, and a distinctly good times vibe.

Mamasita, Melbourne
1/11 Collins Street, Melbourne
www.mamasita.com.au/
How many bars can lay claim to having a mezcal sommelier on the floor each night of the week? Yeah, we haven't heard of any other than this one, Mamasita.
This bar really does give a damn about the agave, and seven years Ince opening are continuing to fly the flag for mezcal and tequila. They've got one of the smartest mezcal and tequila menus around — click here to view it for yourself  — which helps to begin demystifying these often mysterious spirits.
Throw in some top cocktails, a smattering of cervezas and even the odd aqua fresca, and you'll find much to love about Mamasita.

Mezcalito, Melbourne
233 Lonsdale Street, Melbourne
www.facebook.com/mezcalitoagavebar/
This newcomer to the scene comes from the team of Touche Hombre and sits next door. It's a bar designed to celebrate the agave, and to that end they feature not just tequila and mezcal — as if that wasn't enough — but also raicilla and, though not from the agave plant, they've also got some sotol on hand.

Pancho Villa, Hobart
Corner Elizabeth Street & Pitt Street, North Hobart
panchovilla.com.au
The Hobart bar scene has begun to blossom; this new tequila bar is bringing some agave deliciousness to Tassie, and doing it in style.
They've got a beautiful looking menu, for one, but the substance of it is what's earned Pancho Villa a spot on this list.
The house cocktail, Pancho Villa, features an unusual mix of Hendrick's, mezcal, , elderflower and cucumber; the tequila list proper is broken into blanco, reposado, and anejo categories, and runs to 40-plus in number. They've got a handy selection of mezcal available, too.
Tio's Cerveceria, Sydney
4-14 Foster Street, Surry Hills
Last year's Tequila Bar of the Year, Tio's Cerveceria, is back on the list once again, and there's no real surprise there. Run by Alex Down and Jeremy Blackmore, they brought on Alex Gilmour a couple of years back to push further into the agave frontiers and really drive home their love of tequila and mezcal.
The bar is in its fifth year, and it's better than ever. They still retain that hospo-fafvourite, party bar vibe, but they've doubled down and have been leading the push for agave spirits with events like their Mezcal Mini Fest and regularly hosting education sessions.
Long live Tio's.
www.alquimia.bar
702 Ann Street, Fortitude Valley
At this Brisbane tequila bar, yes, you'll find a great selection agave distillates, but you'll also find passionate bartenders.
They've got some inventive, creative takes on agave cocktails too, making this little gem a must-do for any agave aficionado on a trip top Brisbane.
*Edit: Sadly, we've heard reports that Alquimia closed its doors late last month.