We're driving single file, the five of us, up and down the sand hills in the desert 15 minutes outside of Las Vegas; the only thing separating us from injury is the battered and beaten roll cage of the dune buggies we're throttling, trying to keep pace with our guide. Above us, a clear blue sky lets the sun in, burning up the ground below us; in the distance, the hotels and towers of the Las Vegas Strip stretch into the sky. We hit one steep dune, and Joey — it's always Joey — launches his buggy into the air, diving out of sight behind the sand…
It's not even 10am yet, and we've begun our third full day in Vegas.
Story by Sam Bygrave
LAS VEGAS is a city built on a glimmering cliche. Everything is for sale, everything has a price, and until you've done Vegas, you can't know Vegas. It's a hospitality town, for a start — it's a city of some two million, but 42 million people every year hit the Strip and chase their dreams.
ADVERTISEMENT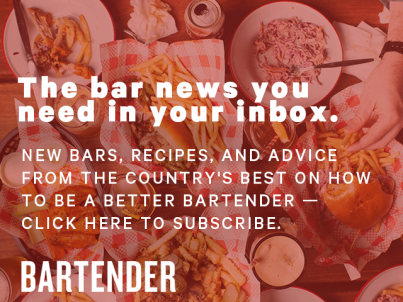 &nbsp
We're there with Sailor Jerry, looking for the underground Vegas, and our little pack — led by Australian Sailor Jerry ambassador Nick Miles, with Cameron Pirret and Joey Chisholm from Seymour's Cocktails & Oysters, and former Brisbane bartender Hugh Taylor — is blown away by the experience: five wild nights and six full days in what Pirret describes as "America's playground."
"It's amazing — one of the best weeks of my life," he says. "It's an amazing town, it's the adult play capital of America, a city of endless possibilities. You don't have to worry about going to see one thing or one attraction, because every corner is some Kodak moment. It's been amazing even just walking through the Strip — it's an eye opening experience."
Though Vegas' crowning jewel is the casinos of the famous Las Vegas Strip, we were more interested in the dive bars, the underground spaces of the old Vegas, where things got more interesting and where the locals — and the local bartenders — went to play. The real Vegas.
"All the bars we've been to, they're great little dive bars," Miles says. "You see these bartenders behind the bar, with iconic traditional American tattoos, and I've gone past a lot of tattoo shops and popped my head in, and you see these shops with these flash-sheets of those iconic, Sailor Jerry designs on them. We're here during Punk Rock Bowl, and everyone is covered in tattoos, and Iggy Pop is playing — he did a collab with us at Sailor Jerry which is amazing — and he's playing in Vegas with kids who are either drinking Sailor Jerry at this festival or who have something to do with Sailor Jerry, whether it's a shirt or tattoos. That's great to see it come back to Norman Collins."
Whether it was dive bars, cocktail bars, dune buggies in the desert or smashing golf balls into the glittering Vegas skyline at night, we did it all. Here's how to Vegas, Sailor Jerry style.
Frankie's Tiki Room
1712 W Charleston Blvd, Las Vegas
To get to Vegas, we flew out from Brisbane, and it's a 13 hour flight to Los Angeles, followed by the chaos of customs at LAX. Another 45 minutes in the air, and we land at McCarran International, Vegas' airport, check into the house we've got for the week, and reset for the night ahead. There's no time to waste.
Our first stop is Frankie's Tiki Room. It's probably what everyone should do once they land in Vegas: it's open 24 hours, and the oh-so American portions of the tiki cocktails we get have us fortified and ready for more.
Jet lag? What jet lag?
The bartender when we get there is free-pouring from three bottles at a time the drinks are rum-driven (and delicious) and it's as darker inside than in the desert at midnight.
It's well regarded by local bartenders as the best tiki going in town, and we loved the joint.
Herbs & Rye
3713 W Sahara Ave, Las Vegas
Thinking of a proper, grown-up cocktail or two in Vegas? You could hit the big hotel cocktail bars — we did love The Dorsey, below — or you could step outside the strip and head to the award-winning Herbs & Rye. We got there around 6pm (though it's hard to say — the sunset wasn't until 8 or 9pm), and their Happy Hour — which features half price steaks, and are popular with local hospo crowd — is in full swing. Here, it's the service from the bartenders behind the stick that we loved, as well as the execution on classic cocktails. It's easy to see how they took out the title of Best American High Volume Cocktail Bar at Tales of the Cocktail's Spirited Awards in 2016.
Oak & Ivy
Downtown Container Park, 707 Fremont Street, Las Vegas
We found this bar the way you should find any good bar in a foreign land: ask the local bartenders where they go to drink.
Oak & Ivy sits within Container Park on Fremont street in the Downtown district — you'll know the park because there's a giant-sized praying mantis that spits fireballs out the front (and it does so to the tune of the 1975 hit song, Lowrider — a song which quickly became the tune
of the trip).
As the name of the park would suggest, Oak & Ivy makes use of a shipping container — there's a busy bar, with bartenders bedecked in vests and arm garters putting out some good looking drinks. It's worth a visit for a lesson in how to wedge a classic cocktail bar into a shipping container.

The Double Down Saloon
4640 Paradise Rd, Las Vegas
Oh, Double Down Saloon. Had we visited you earlier, I doubt we'd ever have left, thanks to your 24 hour trading, 75 cent games of pool, jukebox stacked with obscure punk records and $3 Sailor Jerry & OJ's (if, just by the by, you've not tried this combination, then you've not met Nick Miles and you're missing out on an essential, restorative mix suitable for any bartending travels).
Sat near the airport, the bar has been around since the 1960's, but took its current, divey, punk rock shape in 1992 — at least that's what the guy behind the bar told us, before he asked me to do a round on the floor to grab more glasses.
It quite possibly pipped Atomic Liquors for the favourite bar of the trip.
The Dorsey at The Venetian
3355 S Las Vegas Blvd, Las Vegas
Sometimes, even the most cynical and jaded booze-traveller needs a dose of hotel bar-style service, and on our third day in town, after the dives and the desert dune buggies and the distillery, we sauntered into The Dorsey at The Venetian.
Set back from the gaming floor, it's the kind of luxe environs you'd expect from the Strip — here, it's all sunken lounges, table service and cocktails, courtesy of Attaboy's Sam Ross who has consulted on the drinks (you won't go wrong ordering a Penicillin here, that's for sure).
In this part of the Las Vegas world, the girls are hosting and on the floor, and the boys are back behind the bar, but the drinks are well-crafted and the list is smart. Dress up, dust off your charm, and don't expect a cheap bill.
Now where was that bar with the $3 Sailor Jerry again?

Atomic Liquors
917 Fremont Street, Las Vegas
"I love this bar," Miles told us when sat down at Atomic Liquors, and it's a sentiment we all agreed with — the bartenders were great, the
Sailor Jerry & OJ's plentiful, and the place has a great origin story: it's the oldest freestanding bar in town with the first liquor store licence, and during the era of atomic bomb testing in the 1950's the locals would climb onto the roof of the place to watch the detonations go off out in the desert.
It's a short walk away from the hullabaloo of the Downtown district on Fremont street proper, and it's the place where local hospo staff will start rolling in around 1am. It's a must-visit.
Downtown Cocktail Room
111 S Las Vegas Blvd, Las Vegas
Billing itself as a speakeasy-style bar, Downtown Cocktail Room is, I guess, somewhat hard to find if you've never had to find a hidden door to a bar before (Nick Miles, to his credit, found it in seconds).
Inside there's a sleazy-luxe vibe (but not in a desperado strip bar kind of way — it's much nicer) that's only reinforced by the one-way glass door of the toilet cubicle — see it for yourself. But they've got seasonal menus happening, and are recommended by just about every bartender we've spoken to in this town. For us though, we were more in tune with the Tip'n'Sip, a little bar within a bar here that does $8 Mai Tai's which don't suck and feels like a little piece of local gold, just a short stroll away from the faded glory of Golden Nugget casino and the Fremont Street Experience.
Topgolf
4627 Koval Ln, Las Vegas
Topgolf is the kind of place which makes your head spin. You know you're not at home in Oz, this can only be America.
Four levels of golfing, drinking, eating — and swimming — action are available here. They've got trackers in each golf ball so that when you tee off from this range, launching your ball at the glittering lights of the Las Vegas Strip, you'll know if you hit the targets they have set out for you below. Think of this as a suped-up bowling alley but for golf. In Vegas. With people everywhere. America, you're drunk, go home.
Even if you're not a golfer, you'll have a ball, just like we did.
Las Vegas Distillery
7330 Eastgate Road Unit 100, Henderson
Google the words "Las Vegas" and "distillery" and you know what you get? The Las Vegas Distillery, about 20 minutes outside of town.
And in addition to being masters of optimising for search traffic, they're also making some great hooch.
They're the first distillery in Nevada to open since then end of Prohibition, and it's kind of a quixotic exercise to make whiskey out in the desert. The angel's share, so to speak, is considerably higher — so much so that one barrel of whiskey they had jumped up over 70 percent in alcohol content.
The founder, George Rascz, is one heck of a guy too — he'll give you tour of the distillery, offer up plenty to taste, and keep you in stitches throughout. He also turned us on to neighbouring brewery, Crafthaus, where the head brewers are Australian.

Crafthaus
7350 Eastgate Rd Unit 110, Henderson
This was a great find. Literally just around the corner from the Las Vegas Distillery, you'll find Crafthaus, who are making some great craft beer — styles on hand range from sour gose and saison styles, to the obligatory IPA, and all the way to imperial and milk stouts. Open since 2014, the head brewers are Steph Cope and Steve Brockman — ask them for a tour (when they're not too busy) and just generally shoot the shit with them over a beer. They're a great source of intel for an outsider's perspective on Vegas and — did we say? — they make great beer.
How did we get here?
There's not many bartender competitions that see you jet off to Las Vegas for an unforgettable experience, but then again there's not many brands that will ask you to enter a bowling comp to do so. Then again, Sailor Jerry doesn't do things that other brands do. The trip to Las Vegas was the big prize for winning the national final of the Sailor Jerry Pins & Pin-Ups competition. Last year, the winning team went to Hawaii, this year Las Vegas — next year, well, it's a surprise. But wherever you go, you'll be doing it the Sailor Jerry way.
For more information, contact Sailor Jerry ambassador, Nick Miles, on nick.miles@sailorjerry.com.