Story by Sam Bygrave
Photographs by Christopher Pearce
Presented by Tom Bulmer, Bouche on Bridge, Sydney
Few people, regardless of their profession, get to claim that they are an original. An innovator. In bartending, you've got a few giants: Jerry Thomas, for one; probably Harry Johnson, too. And no list is complete without Don the Beachcomber, whose eponymous bar can lay a large claim to starting the whole tiki thing.
If imitation is the sincerest form of flattery, then Don (who also went by the name Donn Beach and was born as Ernest Gantt) would have been flattered indeed.
ADVERTISEMENT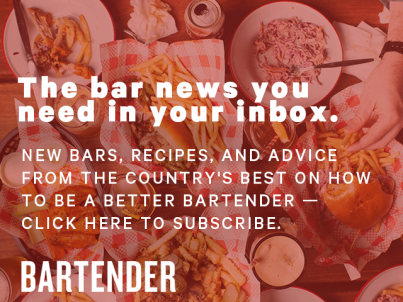 &nbsp
Don the Beachcomber's opened in Los Angeles in 1934, at a time when Prohibition had finished and bars were springing up everywhere. The biggest Hollywood stars of the time were Clark Gable, Fred Astaire, Ginger Rogers, and Charlie Chaplin, and it was at Don the Beachcomber's you could run into them.
The bar became so popular that over the years, many a tiki bar would open, often staffed by someone poached from Beach's team; with them, they'd take Beach's recipes, and so many of his drinks would be copied over the years.
Like this here Test Pilot. Copyrighted in 1941 by Beach, the drink has appeared elsewhere under different names, like the Space Pilot (at Tiki Ti in Los Angeles), the Jet Pilot (at the Mai-Kai Restaurant in Florida), the Ace Pilot and the Astronaut.
With that many imitators, you can be sure that this Test Pilot has the right stuff.
Test Pilot recipe
45ml Angostura 5 Year Old
20ml Angostura Reserva White Rum
15ml fresh lime juice
15ml falernum
10ml triple sec
1 dash Angostura aromatic bitters
6 drops absinthe
1 cup crushed ice
Shake all ingredients with crushed ice and serve in a double old fashioned glass. Garnish with all the flowers.
Adapted from a Don the Beachcomber recipe in Beachbum Berry's Grog Log

Notes on ingredients
• Angostura 5 Year Old is a blend of rums aged in bourbon casks for a minimum of five years. Its deep character means that it is suited to mixinf with strong flavours, spices and herbs.
• Angostura is probably best known for producing its world famous aromatic bitters and The House of Angostura has been in the business of making fine spirits since 1824. That's almost 200 years experience of fermenting, distilling, ageing, and blending, which come together to deliver a truly smooth rum, quite different from any other rum produced in the Caribbean.
• Angostura rum is made from molasses, and the higher the sugar content of the molasses, the better is the quality. Angostura only uses molasses with a minimum 50% sugar content. To ensure the best quality sugar cane, Angostura harvests when the sugar content is at its very highest.