Ollie Margan, Perfect Blend 2017 Professional Category winner.
At just 25 years old, Ollie's made his footprint in the industry. Originally from the Hunter Valley, Ollie moved and has established him in Adelaide, South Australia as a co-owner of Bread and Bone, Shobosho and Maybe Mae, in which he is the active GM here too.
Ollie has been no stranger to The Perfect Blend competitions and this year won the Professional category. Not only winning bragging rights but the bartenders trip of a lifetime to the home of bourbon; Kentucky to meet with master distillers and visit Jim Beam and Maker's Mark distilleries. Post this educational experience Evan and Ollie jetted across to NY to visit the World's Best bars. You've heard from Evan, let's hear what Ollie had to say…
How did it initially feel to be announced as the winner of The Perfect Blend 2017?
It was overwhelming in a sense. The competition this year was seriously tough, and whilst I had a feeling I had performed well, there was certainly no feeling of confidence when they were reading out the winner.
What was the experience like travelling to Kentucky; the home of Bourbon?
Kentucky was unreal. The 'Southern Hospitality' was so warm and welcoming wherever we went. We were chaperoned by the guys from Mint Julep tours and they were excellent; with quite a lot of driving involved, it was good to get some information on the area and its history.
ADVERTISEMENT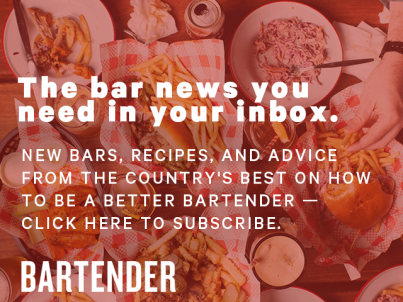 &nbsp
The distilleries, describe to us what you saw, learnt here?
Maker's Mark was first. As we visited during the height of summer, they weren't distilling at the time, but we gained a really good insight into the ageing process, and most importantly the stave program that is used in their private cask range swell as Maker's 46.
Jim Beam in Clermont was a beast of an operation. The stills were firing on all cylinders, pumping out white lightning by the tens of litres per minute. The rack houses there are absolutely massive, and we got an understanding as to how different barrels react to being stored in various spots and as such, what whiskey it is to become.
After Kentucky, you jetted across to New York, what was your favourite part?
The first afternoon arriving in NYC, we did a mammoth trek from Times Square down to Pier 6 to go on a helicopter tour of Manhattan. It was incredible. The city is just so massive, and to get some perspective on it all from that vantage point was next level.
You were fortunate enough to visit some of the world best bars – which ones did you see ?
Night 1: Nomad, Amor y Amargo, Mace, Attaboy
Night 2: Dante, Death & Co., Dead Rabbit, Employees Only, Stonewall
Night 3: Maison Premiere, Dram, PDT, Pouring Ribbons, Amor y Amargo, Mother of Pearl, Cien Fuegos, Suffolk Arms, Attaboy.
What differences do you see between NY and Australian bartending cultures?
The tip culture in America clearly creates an incentive to be extremely quick and offer a high level of personal service. This is particularly evident in the top level bars and did not feel contrived or forced.
What advice would you give something pondering entering the Perfect Blend 2018?
Do it! It is the most rewarded competition to not feel the stress/pressure/anxiety of a big competition. The whole process is highly competitive without feeling overly competitive. By the end of it all, you want everyone to win. The professional/apprentice split is also a great aspect.