The Best Sustainable Bar Program is a new addition to the Bartender Magazine Australian Bar Awards, which are now in their 17th year. We've been profiling bartenders and bars who are working on implementing more sustainable practices behind the stick over at The Sustainable Bar, and the ideas are gaining traction around the world thanks to pioneering bars like White Lyan and efforts like Trash Tiki.
So which bars are kicking goals locally? There are five finalists for the Best Sustainable Bar Program at the Bar Awards — take a look.
BEST SUSTAINABLE BAR PROGRAM
Proudly sponsored by 42BELOW
ADVERTISEMENT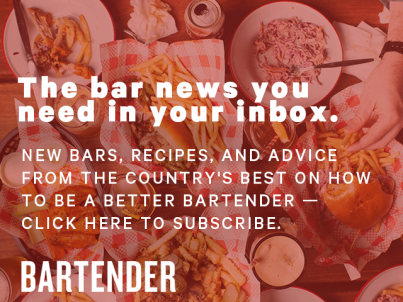 &nbsp
This award recognises those bars with who incorporate sustainability as part of their standard operating procedure. They've taken steps to reduce their impact on the environment and are thinking about how they can reduce, reuse, and recycle elements of the bar program.
Charlie Parker's (Sydney)
Maybe Mae (Adelaide)
Society Salamanca (Hobart)
Shady Pines Saloon (Sydney)
The Void Bar at MONA (Hobart)
Read a little more on what they're up to below.
Charlie Parker's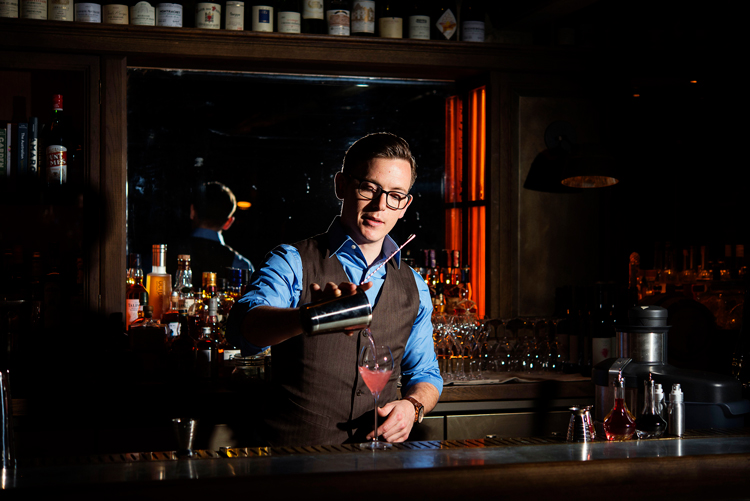 Charlie Parker's has made quite a name for themselves since opening last year, with the service and the drinks landing in the highest echelon from opening day. But they've also made great strides when it comes to sustainability.
They've sourced straws from Western Australia from EFGLO which break down after two weeks in a compost bin; their sodas are "made with the recycled elements from our daily prep of citrus, then batched and pulled on tap (e.g. citrus skin & Lemon Myrtle soda in place of lemonade)." The menu changes with the availability of produce, and they "look to utilise skins, seeds and left over flesh from syrup production to preserve elements of past seasons to revisit during other months (e.g. preserved mango, rockmelon shrub, mandarin bitters, fermented pineapple)."
That's just the start of it. They make use of a rotovap to creatively use elements of produce you might otherwise discard — like with this parsley drink — and importantly they've been sharing their knowledge with anyone who cares to ask.
Maybe Mae
Adelaide bar Maybe Mae embraced the concept of zero-waste a while back now, and while like other bars on this list the idea of actually getting to zero waste is more aspirational rather than reality, they've made use of their group's other restaurants in repurposing ingredients. Bar manager and co-owner Ollie Margan told us earlier this year about the closed-loop thinking behind one of the drinks on their list, Heather & Swine (single malt whisky, speck — yes, that cured porcine delight, watermelon vermouth, sour, and froth)
The drink is a "riff on the Proscuitto e Melone salad you might find in Italy – savoury, salty, sweet, smokey," according to Margan.
"We juice watermelon and acidulate it with citric and malic acid to preserve, it is used as the 'sour' component," Margan tells us.
"The leftover [watermelon] rind, we steep in Dolin Blanc to create our watermelon vermouth. The rind contains all the esters that we associate with that 'confectionary' watermelon flavour, without any colour change," he says.
The speck component of the drink is employed as a fat wash with Highland Park 12 Year Old, using "residual speck fat from our sister restaurant Bread and Bone upstairs," Margan says.
Maybe Mae employ a daily edited menu as well, which keeps things hyper-seasonal.
Society Salamanca
Tasmanian bar Society Salamanca focuses on gin and whisky, and they're making efforts to keep things sustainable, too.
They've put strong emphasis on only using recycled paper for their menus, napkins, and in the bathrooms. As a gin bar, the Gin and Tonic is a big drink for them so they've cut down on their glass waste by crafting their own tonic water with the help of a SodaStream.
"Like many bars, we audited our waste and found glass to be the overwhelming majority," they told us.
"Society Salamanca has started a bottle exchange program with many suppliers including a number of Tasmanian distilleries, decreasing the amount of new bottle stock our suppliers need to order while simultaneously decreasing our own waste."
Why wouldn't you take an advantage of the great distilleries down there?
Shady Pines Saloon
The Sydney bar is a favourite among bartenders, and they've recently made investments in trying to do things more sustainably.
Swillhouse beverage director James Irvine highlighted the efforts they go to with their drinks: for the Thunderstorms & Neon Signs (Gin, rhubarb, Contratto, kaffir lime), the use "recycled citrus juicing limes to make a sherbet, the leaves from the stems and the stalks from rhubarb. Water wastage is minimalised, due to this drink being pre-diluted and charged in a carbonation rig to create a spritz."
"Each drink on this list has a minimal impact focus. From the ways in which ingredients are source, their 'global footprint', minimisation of waste, recycling products and sourcing unique and artisanal spirits that again have similar focus," he says.
The Void Bar at MONA
Another Tasmanian bar, another greta effort at reducing their impact on the environment.
The Void Bar at MONA takes a number of steps in their sustainability program. They've got a comprehensive "waste management system in place for composting, re-using, recycling and re-purposing – all kept in check with regular waste audits," they tell us, and they're growing a number of ingredients for their bar on-site, reducing their food miles. "Things grown in our hot house and on our worm chapel include: rosemary, thyme, oregano, lemon balm, lemon basil, basil, camomile, nasturtium, edible chrysanthemum flowers, lemon verbena, mint, Vietnamese mint, wormwood, agave, bay and many more. We source all our seasonal fruits locally, usually for free, from friends of MONA. We do a lot of back yard picking and foraging in our surrounding bushlands," they tell us.
This produce is then "turned into cordials, liqueurs, shrubs and bitters, or included in our house vermouths, long before it ever sees the compost bin," they say, and "any residual waste from these, in the form of fruit pulp is turned into fruit leathers for cocktail garnishes, sorbets, granita or powders for rimming cocktail glasses." They re-use the majority of their spirit and mixer bottles and have banned "plastic straws, disposable cups, takeaway coffee cups, takeaway containers, disposable napkins, disposable cutlery and product lines sold in plastic bottles."