Our biennial list of who's who in the Australian bar industry is back — the 2017 Bartender Magazine Top 100 Most Influential List sponsored by Angostura aromatic bitters.
This is a list of the industry's movers and shakers, the big names who have lead the charge to make this industry the innovative and entertaining game it is.
Past winners have been influential Melbourne operator Vernon Chalker in 2009, Merivale's Justin Hemmes in 2011, and Swillhouse's Jason Scott and Anton Forte shared the honour in both 2013 and 2015, on account of the way they've changed the bar landscape since Shady Pines Saloon opened back in 2011.
On the list this year are bartenders (of course), bar owners and managers, brand ambassadors, writers and party-starters.
ADVERTISEMENT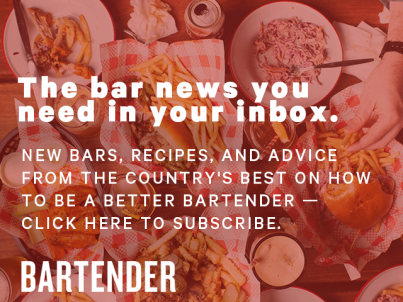 &nbsp
"This year we've seen the younger generation stepping up," said David Spanton, publisher of Australian Bartender. "It just goes to show what an exciting era of drinking we have in this country right now," he said.
Over the month of May we asked you, the industry, to visit australianbartender.com.au and put forward your votes for the five people who you think are influencing the industry.
The five names were weighted according to whether they were your first, second, or third (and so on) choice, and we put all the points together and came up with this list.
Is your name on the list? If it is, you're invited to the Top 100 Most Influential List party put on by Australian Bartender and Angostura aromatic bitters, held at The Lobo Plantation in during Sydney Bar Week. That's where, from the Top 100, we'll announce those who made it into the Top 10 — and have a great party while we're at it.
WHAT: The Top 100 Most Influential List Party sponsored by Angostura aromatic bitters
VENUE: The Lobo Plantation, Clarence Street, Sydney
TIME: 5pm – 7pm
DATE: 18.09.17
RSVP: amy@spantonmedia.com
It's just one of the 22-plus events in store for Sydney Bar Week this year. You can find out more and book tickets for other events like the
Indie Spirits Tasting, the Business of Bars Conference, the Whiskey Roadshow, and the Bartender Magazine Australian Bar Awards by heading to barweek.com.au.
Take a look at the list below.
Adam Barton
Alen Nikolovski
Alex Dowd
Alex Ross
Alexandra Dahlenburg
Amy Cooper
Andrea Gualdi
Andy Freeman
Andy Griffiths
Andy McIntyre
Andy Penney
Andy Wren
Anton Forte
Bonnie Shearston
Cameron Pirret
Caroline Childerley
Charlie Ainsbury
Charlie Lehmann
Chris Hysted-Adams
Corinne Mossati
Dan Woolley
Daniele Pirotta
Dave Kerr
Dave Marshall
David Nguyen-Luu
Dimitri Rtshiladze
Dre Walters
Fred Siggins
Gee David
Gillian Kady
Grant Shearon
Greg Sanderson
Harriet Leigh
Hayden Lambert
Hayley Morison
Jack Sotti
Jake Smyth
James Connolly
James Irvine
Jamie Webb
Jared Merlino
Jason Crawley
Jason Scott
Jenna Hemsworth
Jeremy Blackmore
Jeremy Shipley
Jeremy Spencer
Jerome Borazio
Jessica Page
Joseph Sinagra
Josh Agostino
Josie Blanchard
Kal Moore
Karel Papi Reyes
Kate McGraw
Kenny Graham
Krystal Hart
Lee Potter Cavanagh
Lewis Jaffrey
Loy Catada
Marco Faorone
Marcus Motteram
Martin Lange
Martin O'Sullivan
Max Greco
Max Veenhuyzen
Michael Chiem
Michael Madrusan
Michael Nouri
Mikey Enright
Mitch Wilson
Myffy Rigby
Nathan Beasley
Nick Miles
Ollie Margan
Paige Aubort
Pasan Wijesena
Pat Nourse
Phil Bayly
Phil Gannon
Reece Griffiths
Richard Blanchard
Rob Sloan
Ryan Lane
Sam Egerton
Sean Baxter
Seb Costello
Sebastian Reaburn
Simon McGoram
Stefan Forte
Steph Canfell
Stu Gregor
Sven Almenning
Tash Conte
Thor Bergquist
Tim Philips
Toby Hilton
Tom Bulmer
Tom Kearney
Trish Brew
Congratulations to the Top 100 Most Influential — we'll see you for the reveal of the Top 10 on Monday 18 September at the Top 100 Most Influential List Party sponsored by Angostura aromatic bitters.