When we think of après-ski cocktail recipes — that is, drinks you'll imbibe after a long day on the frosty alps — we think of drinks with big flavours, served at warm temperatures.
Story by Sam Bygrave
Photographs by Christopher Pearce
COLDER months call for warming drinks, and that's what we've got this month in The Threeway.
Imagine you've spent all day traipsing up and down a mountain. In the snow. At the end of the day, what are you going to want? You're going to want – nay, need — a drink. And the best type of drink, well, do as they've done in the alpine regions of Europe forever, and drink strong booze with alpine herbs.
ADVERTISEMENT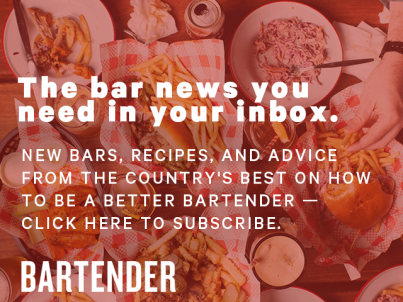 &nbsp
You could, for instance, grab yourself a mug of hot chocolate and then spike it with a dose of Chartreuse and really relax.
You could also mix up this drink below — it's a delicious way to drink Jagermeister, and really, after the slopes is probably the best time to drink Jagermeister.
Or you could go a little more old-school and whip up some Punch. Hot Punch at that. The recipe over the page is for Blackwood's Hot Whiskey Punch, and there's enough of it there to serve enough people to really make an evening of it.
Honey Boy Tavern Tipple
45ml dark rum
15ml Jagermeister
10ml honey water syrup, cut 2:1
2 dashes of bitters
Orange peel
Stir down all ingredients and strain into a chilled glass. Garnish with an orange peel.
Recipe by Daniel Noble, Ramblin' Rascal Tavern, Sydney
Here's a drink to get up on through the cold nights. This number was whipped up on the fly for us by Daniel Noble at Ramblin' Rascal Tavern, and its great way to get a fix of Jagermeister.
Blackwood's Hot Whiskey Punch
80g raw sugar
peel of one lemon
1.2L boiling water
750ml Irish whiskey
Muddle the lemon peel with the sugar in a bowl, leave for an hour. Add enough boiling water to dissolve the sugar. Add the whiskey and the remaining hot water and serve.
This warming recipe adapted from Dave Wondrich's book, Punch, and may even cure a cold.
Verte Chaud
Mug of hot chocolate
30-60ml of Chartreuse, Yellow or Green
Here's a traditional way of taking your hot cocoa after a long day on the slopes: spike it with some of the herbal goodness provided by Chartreuse. The only question which you have to answer, is which Chartreuse you'll opt for — Yellow or Green? We figure it just depends on how fast you want to go.
Après-ski sippers
Jagermeister
Jagermeister is a blend of some 56 natural botanicals; these botanicals are made into four distinct macerations, and aged for up to a year in oak.
Brown-Forman
Chartreuse
The monks have been making Chartreuse since 1737. The melange of aromatic herbal notes give this drink a welcome nose, and the high ABV carries the flavour through to a long finish.
Spirits Platform