Ambassadors have an enviable gig: they get to talk booze with bartenders for a living, travelling all the while, and racking up the frequent flyer status points along the way. We've asked some of the country's best brand ambassadors for tips on how you too can join the ambassadorial ranks, the trends they'd like to see happen, and how you can get on board with their training programs.
Nick Miles, Sailor Jerry
If you could give bartenders three tips on how to become an ambassador, what would they be and why?
As I write this I hope I don't sound like a motivational speaker but more like a jedi master talking to a padawan.
Find a brand or a company that you are passionate about. When you find that brand or company, have fun, make exciting drinks and find the history behind that brand. Don't be afraid to reach out to them showing how you feel. This can open the doors for you. Remember there are "portfolio brand ambassadors" and "single brand ambassadors". So whatever brand or brands drive you, give it a go. The world is your oyster in the end.
If you see your target brand asking for help at events reach out and make yourself standout with them. The more work you do for them, the more the company sees you interact with other bartenders and gauge your enthusiasm. The more they can see makes it possible for you to be seen filling the shoes of a brand ambassador. If you're really serious about getting the gig you'll need to go above and beyond for them… work the extra hours, always stay back, and help whenever you can.
ADVERTISEMENT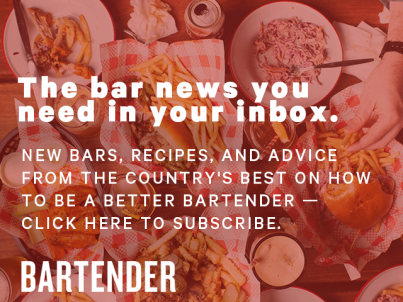 &nbsp
And be good to your mother.
We're celebrating our 200th issue this month — what's been your favourite bar trend over the last five years?
In the last five years I have seen the bar scene change, but in the best way. With different bars hanging out with each other and coming together to stand up for what is right in this industry. The cooperation is a real positive. Whether it's bars helping each other out when they are low on stock or short on staff this camaraderie is what makes the bar scene downunder simply the best.
What do you want to see more of in the bar industry in the next five years?
What I would like to see is more bar "take overs" from other bar teams around Australia. There have been a few of these and they have been a blast. This could be expanded to include more bars from around the world as well. When Dead Rabbit did their "take overs" around Australia, the bar scene was going insane over it. The kind of enthusiasm that this generates is what helps bartenders and owners make it in the industry.
Can you give us an outline of the kind of training you and your team offer?
With Sailor Jerry I start by talking about the history of rum and then I move into the story of Norman 'Sailor Jerry' Collins, the man behind our rum, and what he did for the industry of tattooing. Following this, I get everyone that has joined me to jump into groups so I can run a little cocktail competition. At the end of my sessions I try to excite everyone's imaginations and explain how versatile Sailor Jerry Spiced Rum is in cocktails.
Sailor Jerry is only one arm of William Grant and Sons. It really is a big family and the different brands all offer training for their specialty. First up we have Richard Blanchard and Ross Blainey the whisky legends from Glenfiddich and Balvenie; Justin Strzadala aka Mr Monkey Shoulder; Morgan Flanagan is the guru of Hendrick's Gin (and of course cucumbers); and the sensational Evonne Eadie getting the blood orange feels about Solerno. If you haven't been to one of the trainings from these amazing cats you're missing out.
Karel 'Papi' Reyes, Monin
Could you share some advice on on how to become an ambassador?
Becoming an ambassador represents a huge commitment and devotion for the product that you represent. You need to understand and know your brand from A to Z, the market, and love to educate industry fellows in all levels of knowledge. Be passionate, and be just a call away for someone who requires your help. It's not a secret recipe to become an ambassador but you should be built for that. You'll need dedication, commitment, and a love for the industry.
What do you want to see more of in the bar industry in the next five years?
The renaissance of the tiki trends has got my eyes and my passion. It's a trend that I will never let go… being from Cuba doesn't help to let it go! I would like to see in the next five years bartenders going back to simplicity in cocktails and of course, more rums and tequilas to share.
Tell us a bit about the training that you and your team conduct for bartenders?
As a Monin ambassador I introduce you to the art of mixing drinks in this laid back, hands-on workshop exploring the principles and techniques of what makes a truly great cocktail. You discover the tips and techniques which allow the true bartender to craft original cocktails from the wide Monin range and nearly any grab-bag of ingredients.
You'll also explore current cocktail trends, and familiarise yourself with the primary drink families. You'll get a quick refresher on proper and contemporary bar techniques, before diving in head on for your opportunity to mix, stir, shake, and pour your way to creating your very own unique Monin libation.
Dan Woolley, The Exchange
If you could give bartenders three tips on how to become an ambassador, what would they be and why?
Taste as much as possible.
Write nosing and tasting notes to build your vocabulary and dialogue on flavours.
Work out exactly what you love and where your heart is when it comes to spirits.
Passion is the most important part of representing a spirit. If you're not passionate about what you represent sooner or later you'll lose faith. Always remember that it's not a job, it's your life.
We're celebrating our 200th issue this month — what's been your favourite bar trend over the last five years?
For me it's definitely the rise of all whiskies. Whisky has become so popular now that I have a full time job from its growth which is something that I'm truly grateful for. Five years ago people were just starting to show interest in the category but no one predicted its explosion, especially with Japanese whisky.
What do you want to see more of in the bar industry in the next five years?
More people drinking more whiskies! Nothing would make me happier. I love seeing people happy drinking whisky in any way — neat, with water, on the rocks, in a cocktail, with a mixer… there's no wrong way to drink whisky. As long as you've got a smile on your face, you're doing it right!
Can you give us an outline of the kind of training you and your team offer?
The Exchange offers a very different style of training. None of it is scripted or rehearsed in any way. It comes from the heart with experience and first hand knowledge. We all come from a very strong bar background so we understand what bars want and need and love to help out in any way.
Andy Wren, Bacardi-Martini
What advice do you have on how to become an ambassador?
Love your craft and be a sponge! (A smart sponge). As a bartender you are honing your skills on a daily basis. It's like fitness, once you're not doing it, it's amazing how quickly you lose it! Learn as many different cocktail techniques and recipes as you can. Don't discard bar movements as negative, try and embrace them. If you can master molecular mixology for example, you can delight consumers in masterclasses with simple tricks. Attend as many masterclasses as you can, listen to the perspectives of experts and craft your own thoughts and ideas.
Travel and experience as much as you can (make great connections as you go). A well-travelled ambassador moves out of the gold fish bowl of the city you work and live in and has a broader appreciation of drink styles and flavour combinations. Take photos and notes on amazing cocktails and be curious about the techniques used to make them. Why not do it through Instagram and create a cocktail following for yourself? It's amazing how small the drinks world is and how open to sharing everyone is. Get into that headspace and connect with great people.
Work respectfully and professionally. Throughout my career in hospitality I've alway looked to work professionally and respectfully for my employers. No matter where you are in your career arc you should be looking to do the best you in your job and thinking about how you can develop into the next role, whatever it may be. If you hold yourself to high personal standards and work passionately you'll find opportunities come to you rather than the other way around!
We're celebrating our 200th issue this month — what's been your favourite bar trend over the last five years?
Congratulations Australian Bartender, what a contribution you have made and are making to the Australian hospitality community!
Sustainability. As an industry we have a huge responsibility on how to manage our bar waste and think sustainably about our practices. I love the fact that bartenders and spirit companies are creating and investing in practices to safeguard our planet. Bacardi do not use straws in any trainings and events. 42Below vodka are saving the planet "one drink at a time" and Bombay Sapphire's Laverstoke Mill is the one of the most sustainable distilleries in the world according to BREAAM, the independent watchdog who are the world's leading sustainability assessment method for masterplanning projects, infrastructure and buildings.
What do you want to see more of in the next five years?
Banana drinks: I really love exciting tiki drinks and I see this exploding again. Fun, fun, and fun!
I think in the next five years we will see traditional training sessions become more experiential, digital and impactful. Fewer, bigger and better. Death of Powerpoint!
My lens as an ambassador is always focused on the bartender. I really want to see bartenders continue their development and companies like Bacardi investing in their future. We want to engage with bartenders the moment they decide, "this is the industry for me" and partner with them to elevate their careers. I'd love to see more digital seminars, more global roadshows engaging with the up and coming passionate Australian bartenders to continue their growth. The result being Australia considered to be the best hospitality country in the world — five year goal!
Tell us a bit about the training that you and your team conduct for bartenders?
We are pretty flexible in the way we approach our training. I work very closely with our sales teams and tailor training sessions to our customers. I equally enjoy sharing our brand training programmes and bespoke hand built cocktail masterclasses which suit the customer. I am super lucky in that the brands I look after have incredibly authentic stories and unique production methods. We are also really excited to use our global ambassadors whenever we can.
Gee David, SouthTrade – Fine Drinks Movement
Would share with us three tips on how to become an ambassador?
Be passionate. An ambassador can be the link between sales, marketing and education and provide insights to all departments. Love your work!
Be professional. Always conduct yourself in a professional manner, remembering that you are always associated with the brands you represent. Even on social media…
Be prepared. An ambassadors work has no time frame or set hours — you will be expected to be on your game, day and night.
We're celebrating our 200th issue this month — what's your favourite bar trend over the last five years?
It has to be the 'small bar' which has seen continued success over the last five years. This has been coupled with two particular categories, premium bourbon and single malt whisky, currently 'riding the crest of the wave' and showing no signs of slowing down… amen!
What do you want to see more of?
Female bartenders – nowhere near enough 'dames in the game.' Better education, better drinks, and a focus on increased service standards. Local gastro pubs and affordable quality cocktails. The FDM being the leading, industry recognised, education tool and community for bartenders!
Can you give us an outline of the kind of training you and your team offer?
FDM provides the first free online bartender training in Australia. This is backed up with over 300 venue based bar trainings annually. Together we reach well over 5,000 bartenders each year. That's a whole lot of hooch man!
I created the FDM (Fine Drinks Movement) based on over 25 years of experience as a bartender, manager, representative, consultant and educator with a strong emphasis on the style of content and the language we use. FDM successfully host face-to-face sessions around the country that are industry inspiring. At these sessions we provide category, brand and taste profile education, resulting in a holistic approach to the topic. We inspire bartenders to become a part of the movement to further their knowledge, increase their skills giving them more confidence to earn more in the game.
The goal is to educate, inspire and create the next generation of top level bartenders by introducing them to all the info they need, to perform at the highest level of experience and expertise. We've created education packages that cover all the spirit categories, along with Classic Cocktails, soon to be released Bartending Skills and Techniques and many more. We've brought together some of the country's top talents to tell the story and become the educators. On completion of the education modules, FDMers are awarded a certificate which will become an industry recognised qualification and something to be proud of. Sign up now — it's absolutely free — and start your FDM journey today.